After controversial election, a tribal rights movement in Pakistan carefully plots its future
Reporting from Islamabad, Pakistan —
Many Pakistanis were stunned this year when a charismatic young ethnic Pashtun from the country's tribal region — long the focus of counter-terrorism operations — drew tens of thousands into the streets in a direct challenge to army generals.
"This terrorism that you see, the uniform is behind it," they chanted.
It was a rare expression inside Pakistan of the view — widely held outside its borders — that the security establishment sponsors militant groups such as the Taliban, whose presence in the tribal belt has long been a pretext for crackdowns against Pashtuns.
Now Pakistan's most significant popular uprising in years faces a reckoning after an election many believe the army tilted in favor of cricket legend Imran Khan.
Due to take office as prime minister this month, Khan is not expected to contest the army's grip on security policy. But he has expressed sympathy with some of the demands of the protest group that calls itself the Pashtun Protection Movement, known as PTM.
The group has called for an end to alleged army abuses including extrajudicial killings, abductions and scorched-earth offensives that it says disproportionately target the country's estimated 25 million Pashtuns, most of whom hail from the rugged tribal areas along the Afghan border.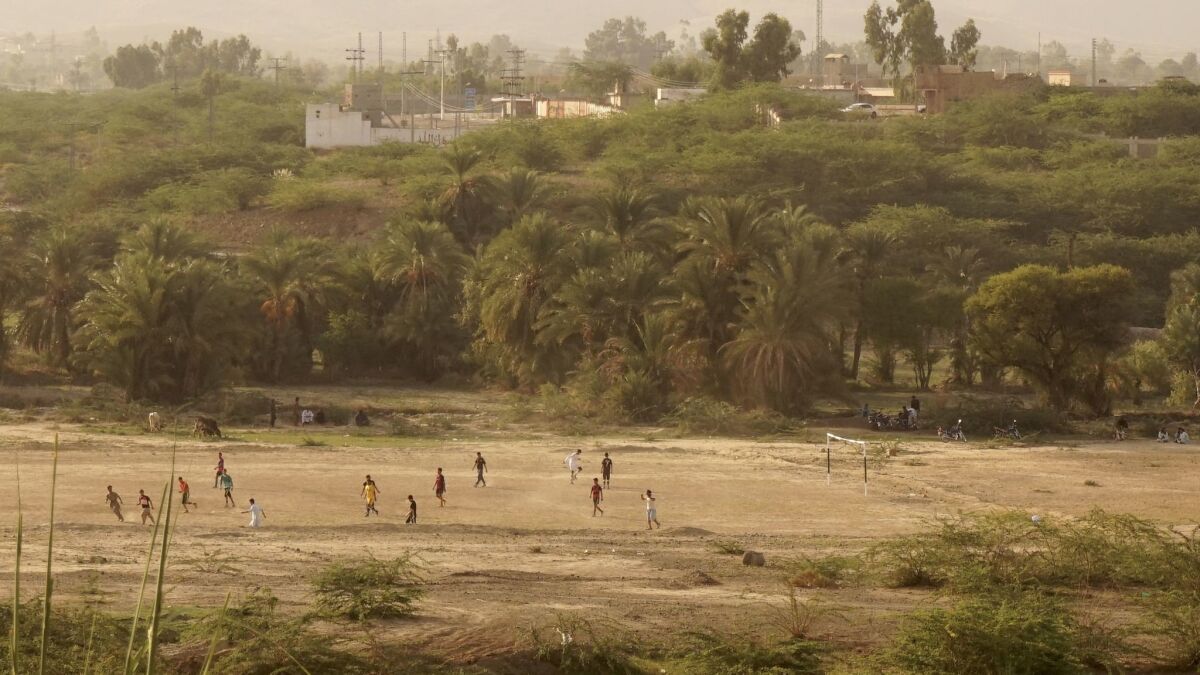 Security forces have arrested scores of its supporters while bullying news outlets into keeping the protests off the air.
"We do not know much about Imran Khan, but we are clear about our demands," the movement's 23-year-old leader, Manzoor Pashteen, said in an interview. "Whether a good person comes to power or a bad person comes to power, our struggle will continue until our demands are met."
The most vocal grass-roots opposition to the security establishment since a lawyers movement helped drive military ruler Pervez Musharraf from power a decade ago, the PTM did not field candidates in the July 25 election, hoping not to muddy its message with politics. The group is planning a fresh wave of protests and sit-ins this month, risking further arrests, beatings and worse.
"Militaries are powerful all over the world, but in Pakistan the army is omnipotent," Pashteen said. "Nobody can even think of resisting it until somebody is ready to risk his life."
Pashtuns have long complained of being marginalized and harassed by the Pakistani state, which often identifies their community as the wellspring of Taliban insurgents.
But with doctors, professors, college students and journalists in its ranks — including many who grew up in cities to escape the militant violence and army operations — the PTM has challenged the army's stereotype of Pashtuns as long-bearded, warlike tribesmen.
Its allegations of abuses have also undermined the military's claims that a years-long counter-terrorism campaign has brought security to the former tribal area, which until this year was governed by a colonial-era law that allowed security forces to punish entire villages for the crimes of individuals.
From the archive: 'What kind of justice is this?' A cry from Pakistan's remote tribal lands »
The chief military spokesman declined requests for an interview. The army has long denied committing atrocities or sponsoring militant groups.
"This has become a war against Pashtuns," said Afrasiab Khattak, a retired politician and commentator. "PTM members are nonviolent but prepared to die to speak the truth — and our security forces have no answer."
The group vaulted to prominence after police gunned down a 27-year-old Pashtun shopkeeper in January in the port city of Karachi, home to a large Pashtun community.
Police accused the man, Naqeebullah Mehsud, of having links to terrorism. But Mehsud was a meticulously groomed aspiring model with a sizable Facebook following, and his death catalyzed outrage against the security forces' tactics.
Within weeks, the group had mushroomed into a nationwide nonviolent uprising. Thousands flocked to rallies where Mehsud's long-haired image beamed from posters and Pashteen's calls for nonviolent resistance rang out with intensity.
Trained as a veterinarian in the city of Dera Ismail Khan, at the edge of the tribal zone, Pashteen has been dismissed by army officials as an agent of Pakistan's neighbors, India and Afghanistan. Pakistani journalists say they have been told not to write about him.
After one English-language weekly published Pashteen's image on the cover along with three articles about the PTM, its management received a call from a senior military official, according to individuals with knowledge of the situation. The articles were swiftly scrubbed from the newspaper's website.
In June, dozens of PTM supporters were arrested before a demonstration in Islamabad, the capital. Interviewed last month while out on bail, several activists said they had been shoved into small, mosquito-infested cells and slapped with charges including terrorism and treason.
"Someone like me, raised in Islamabad for 18 years, when I raised my voice for my rights and I see the way the security forces reacted — you can only imagine what they do to people in the tribal areas," said one arrestee, a 25-year-old who asked to be identified only as Ishfaq.
Nobody can even think of resisting [the army] until somebody is ready to risk his life.
— Manzoor Pashteen, leader of the Pashtun Protection Movement
The military has met some of the movement's demands, at least on paper. In May the tribal region was merged into the neighboring province of Khyber Pakhtunkhwa, ending the harsh laws that Pashtuns said had granted impunity for army abuses.
Security forces also reduced the number of checkpoints where Pashtuns said they were subjected to humiliating searches.
The changes "have both bolstered support for the PTM in being able to bring about these outcomes, and also weakened the urgency of their cause" outside the former tribal belt, political analyst Fasi Zaka said.
Despite Pashteen's admonitions against political participation, two PTM leaders ran for parliamentary seats as independents and won. Although they were ousted from the group's decision-making committee, the elected lawmakers said they would raise PTM's demands in Parliament.
"I think a pressure group can sustain itself only for a specific time period," said one of the elected candidates, Mohsin Dawar. "In the future, PTM will have to join the mainstream political process."
Some analysts speculated that the lawmakers would align with Khan, who has opposed military operations in the tribal region and endorsed some of PTM's demands, including a truth commission to investigate army abuses.
"I think the elections have taken the air out of PTM," said Arif Rafiq, a nonresident fellow at the Middle East Institute in Washington, contending that most Pashtun voters supported Khan in the election.
Others said the group's message had spread to mainstream Pashtun parties, whose recent rallies claiming army interference in the election adopted the PTM's provocative anti-military slogans.
"I don't think the PTM will fizzle out — instead it will spread further," Khattak said. "What happened in the election has vindicated PTM's narrative. Earlier it was only they who were talking about the real rulers of the country, and now all parties are talking about it."
Shashank Bengali is South Asia correspondent for The Times. Follow him on Twitter at @SBengali
Must-read stories from the L.A. Times
Get the day's top news with our Today's Headlines newsletter, sent every weekday morning.
You may occasionally receive promotional content from the Los Angeles Times.