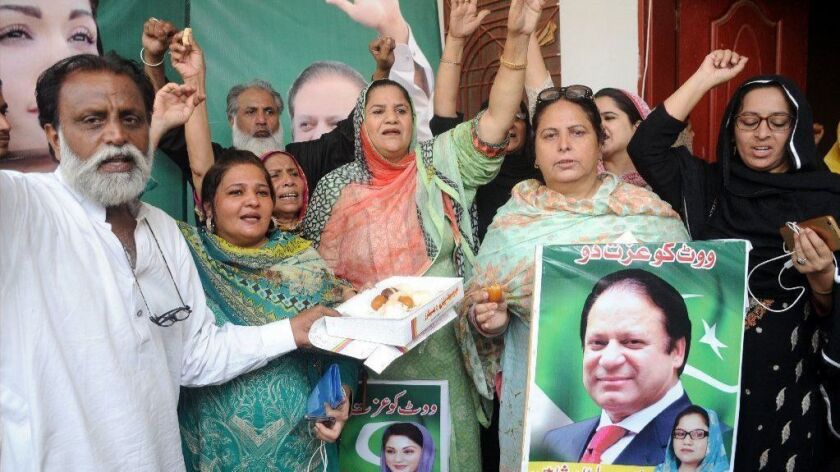 Reporting from Islamabad, Pakistan —
A Pakistani court on Wednesday suspended the corruption sentences of former Prime Minister Nawaz Sharif and his family members and ordered them released on bail pending their appeals.
An anti-graft tribunal in July had convicted Sharif, his daughter Maryam Nawaz and son-in-law Mohammad Safdar of failing to disclose the assets the Sharifs used to purchase a series of expensive London apartments. The Sharifs were released Wednesday evening.
Following their convictions, Nawaz Sharif was ordered to serve 10 years in prison while his daughter, the heir to his Pakistan Muslim League party, was ordered to serve seven years.
The ruling was widely criticized as politically motivated, coming weeks before national elections in which Sharif's party made a failed bid to return to power.
Sharif's supporters said Pakistan's powerful army had engineered the corruption case to punish Sharif for challenging the military's authority until the Supreme Court ousted him from office in 2017.
Sharif and his daughter were sentenced while in London, where his wife was undergoing treatment for lymphoma. They made a dramatic return to Pakistan a week later aboard a commercial plane, were taken into custody at the Islamabad airport and shifted to prison. His wife died earlier this month.
On Wednesday, an Islamabad court ruled that the sentences would be suspended until hearings on their appeals. Sharif, his daughter and Safdar were due to be released later on Wednesday.
Hundreds of their supporters celebrated outside the courthouse, chanting, "Prime Minister Nawaz Sharif."
"The decision to sentence Nawaz Sharif and Maryam was not only against the law but also against the constitution," said Ahsan Iqbal, a senior leader of his party.
"It was not a sentence based on rules of justice but vengeance with the purpose to keep Nawaz and Maryam away from the election process and to provide a free hand to Imran Khan."
Khan, a former cricket legend who is now Sharif's rival, won the election in July amid allegations that the military was targeting Sharif's supporters and silencing independent news media. Since being sworn in as prime minister, Khan has embarked on a populist anti-austerity drive while eschewing the luxurious official residence and putting a fleet of expensive government cars up for auction.
Information Minister Fawad Chaudhry said Khan's government respected the court's decision to release Sharif, but argued the family had not proven its innocence.
"The basis of today's decision is procedural," he said. "We hope law will take its own course."
Some experts said the decision was a setback for the credibility of the anti-corruption court, the National Accountability Board, which has been accused of being used as a tool for political score-settling.
Tariq Chaudhry, an Islamabad-based political commentator, said that having Sharif freed on bail before his first appeals hearing undermined the accountability board's decision as well as Khan's election victory.
"It was definitely the powerful establishment of Pakistan that wanted to see [Sharif] behind bars during the election process," he said. "Now the process is over, and that is why Nawaz Sharif succeeds in getting relief from the court."
In the crowd outside the courthouse, Abida Parveen, a 40-year-old who traveled nearly 200 miles from the city of Lahore to hear the decision, said the court's decision vindicated Sharif.
"The decision is a victory for truth," she said. "He is the prime minister of our hearts. They [the military establishment] know Imran Khan cannot win fair elections, so they had to put Sharif behind bars."
Sahi is a special correspondent. Times staff writer Shashank Bengali in Port Louis, Mauritius, contributed to this report.
Sahi is a special correspondent. Times staff writer Shashank Bengali in Port Louis, Mauritius, contributed to this report.
---
UPDATES:
9:55 a.m.: This article was updated with the Sharifs' release from prison Wednesday evening.
This article was originally published at 7:35 a.m.
---