A Philippine senator defies her president — from behind bars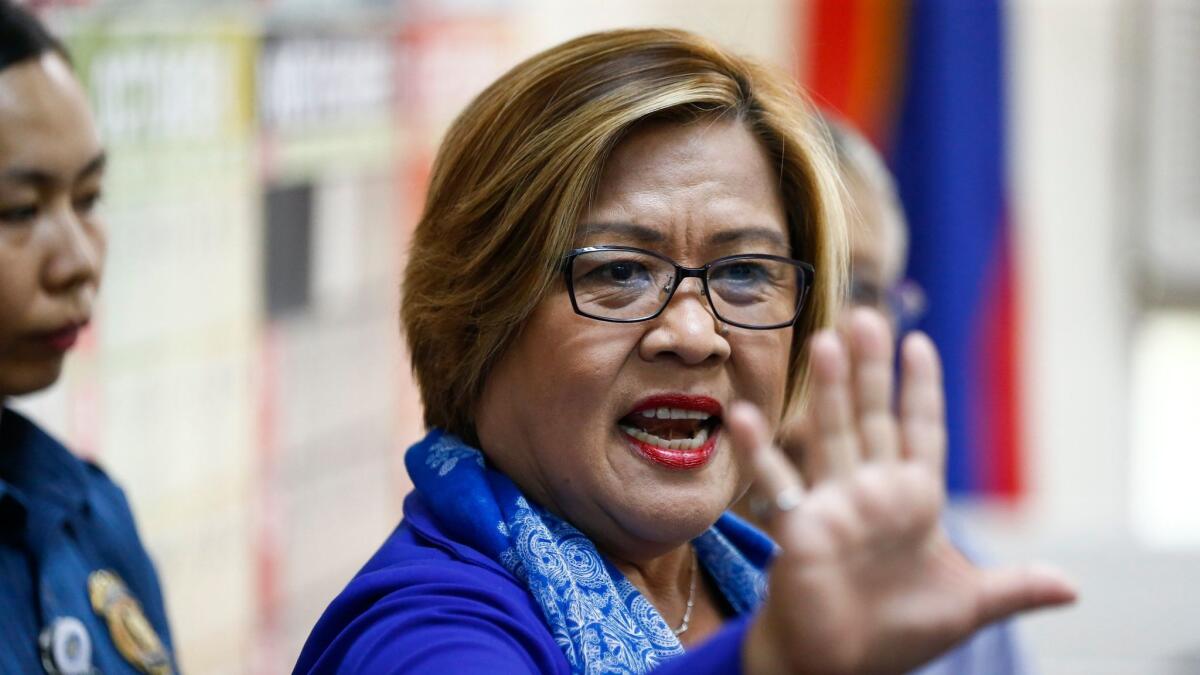 Reporting from Manila —
When a Philippine senator called for an investigation into President Rodrigo Duterte's bloody drug war, he retaliated with a verbal tirade that included threats to make her cry, throw her in jail and destroy her.
Duterte, known to bristle at any kind of criticism, made good on his first two promises. But from her detention cell at police headquarters, Sen. Leila De Lima has vowed not to give him the satisfaction of the third.
She sat in the cell one afternoon last week in a white plastic chair behind a plastic table stacked with newspapers and a cardboard pot of purple orchids. Here, De Lima, 57, who has been Duterte's fiercest critic, continues her work as a senator and, together with her lawyers, strategizes her release.
"This is political persecution. Every day that I am here is an injustice," she said, dressed for the simmering 93-degree heat in what is now a kind of uniform: beige sandals, black shorts that stop modestly above the knee and a black-and-white T-shirt.
Many say De Lima, who is charged with three counts of drug trafficking that she emphatically denies, is a prominent example of the fate that awaits those who dare question Duterte and the methods behind his brutal war on drugs. Since last summer, the deadly campaign has claimed nearly 8,000 lives, with most victims shot by police and unidentified vigilantes.
"Her arrest has dire consequences," said Alex Padilla, one of De Lima's lawyers. "She was arrested based on the testimonies of convicts and no evidence of drugs. It's like martial law. You can be arrested based on what people say and what the government wants. If this can happen to a senator, what more to an ordinary Filipino?"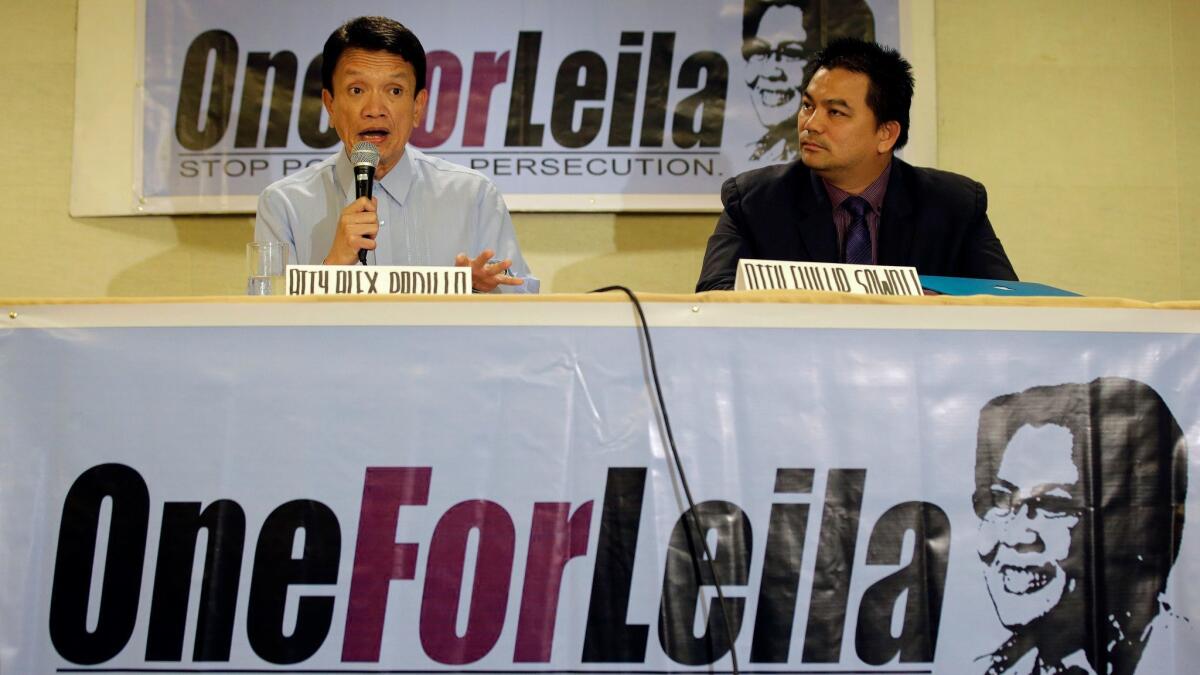 "It is appalling and shameful," said fellow lawmaker Risa Hontiveros. "Sen. De Lima's unjust incarceration is political persecution aided by misogyny and sexism."
In just eight months, De Lima went from neophyte senator to a woman publicly shamed for her romantic past to a detainee facing three charges of drug trafficking. Despite the speed at which her life was turned upside-down and the fact that she is ineligible for bail, De Lima remains positive, defiant and critical of the president — a man who once suggested that she "just hang herself."
"I am so sure that this is a personal vendetta from way back in 2009," De Lima said.
Back then, De Lima was head of the Commission on Human Rights and Duterte was mayor of Davao in the southern Philippines. De Lima was investigating the Davao Death Squad, a vigilante group that hunted down petty criminals and drug dealers.
Duterte was summoned to appear before the commission. "I berated him then," De Lima said. "I presented the data of the killings to him and asked him what he was doing as mayor to solve them. I don't think he ever forgot that."
By last August, Duterte was president, and had launched a nationwide drug war that encouraged police to track down drug dealers and use brutal force if necessary. De Lima was a senator who had launched a hearing to investigate the growing number of bodies showing up in ditches and under bridges.
The killings had a kind of trademark. Most cadavers were mummified in packaging tape and bore a cardboard sign: "Pusher. Don't be like me."
"By that time, there were already more than 1,000 people killed. I told myself that it was too much," said De Lima, who was head of the Senate Committee on Justice and Human Rights.
But Duterte was still riding the wave of a landslide victory. His public approval rating was 91%. Supporters saw his outbursts of profanity as endearingly honest, and took his compulsion for insulting world leaders such as the pope and then-President Obama as a sign of fearlessness. They applauded his dismissal of human rights as a warranted response to the problem of illegal drugs and criminality.
In an August interview, Duterte hinted about a female government official whom "I will have to destroy...in public." In the months that followed, he appeared to be making good on that threat.
Before becoming a senator, De Lima had held a Cabinet post as secretary of the Department of Justice. Duterte accused her of using that position to extort money from imprisoned drug lords to fund her senatorial bid.
In public statements and speeches, Duterte gradually revealed details of an affair between De Lima and her bodyguard/driver, who allegedly collected money from imprisoned drug convicts on her behalf. She and the bodyguard acknowledged the affair — she was no longer married — but De Lima denied participating in shakedowns of inmates.
Allies of the president in Congress launched their own investigation into the proliferation of drugs in Philippine prisons during De Lima's stint at the Justice Department. One congressman moved to have a purported sex tape of De Lima and her driver presented as evidence during the congressional hearings. After women's groups objected, plans for a public viewing of the video were dropped.
De Lima fought back by filing a case last November with the Supreme Court to prevent Duterte from "securing private details about her personal life and using them to degrade her dignity."
Jose Manuel Diokno, De Lima's legal counsel, said that the case was the first to challenge a sitting president's behavior as "psychological violence, sexual harassment and slut-shaming against women."
On Feb. 23, a warrant was issued for De Lima's arrest on drug trafficking charges; she surrendered to police the next day.
"I am doing well," De Lima said during her cellblock interview, smiling. "But maybe gaining a bit of weight."
Her guards have been professional, she said, but she is aware of what happened to a mayor accused of drug trafficking: He was shot dead in his jail cell by police.
There were rumors that she had tried to kill herself in detention. "If I die inside prison, it is not because I committed suicide," she said. "It is because the president has finally ordered me killed."
Although she does not have access to a cellphone, laptop or Internet connection, De Lima still tries to perform her duties as senator.
Every day, she gets a compilation of news clippings, printed Facebook messages from well-wishers, messages of support from human rights groups, and Senate bulletins. She is still drafting bills and resolutions but cannot vote for them. She issues statements that are handwritten on Senate letterhead and distributed by her staff through screenshots on a messaging app.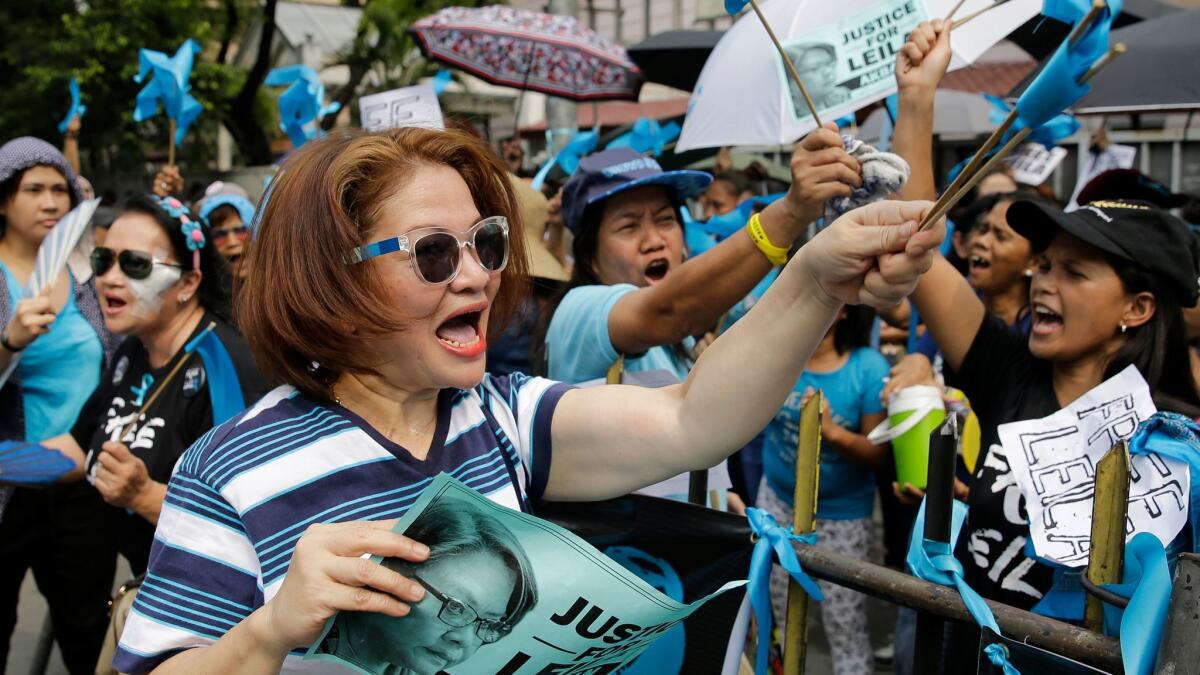 De Lima's detention facility maintains a fuchsia logbook of her visitors, perhaps in recognition of the fact that she is the only woman among 26 detainees.
She said she doesn't so much mind the cell, but worries about her 84-year-old mother, who does not know that she has been detained.
"They told her that I am in school in the U.S. and turn off the TV when the evening news comes on," she said.
She is encouraged by support from the international community. The European Parliament, the latest to express support, called for her release and an independent investigation into the killings by Duterte's government.
Her lawyers have filed a petition before the Supreme Court to dismiss the charges.
When asked what she missed most about her old life, De Lima paused and lowered her head. "A lot. Riding my own car. Going home to my own house. Sleeping in my own bed."
She heaved a sigh and looked up. "Much of what I will have to face next is psychological and emotional," she said. "But I have prepared myself for this. I will not let negative thoughts bring me down."
Duterte has other ideas. Addressing the Philippine community during a visit to Thailand last week, the president said he expected to see De Lima in hell.
De Lima responded with a "fervent prayer" that the president be saved from hell — "so that Satan may be saved from his potty mouth."
Santos is a special correspondent.
ALSO
In the Philippines, poverty and corruption fuel the drug trade
What makes Philippines President Rodrigo Duterte, who compared himself to Hitler, so popular
China cautions U.S. against starting a trade war, casting itself as champion of globalization
Sign up for Essential California for news, features and recommendations from the L.A. Times and beyond in your inbox six days a week.
You may occasionally receive promotional content from the Los Angeles Times.