In the Philippines, poverty and corruption fuel the drug trade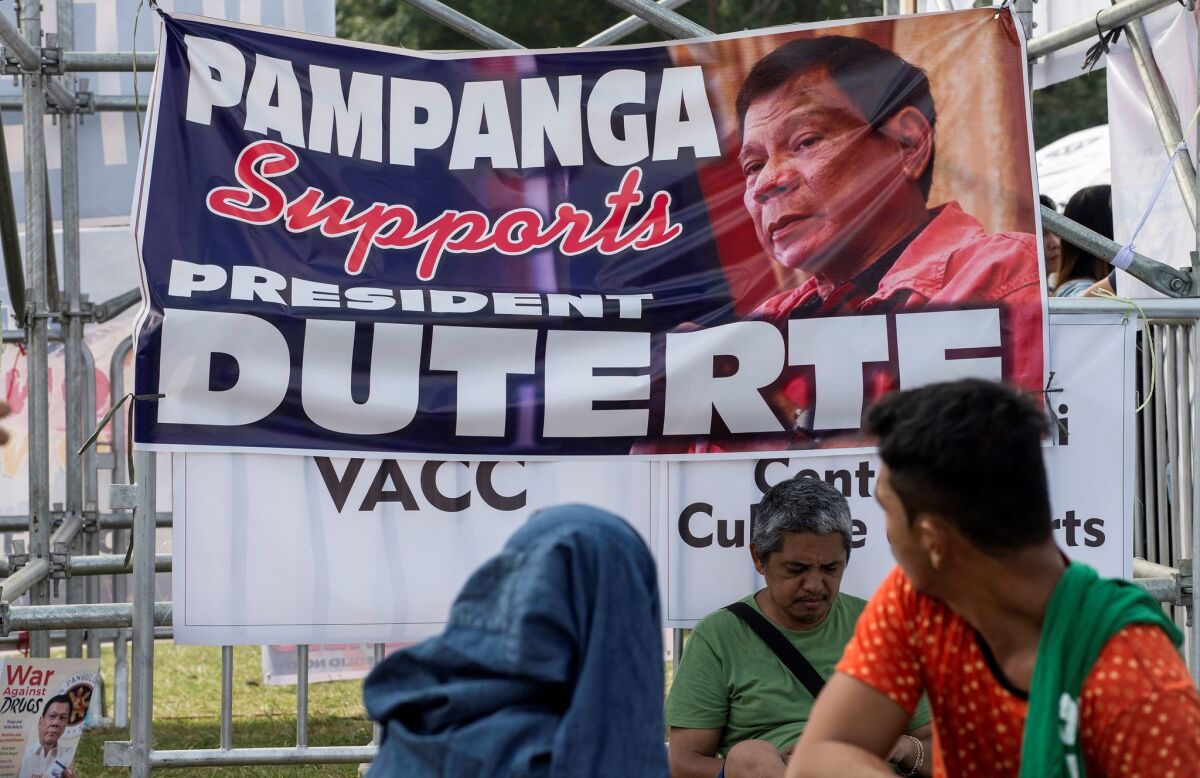 Reporting from MANILA —
Christian Nilo has grown up with poverty and corruption, with barely enough to eat and teachers who demand bribes in exchange for passing grades.
Two years ago, when he was 20, an acquaintance paid him $2 to deliver a package — which he later learned contained a cheap methamphetamine known as shabu. More work was available if he wanted it.
He resisted the temptation to join the drug trade, but a number of classmates did not.
"There are a lot of them," Nilo said. "They have more money than regular students."
Philippine President Rodrigo Duterte has taken a hard-line approach to his country's illicit drug problem, overseeing a campaign of extrajudicial killings that has left more than 7,000 people dead, most of them suspected drug dealers or users.
Missing from his strategy, experts said, is any concerted effort to address the widespread poverty and corruption that have helped fuel the drug trade.
"There wasn't enough employment, or social resources, so everyone needed a second job," said Clarke Jones, a professor at Australian National University who has studied drug dealing in the Philippines. "Duterte might be trying to eliminate the drug market — which will never happen, by the way — but he's failed to realize, what's going to replace those funds?"
"This society is built on corruption," he said. "It's learned at a very, very early age."
At Batasan Hills National High School — which Nilo attends — teachers and students described difficulties that help explain the attraction of the drug trade.
Tess Busadre, the head of the social studies department, said the vast majority of the school's budget goes to electricity, water and other basic needs.
With salaries of about $4,500 per year — barely enough to cover basic living costs — teachers resort to selling school materials to students "to make ends meet," she said.
"One of the reasons why we have dropouts, or problematic students, is that they can't finance the projects that they have to submit," she said.
Jenelyn Escovanez, a 10th-grader, said a math teacher once demanded his students order T-shirts from him in lieu of completing a project. She paid the teacher and passed the class, she said, but then discovered "there was no T-shirt."
The teacher has a drug problem and remains at the school, Busadre said.
Nilo said that he has been forced to pay teachers for supplies, photocopies and the privilege to complete class projects. In one class last year, the assignment was to make a toolbox. Nilo didn't have $1.50 to buy the needed materials from his teacher.
"I was made to choose between buying medicine for my father, and passing my class," he said. "I chose to buy medicine for my father."
Nilo failed the class.
The school, which is located in Quezon City — one of Manila's poorest areas — allows older students such as Nilo to attend classes just once a week so they can work full time.
Most days, he operates a pedicab from dawn to dusk, ferrying commuters in a low-slung yellow carriage bolted to his rusty bicycle. He usually earns less than $5 a day and spends it on medicine for his father — who has heart trouble — and food for his two younger siblings.
Classmates in similar straits have turned to drugs and prostitution.
"They hide [drugs] in socks, they hide it in their shirts," Nilo said. "Some of my girl classmates, they allow themselves to be touched, caressed, and they get paid for it."
Joel M. Durban, dean of the College of Education, Arts and Sciences at National University in Manila, said that conditions at the school are typical. "It's poor by Manila standards, but if you're going to look at the whole country, it's basically the same," he said.
Busadre said that Duterte's drug war has reduced the school's drug problem.
But human rights organizations have roundly condemned Duterte's anti-drug campaign, with Amnesty International, in a February report, calling it a "war on the poor."
"Many countries, including neighbors of the Philippines, have tried a heavy-handed approach to drugs," it said. "Again and again, such tactics have proven unsuccessful, devastating lives while failing to tackle the root causes of drug use and sale. Poverty and its various manifestations are a problem you treat, not shoot at."
Children have been among the targets in the president's drug war. At least 31 people under age 18 have been killed, said Rowena Legaspi, executive director of the Children's Legal Rights and Development Centre, a nonprofit in Metro Manila.
A bill now in Congress proposes lowering the age of criminal responsibility from 15 to 9 to prevent "the pampering of youthful offenders who commit crimes knowing they can get away with it."
Duterte has said he supports the legislation, claiming that it would stop a "generation of criminals" in its tracks.
Twitter: @JRKaiman
ALSO
Samsung's de facto chief is indicted for link in South Korean political scandal
Sri Lankans who once embraced Chinese investment are now wary of Chinese domination
Kansas shooting shocks an Indian city where 'every other house' has someone in America
---
Must-read stories from the L.A. Times
Get the day's top news with our Today's Headlines newsletter, sent every weekday morning.
You may occasionally receive promotional content from the Los Angeles Times.