Philippines' 'Trump' appears to win presidential race as rival concedes
Tribal leader Nicolas Cawed, center, rear, along with his daughter Mia Nicole and son Igor, look at a master list of voters prior to voting in the Philippines presidential election in Baguio City on May 9.
(J.J Landingin / AFP/Getty Images)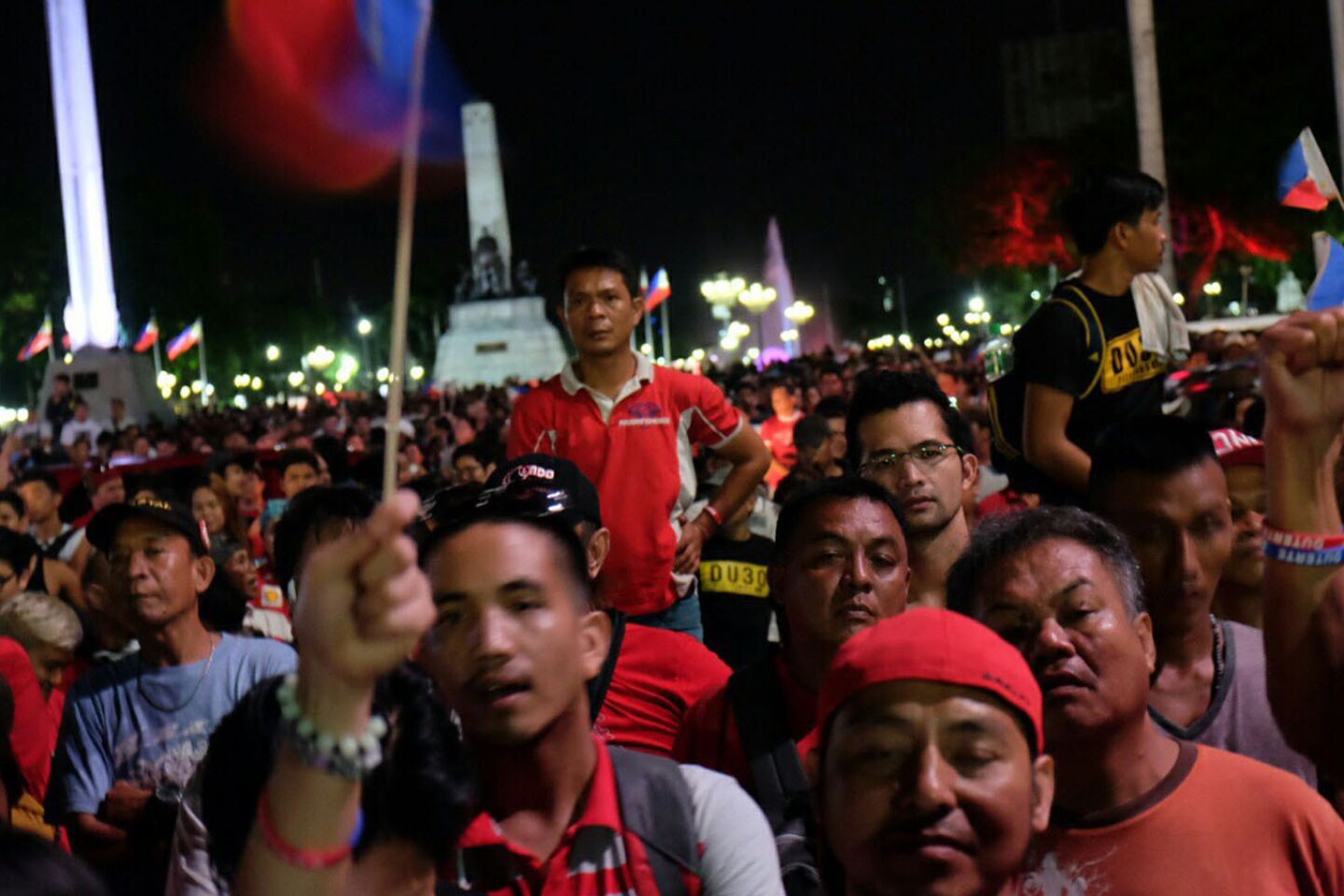 An estimated 300,000 people attend a Duterte rally at Manila's Luneta Park on Saturday night. ed.
(Jose Luis V. Agcaoili / For The Times)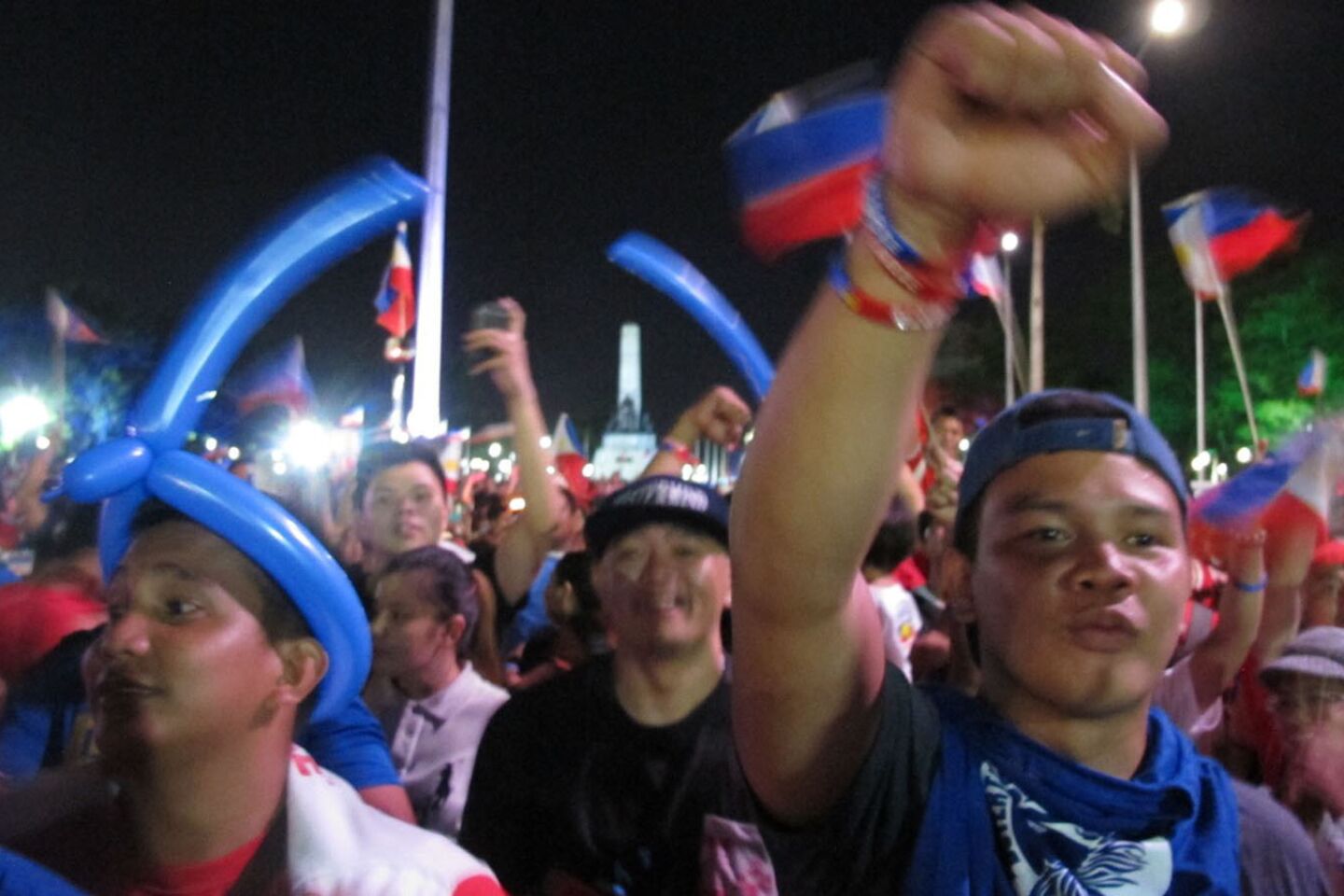 Duterte supporters at the Saturday rally
(Sunshine de Leon / For The Times)
Duterte supporters at the Saturday rally in Manila's Luneta Park
(Jose Luis V. Agcaoili / For The Times)
Three Duterte supporters from the Philippines' southern island Mindanao.
(Jose Luis V. Agcaoili / For The Times))
Supporters of Philippines presidential front-runner Rodrigo Duterte raise their fists during his final campaign rally in Manila.
(Aaron Favila / Associated Press)
Reporting from Manila —
Rodrigo Duterte, a tough-talking mayor who has drawn comparisons to Donald Trump, appeared to have won the Philippines' presidential election Monday as he piled up a large lead in unofficial returns and a key rival conceded defeat.
Initial vote counts showed Duterte winning by at least 5 million votes, according to the Philippine Star newspaper. The final vote count will be announced this week.
Supporters say Duterte, 71, has a proven track record in fighting drugs and crime, having transformed the city of Davao, which he led for 22 years, from a den of lawlessness into a rare bastion of security in a troubled region. His nickname is "the Punisher."
Yet Duterte's rise has shocked the country's political establishment, and critics have raised concerns about his many profane comments and alleged human rights violations. While campaigning, he joked about rape and infidelity, promised to clean up crime by killing thousands of criminals and warned that he might declare a "revolutionary government" if he does not get his way in Congress. He has acknowledged overseeing death squads, mercenary groups that executed suspected criminals in Davao.
Millions of Filipinos turned out to elect their 16th president in one of the most closely watched and emotionally charged elections in recent memory. Amid tight security, polls opened at 6 a.m. at 92,000 clustered precincts nationwide; they closed at 5 p.m.
Filipinos chose from 44,871 candidates vying for positions from the president to city councilors. More than 100,000 police officers were dispatched nationwide to guard against political violence and unrest, according to local news media.
Duterte went into the election with a wide lead in opinion polls, followed by Sen. Grace Poe, whose campaign drew attention to her inspirational life story — she was abandoned as an infant and raised by movie stars.
With nearly 90% of precincts reporting by Tuesday morning, Poe was running third, behind former Interior Secretary Manuel "Mar" Roxas II. But neither was close to Duterte, who appeared set to win in a landslide.
Poe said that she called Duterte to congratulate him and that she was "giving way" to the candidate "whom the majority of our countrymen have chosen," according to the local news website Rappler.
Join the conversation on Facebook >>
The vice presidential front-runner, Ferdinand "Bongbong" Marcos Jr., is the son of the late dictator Ferdinand Marcos, who declared martial law and imprisoned tens of thousands of opponents during his rule from 1965 to 1986.
Manila has been in the grip of election fever for months, its streets clogged by rallies and plastered with colorful campaign posters.
In Pasay City, an impoverished district in Manila, voters flocked to Jose Rizal Elementary School to cast their ballots.
"Corruption and drugs are the biggest issues here," said Juanito Orpilla, a 39-year-old City Hall employee, and he hoped the next president would "arrest and put to jail the guilty ones."
"No. 1, there's no discipline," said Len Pryde, 67, a retired warehouse supervisor. "We need a good leader, with an iron arm."
Authorities and local newspapers have reported several incidents of election-related violence. The Parish Pastoral Council for Responsible Voting, the Philippines' leading electoral watchdog, told local media that a child was killed when a polling station was bombed in Shariff Aguak, a municipality on the southern island of Mindanao.
On Saturday, a candidate for mayor in Lantapan, a remote southern town, was shot and killed.
In Forbes Park, Manila's richest neighborhood, voters lined up in neat rows to cast ballots in a sunny atrium at a government office. Some voters said they hoped to preserve the country's political status quo. (Duterte is widely considered an unpredictable, anti-establishment candidate).
"The economy's moving up, and the last thing that you want is someone who will keep it down," said Jopie Luz, 57, a local official. "You know stocks are down, investments are stagnant, people are holding on to their money because of uncertainty about [the] next president."
"I think [the elections are] OK; it's peaceful," Yoklin Pua, 73, a former engineering professor at De La Salle University in Manila. "The people decide who they want to vote for, so ultimately the people deserve who they voted for. If we have martial law again, people deserve it."
De Leon is a special correspondent
ALSO
Islamic State claims responsibility for deaths of 8 police officers in Cairo suburb
Mexico transfers drug lord 'El Chapo' to a prison in Ciudad Juarez
Must-read stories from the L.A. Times
Get the day's top news with our Today's Headlines newsletter, sent every weekday morning.
You may occasionally receive promotional content from the Los Angeles Times.