North Korea detains, interrogates, expels BBC journalist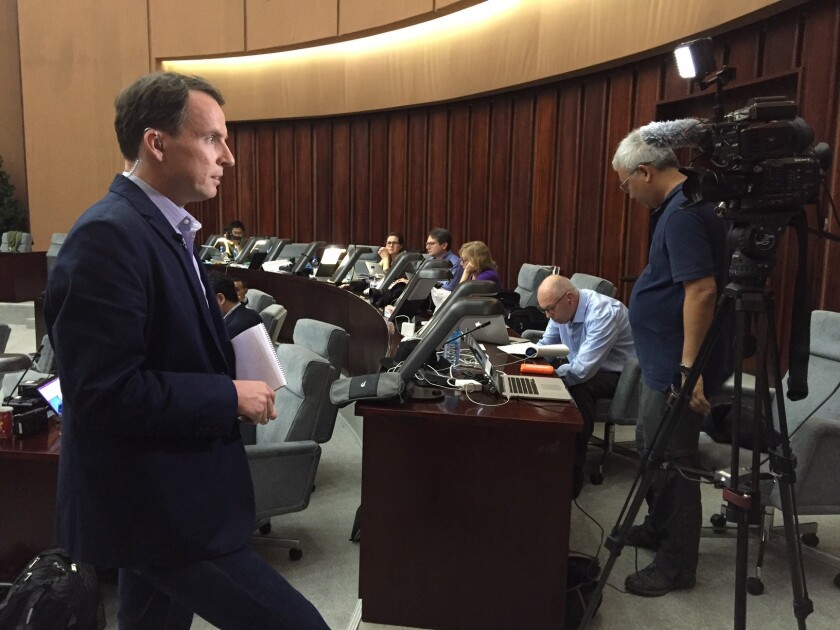 Reporting from Pyongyang, North Korea —
North Korea has expelled a BBC journalist after deeming his reporting disrespectful to the government of Kim Jong Un.
Rupert Wingfield-Hayes, who traveled to Pyongyang to cover the visit of three Nobel laureates to the country last week, was detained Friday at the Pyongyang airport, colleagues said.
He was later taken to a hotel and interrogated for hours, then made to sign a confession. It not immediately unclear what the statement said. Two other colleagues who were with Wingfield-Hayes were separated from him and taken to another hotel while he was questioned.
Wingfield-Hayes and his colleagues were allowed to rejoin other colleagues Saturday and were finally being allowed to leave Pyongyang on Monday afternoon, colleagues said.
"North Korean officials made it very clear they did not like the contents of his reports," said fellow BBC reporter John Sudworth. "It was a huge amount of pressure to find himself under." Wingfield-Hayes was told that he would not be welcome back in Pyongyang.
O Ryong Il, secretary-general of the North's National Peace Committee, told the Associated Press that Winfield-Hayes' coverage "spoke ill of the system and the leadership of the country."
More than 100 foreign journalists are in Pyongyang, the North Korean capital, this week to cover the Seventh Workers' Party Congress, a high-level political gathering. Officials appear particularly sensitive about critical coverage this week and have in fact kept the invited press far from the congress venues.
Authorities were apparently displeased with several of Wingfield-Hayes' reports from the reclusive country, including one on a hospital that questioned whether the overall reality of medical care was different from what was presented at the highly stage-managed visit to the hospital.
The Nobel laureates' visit was arranged by the Vienna-based International Peace Foundation. Among those in the delegation was economics laureate Finn Kydland from Norway, who works at UC Santa Barbara.
NEWSLETTER: Get the day's top headlines from Times Editor Davan Maharaj >>
"At the hospital we are shown a million-dollar CT scanner. The science park library is crammed with row upon row of new computer terminals, hundreds of them," Wingfield-Hayes wrote in one of his dispatches. "But everywhere we go is oddly devoid of any 'real' looking people. The hospital is virtually empty. In one room, a group of tiny pajama-clad children are exercising on gym equipment designed for adults. They look bemused, and so are we."
He mentioned that one of the other laureates, Israeli physician Aaron Ciechanover, wanted to ask the doctors about childhood cancer treatment, but the white-robed staff looked "confused." Prince Alfred of Liechtenstein, who chairs the IPF's advisory board, is "starting to have his suspicions," the report said.
Girls practice a flag routine to be performed during celebrations for the Workers' Party Congress.
(Julie Makinen / Los Angeles Times)
People participating in rehearsals for performances at the upcoming Workers' Party Congress head home.
(Julie Makinen / Los Angeles Times)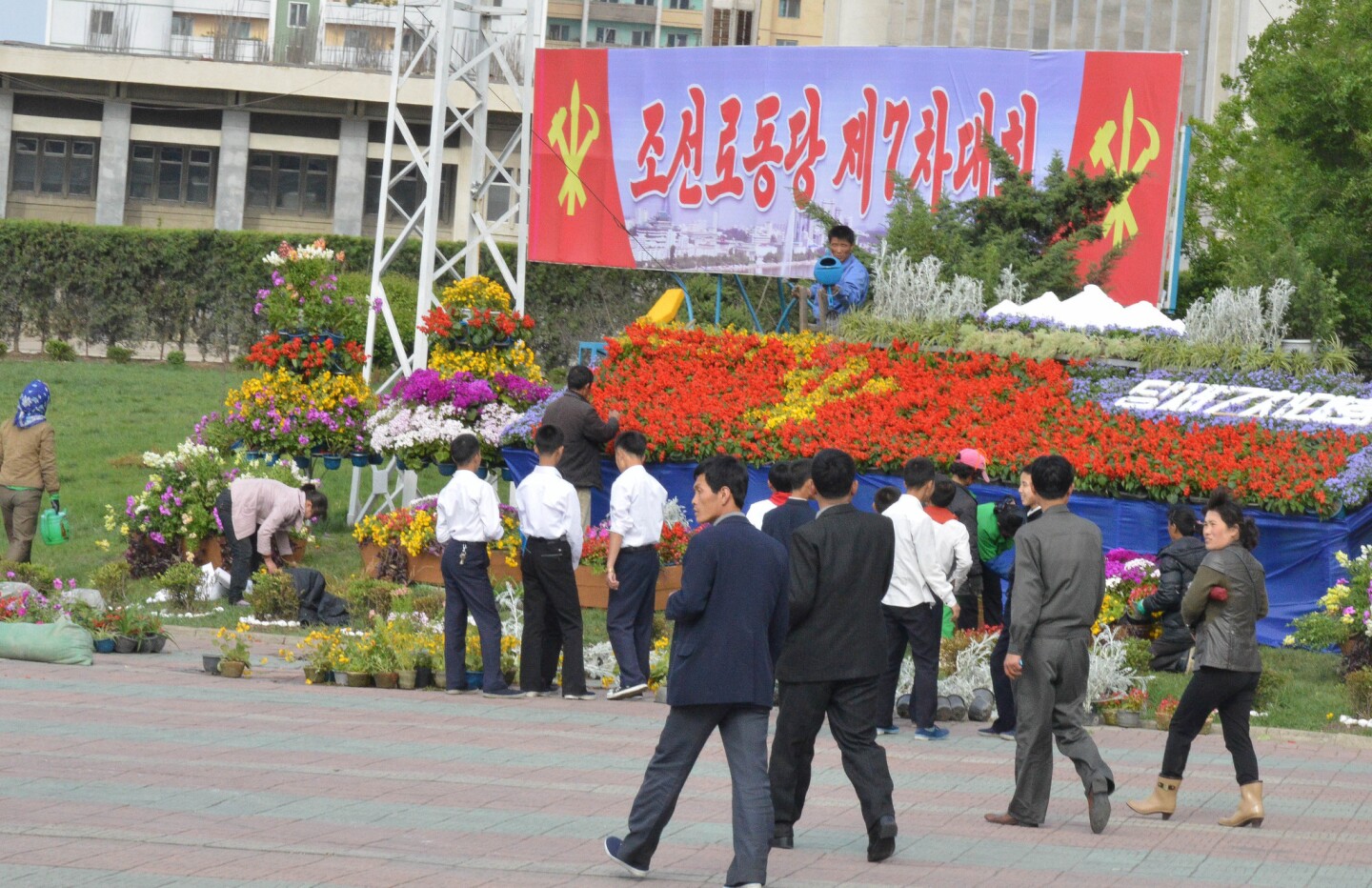 Flowers are being planted at a major intersection in front of a propaganda billboard for the party congress.
(Julie Makinen / Los Angeles Times)
The April 25 House of Culture, where the congress is to be held.
(Julie Makinen / Los Angeles Times)
A poster for the 7th Workers' Party Congress.
(Julie Makinen / Los Angeles Times)
People head home after taking part in rehearsals for performances at the political gathering.
(Julie Makinen / Los Angeles Times)
A propaganda billboard in Pyongyang.
(Julie Makinen / Los Angeles Times)
Schoolgirls heading home from rehearsals.
(Julie Makinen / Los Angeles Times)
Some Pyongyang residents check a national flag hanging along a street in the capital. The city is being heavily decorated for the Workers' Party Congress and generally spiffed up.
(Julie Makinen / Los Angeles Times)
People participating in rehearsals for a candlelight procession wait in an underpass near the Arch of Triumph in Pyongyang.
(Julie Makinen / Los Angeles Times)
A mural featuring founding father Kim Il Sung near the stadium named after him in Pyongyang.
(Julie Makinen / Los Angeles Times)
A worker cleans the street in the run-up to the congress.
(Julie Makinen / Los Angeles Times)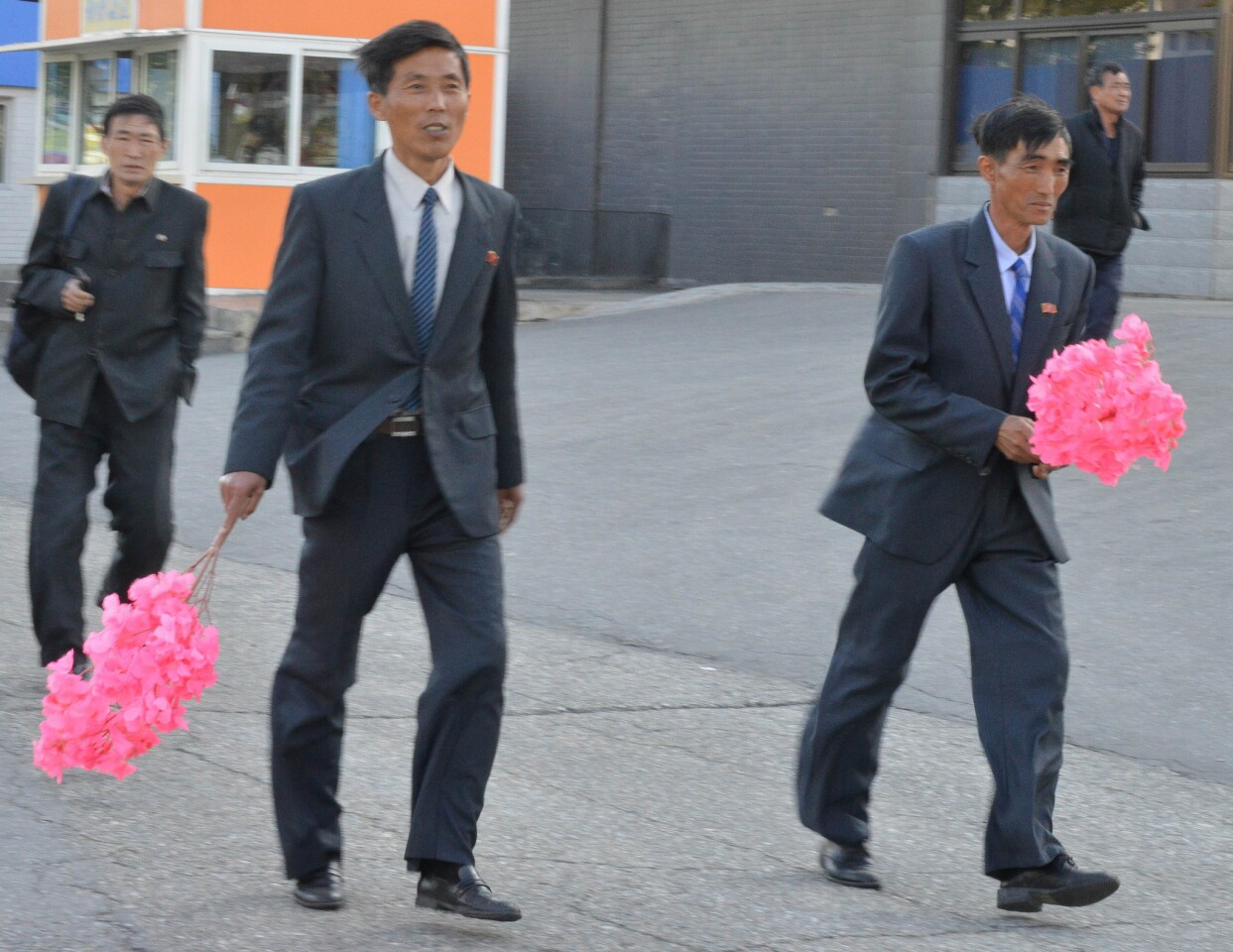 People participating in rehearsals before the congress head home.
(Julie Makinen / Los Angeles Times)
"I don't think these are real doctors," Alfred told the interpreter, according to Wingfield-Hayes. "Can we find some real doctors for the Nobel laureates to talk to?"
North Korean authorities also may have been displeased with one report on Kim Jong Un that said: "What exactly he's done to deserve the title marshal is hard to say. On state TV the young ruler seems to spend a lot of time sitting in a large chair watching artillery firing at mountainsides." The use of the word "corpulent" to describe the North Korean leader was also described as objectionable.
After leaving Pyongyang, the Nobel delegation held a news conference in Beijing about its visit.
"Students and scientists in the DPRK are hungry for knowledge, education and international input, and to expose them to the thinking of foreign scientific and thought provoking minds is well worth the effort," said Alfred, using the initials for the Democratic People's Republic of Korea.
The prince said the delegation aimed to "give the young generation in North Korea a voice, a voice seldom heard of and listened to, a voice that could provide hope for peaceful changes." He called it "an opportunity not to be missed, because we change nothing by not going, we change nothing by not engaging."
Ciechanover, who received his Nobel in chemistry, said the best thing the group found was "the excitement of the students."
"They are knowledge hungry," he said. "Their English was striking. Some of them spoke really fluent English."
But British scientist Richard J. Roberts, a Nobel laureate in medicine, indicated that the members of the delegation could not be sure that they were being told the truth by North Koreans.
"I constantly asked people, do you have access to Internet? And they very often would say yes. But to be frank they don't have access to Internet, except for foreign professors," Roberts said. "I get a feeling that some of the senior graduate students might have some access. But in general, in order for them to get onto the Internet, they need to go through somebody else. What mostly happened is that they tell someone that they would like to get this or that or other, someone else will go and download it, put it onto that intranet and they'll have access to it."
"If you don't have access to Internet," he added, "you cannot do cutting-edge science."
Yingzhi Yang in The Times' Beijing bureau contributed to this report.
Follow @JulieMakLAT for news from China
MORE FROM NORTH KOREA
North Korean leader unveils 5-year plan for economy, but no radical reforms
Photos: North Korea invites journalists to cover political confab but has them tour wire factory during the event
Reporter's Notebook: Trapped in a real-life version of 'Waiting for Godot'
---
Must-read stories from the L.A. Times
Get the day's top news with our Today's Headlines newsletter, sent every weekday morning.
You may occasionally receive promotional content from the Los Angeles Times.