Manila tries to fix its notorious traffic — bad news for jeepneys and trolley boys
Reporting from Manila, Philippines —
The distance is less than two miles. But commuting by car or bus across the murky Pasig River in the heart of this capital city can be a mind-numbing, hourlong exercise in breathing fumes.
Alfred "Betong" Mendez can cut that commute to two minutes. For about 40 cents, anyone can climb onto his open-air cart — known here as a trolley — to be hand-pushed across the river using a milelong shortcut: an active rail line.
Riders have to put up with flies, fetid trash along the tracks and the threat of being sideswiped by a train on the adjacent rails — or worse, stuck in the middle of a narrow bridge with a diesel locomotive barreling toward them. But given the alternative, hundreds of commuters take the risk each day.
"Passengers have panicked and jumped off before," said Mendez, a sinewy 36-year-old who balances atop one rail in Nike sandals as he pushes up to 10 passengers at a time. "I tell them, 'Please don't jump.' It's safe. I know the train schedule. I can hear the train when it's coming."
Mendez belongs to a band of 25 unlicensed trolley pushers who have offered the service for so long they've managed to form their own professional group, the Teresa Trolley Boys Assn., named after the street where they base their headquarters outdoors.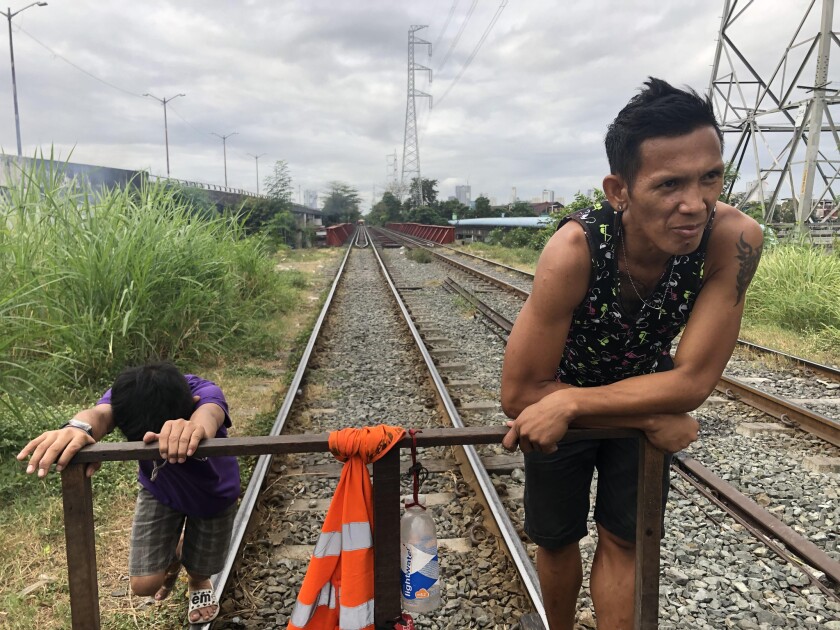 Now, however, the future of the trolleys — along with sidecars, jeepneys and other modes of improvised transportation — is in jeopardy. The culprit: a massive modernization effort aimed at improving the Philippines' flimsy infrastructure and commuter networks.
Indeed, trolley boys and others have thrived because decades of government neglect and scandal have forced Filipinos to take city services into their own hands.
"Commuters in metro Manila have been characteristically resilient and resourceful in the face of intensifying traffic congestion and increasing length of travel time," said John Sidel, a professor at the London School of Economics and an expert on the Philippines. "Their patience in the face of long commutes is nothing short of heroic."
Gridlock is an all-consuming fact of life in greater Manila, a metropolis of 13 million that wakes up each day confronted by a network of woefully inadequate roads, highways and mass transit. Traversing any part of the city feels like being stuck on the 405 during rush hour, but with flooding, greater disregard for lanes and skull-rattling bus horns.
Residents spend the equivalent of 16 days each year stuck in traffic at a cost of nearly $2,000 in lost income, according to a Boston Consulting Group study commissioned by Uber. More than 500,000 daily riders use a Metro Rail Transit system that was built for 350,000.
All told, the city ranks eighth worst in a global traffic index devised by Numbeo, a website that tabulates quality of life data from more than 200 cities. Los Angeles ranked 15th worst. Users of the navigation app Waze have been less forgiving, twice declaring Manila the worst city to drive in, according to the company's driver satisfaction surveys.
Congestion costs metro Manila nearly $70 million a day in economic activity, according to the Japan International Cooperation Agency.
"People have no choice but to ride the trolleys," said Rene Vargas Almeria, the 57-year-old vice president of the trolley boy association. "There's been no development in transportation."
President Rodrigo Duterte came to power in 2016 promising to change that.
He asked Congress to grant him emergency powers to address urban traffic and introduced a $180-billion plan to upgrade the country's crumbling infrastructure, with China and Japan pledging funding. Seventy-five major projects, including new highways, airports and Manila's first subway line, were announced.
The initiative was dubbed "Build, Build, Build."
Understandably, the improvised transportation industry is not happy.
One of the biggest critics is an organization that represents the 160,000 drivers of the ubiquitous jeepney, a smoke-belching symbol of how Filipinos so often do more with less.
The colorful vehicles began as modified surplus U.S. military jeeps left over from World War II. Today, builders buy the diesel engines off the scrap heap in Japan, giving them a second life.
"Jeepneys were supposed to be a stopgap measure," said Steve Ranjo, secretary general of the jeepney operators' group, known as PISTON. "The government abdicated their job providing transport as a public service. Trains should be the backbone of a transportation system, but they're focusing on small capacity vehicles like ours. They're not interested in mass transportation. They're interested in business."
A trolley moves along as the sun sets over Manila.
(Paul Benzi Florendo / For The Times)
A trolley transports a passenger along a rail line.
(Paul Benzi Florendo / For The Times)
A trolley boy changes tracks as a train approaches.
(Paul Benzi Florendo / For The Times)
A trolley boy waits as a train passes.
(Paul Benzi Florendo / For The Times)
A trolley boy travels along a bridge.
(Paul Benzi Florendo / For The Times)
Drivers set their trolleys in place as they await passengers.
(Paul Benzi Florendo / For The Times)
A trolley full of passengers.
(Paul Benzi Florendo / For The Times)
A train passes alongside a trolley.
(Paul Benzi Florendo / For The Times)
E-trikes are charged on a Manila street.
(Paul Benzi Florendo / For The Times)
A jeepney navigates traffic in Manila.
(Paul Benzi Florendo / For The Times)
A trolley travels through a residential area.
(Paul Benzi Florendo / For The Times)
Hoping to phase out jeepneys, the country is giving their operators until 2020 to consolidate ownership, build terminals and garages and come up with enough money to replace them with new hybrid-electric vehicles that could cost 10 times as much.
It's a bar so impossibly high that it can only mean one thing, the drivers say.
"They want to give our routes away to big corporations," Ranjo said. "We can't afford these changes."
A presidential spokesman did not respond to a request for comment.
The also popular tricycle, or sidecar, is already being replaced by electric-powered "e-trikes" in parts of Manila. The glorified golf carts cost twice as much to ride, but don't pollute like the motorized versions, which feature a small cab attached to the hip of a motorcycle.
Noel Francisco, who has been pedaling a bicycle version of the sidecar for more than three decades, scoffed at the upgrades.
"Who's going to take you to your doorstep during a flood?" the 54-year-old said, wearing a towel over his head to absorb his sweat after delivering a passenger. "When they break down, we go on. We're the heroes during heavy rain."
The next frontier for innovative transportation in the Philippines could be ride-hailing motorbikes, which can zip past idling cars. But the government has resisted homegrown services such as Angkas, whose founder complained regulators were more receptive to horse-drawn carriages than to motorbikes.
There is one thing that could save the trolley, the jeepney and the sidecar, or at least delay their demise: more government ineptitude.
Implementation of the president's transportation plans has been as slow as an early evening commute from Quezon City to Makati. Duterte blamed construction delays on a dearth of skilled labor. He recently implored overseas Filipino workers to consider coming home to take part in the country's badly needed modernization.
There's also discontent that some of the upgrading isn't actually designed to improve traffic, but instead aimed at redistributing business opportunities to the politically connected. Land Transportation Franchising and Regulatory Board Chairman Martin Delgra, who previously served as Duterte's lawyer, has been accused of awarding new transportation routes to insiders without proper competitive bids.
Still, things don't look promising for the trolley boys.
In January, the BBC reported on their situation, drawing more than a million views on YouTube — and, according to the trolley boys, threats from authorities who were angry that all the attention on the haphazard service made the government look bad.
They were saved thanks to pleas to rail officials by administrators at the adjacent Polytechnic University of the Philippines. Students there are among the trolley's most frequent riders.
But now the trolley boys say they could be forced out in three months to make way for upgrades to their section of the tracks.
Mendez, who also works as a steward at a hotel, says he can make up to $6 a day as a trolley boy. He pays 60 cents daily to rent the platform on wheels and a little more for the motor oil needed to ensure a slick ride.
He doesn't know what he'll do for money once the area is closed. He has four children, including a 9-year-old son with leukemia. There's chatter among the trolley boys that the Philippine National Railways may hire them during the construction phase. They're not sure if they'll be allowed back after.
"This could all be gone by May," Mendez said. "I'm proud of my work. We serve students and help people travel a lot faster. When I leave, it's going to be hard for them."
---
Must-read stories from the L.A. Times
Get the day's top news with our Today's Headlines newsletter, sent every weekday morning.
You may occasionally receive promotional content from the Los Angeles Times.