South Korea's upcoming presidential election could reshape its relations with North Korea — and the U.S.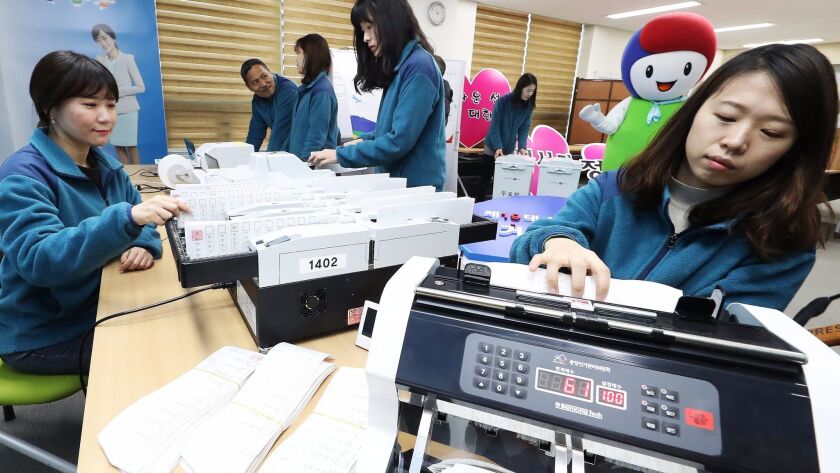 Reporting from Seoul —
With its disgraced former leader ousted from office, South Korea's attention is shifting to a presidential election that could reshape the nation's policy on North Korea and its relationship to the United States.
Last week's removal of the country's conservative president, Park Geun-hye, amid a corruption scandal that has upended the political order could create an opening for liberal parties for the first time in nearly a decade, analysts say.

For the record:
11:56 PM, Aug. 23, 2019This article quoted Lee Ji-soo, a spokesman for Moon Jae-in, calling North Korea a "partner" of South Korea. Lee, a native Korean speaker who was being interviewed in English, said he meant to call North Korea a "counterpart," not a partner.
Recent public opinion polls show that the top two contenders in the May election — at least for now — are from the center-left Democratic Party. Its candidates in some cases differ from the conservatives, in substance and tone, on dealing with the threat of North Korea's advancing nuclear program and South Korea's security relationship with Washington, which has been its closest ally.
American and South Korean ideological labels don't always correlate. In the last decade, the United States — under both Republican and Democratic administrations -- has been more aligned with South Korean conservatives than with liberals on North Korea policy.
The conservatives generally favor a tougher stance concerning their neighbor, with principled engagement and pressure on the communist regime. Liberals might seek to revive cross-border ties and seek increased engagement, with fewer or no preconditions.
The polls suggest that support for conservatives has collapsed. The Park corruption drama prompted millions of frustrated South Koreans to attend massive rallies, energizing the liberal opposition.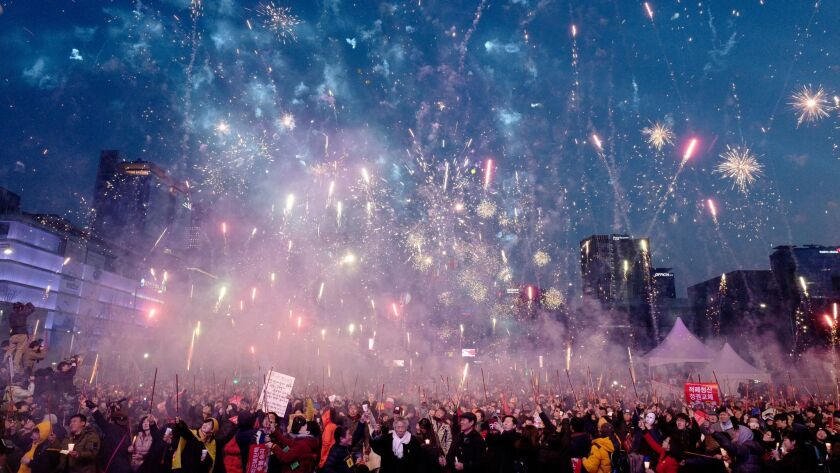 The former ruling party is now split over support for its ousted leader, and its prospects dimmed further when two leading figures — former United Nations Secretary-General Ban Ki-moon and the current prime minister and acting president, Hwang Kyo-ahn — decided against a run. Both had been expected to seek the office as a member of a conservative party.
"This election is the liberals' to lose," said Bong Youngshik, a research fellow with the Institute for North Korean Studies at Yonsei University in Seoul. "The conservative parties, because of their ties to Park Geun-hye, do not have any strong candidates."
The conservative disarray creates an opening for former National Assembly member and Democratic Party leader Moon Jae-in, the leading candidate in polls. A former top aide to late President Roh Moo-hyun, Moon ran was narrowly defeated by Park in 2012.
The election has been set for May 9, the latest date it can be held under the impeachment law, and it feels as though the campaign has already begun. In recent days, Park's conservative Liberty Korea Party blasted Moon for a willingness to change direction on security. The barrage of criticism includes Moon's desire to delay the installation of a U.S.-supplied missile defense system designed to counter North Korea.
The system, THAAD, has angered China so much that it has retaliated economically, blocking tourist groups from visiting and removing South Korean programming from streaming services. Park wanted the system installed by summer, but Moon would prefer to wait for a new government before deciding how to proceed. The United States has already delivered the hardware.
Other high-profile potential candidates include An Hee-jung, a provincial governor from the Democratic Party who is more moderate on some security issues; Ahn Cheol-soo, a software executive turned National Assembly member from the more liberal People's Party; and Rep. Yoo Seong-min, a lawmaker from the conservative Righteous Party, which split from the ruling party over Park.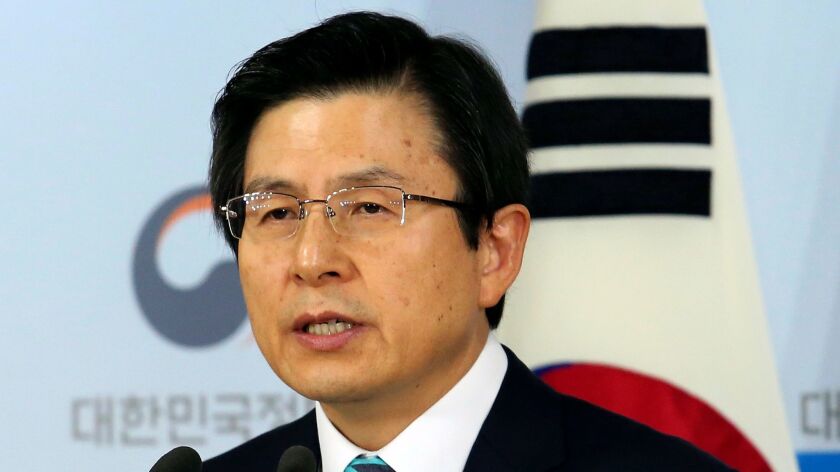 Hwang Kyo-ahn, the prime minister who is serving as acting head of state in Park's absence, announced Wednesday that he would not run. Other than Hwang, the conservatives have few other candidates who have registered statistically in public opinion polls.
"For the management of the stability of the state and a fair presidential election, I've decided that it is inappropriate for me to take part in the election," Hwang said.
The parties are expected to name their candidates by late March or early April, allowing for a monthlong sprint to the election. On Tuesday, the liberal candidates met for a policy forum billed as a debate. The candidates were mostly amicable, questioning THAAD and suggesting that they would seek to improve relations with China.
Meanwhile, the national elections commission has expressed concern that the shortened election schedule could allow chicanery to skew the outcome. It warned in a statement that "false facts, slander, propaganda, voter buying or gift giving will be strictly punished" — and it asked South Koreans to "carefully examine" the candidates and their positions before voting.
Whoever runs, it's clear that Park will cast a shadow on the race. State prosecutors announced Wednesday that they summoned the former president to appear on March 21 as a criminal suspect in a corruption case. She faces numerous charges, including bribery and abuse of power.
The race, which before the scandal might have focused on national security, could also now be an ultimatum on Park's legacy — and perhaps the growing list of domestic issues that worry many, such as youth unemployment, family debt and corporate influence.
The conservatives, who recently split into factions concerning whether to support their troubled leader, seem to recognize that their chances have deteriorated — for now.
"Korea Liberty Party will have to reach out from the lowest position ... to secure the highest position in the hearts of the people," said In Myeong-jin, a Presbyterian pastor acting as an emergency leader for the party.
Moon is polling ahead of other candidates by double digits, according to survey firms Gallup Korea and Korea Research. His ascent, or that of another liberal candidate, likely would represent a marked change over the last two presidents, Park and Lee Myung-bak, also a conservative.
The North and South, divided since the Korean War, have had tense relations for almost seven decades. But two previous South Korean presidents, both considered liberals, have sought reconciliation. One, Kim Dae-jung, won the Nobel Peace Prize in 2000 for his "Sunshine Policy," which led to summit meetings between the nations and reunions for some split families. The other was Roh, Moon's former boss.
A spokesman for Moon, Lee Ji-soo, called North Korea a "partner" in a recent interview.
"If Moon Jae-in is elected, he would want to engage North Korea and adopt a reconciliatory approach," said Duyeon Kim, a Seoul-based researcher at Georgetown University's Institute of the Study of Diplomacy. "But it's currently unclear whether he would swing back to the old 'sunshine policy' in its entirety, given how today's security situation is much worse."
The Moon spokesman, Lee, said his candidate would represent a change in the "way of thinking" about how to deal with the North, with a willingness to try diplomacy but an understanding that a tougher approach might ultimately make more sense. He also said the candidate would like to delay the missile defense system until its merits can be weighed more closely, both in terms of Sino-Korea relations but also based on its necessity.
The North Korea of today is much different than that of a decade ago, when the "sunshine policy" faded into history. The rogue nation's leader, Kim Jong Un, grandson of its communist patriarch, has supervised missile launches and nuclear tests in recent years that violated United Nations resolutions. The regime is now seen by most security experts as a nuclear state with a growing technological capacity to deliver the weapons on missiles.
That behavior — as well as the North's confrontational rhetoric — could also temper the policy positions Moon or others might pursue, experts say.
Political observers such as Bong, the Yonsei researcher, expect the conservative parties to hammer their liberal counterparts on security. This might be an election cycle, however, in which that tactic isn't as effective.
"They will do everything to color Mr. Moon Jae-in, or any presidential candidate from the liberal faction, as pro-North Korea, dangerous, socialist, whatever," he said. "National security will be up front as the most divisive issue, for sure, but that campaign strategy will not be enough to derail a candidate from the opposite side."
Stiles is a special correspondent.
ALSO
South Korea's ousted leader moves out of palace, apologizes for 'not fulfilling my duties'
Tensions across Asia present challenges to secretary of State's first visit
In Beijing after dark, strange wares for sale at a bustling 'ghost market'
---
Must-read stories from the L.A. Times
Get all the day's most vital news with our Today's Headlines newsletter, sent every weekday morning.
You may occasionally receive promotional content from the Los Angeles Times.