Samsung heir apparent is arrested in South Korean corruption scandal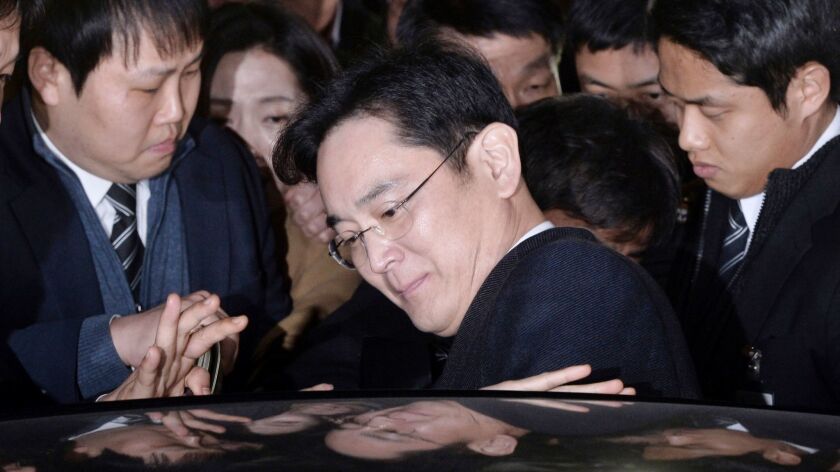 Reporting from Seoul —
South Korean special prosecutors investigating a sprawling corruption scandal that led to the president's impeachment arrested the heir apparent to Samsung Electronics on Friday.
Prosecutors in recent weeks accused Lee Jae-yong of several crimes, including bribery, embezzlement and perjury. A court ruled early Friday that they had produced enough evidence to arrest and detain him — a stunning decision that reverses the same court's denial a few weeks ago.
"Based on the newly gathered criminal charges and evidence, the cause and necessity for arrest has been acknowledged," Judge Han Jeong-suk said.
The allegations against the Samsung Electronics vice chairman, one of South Korea's most powerful men, are connected to the influence-peddling scandal that ensnared South Korean President Park Geun-hye. A separate court process is deciding whether to make her impeachment by the National Assembly in December permanent.
The prosecutors argued that Lee, 48, diverted millions of dollars to a presidential confidant, Choi Soon-sil, in an effort to boost support for a controversial merger between two Samsung affiliates. The deal was seen by some as an effort to solidify Lee's dynastic control over the larger Samsung group.
"We will do our best to ensure that the truth is revealed in future court proceedings," said a Samsung spokeswoman, Rhee So-eui.
In addition to Lee, numerous influential South Koreans, including the president and two of her top aides, a Cabinet minister and the head of the nation's pension service, have been implicated. The whole affair has led to massive but peaceful street rallies in recent months. The scandal has roiled presidential politics.
The special prosecutors, whose 70-day window to investigate the case is winding down, sought to arrest Lee a month ago on similar charges. But the court had denied that request. On Thursday, they asked the country's acting president, Prime Minister Hwang Kyo-ahn, for an extra month to investigate.
This week, the prosecutors brought Lee back amid a press spectacle for questioning at their office, saying they had new evidence.
"I will again in good faith tell the truth during the special prosecutor's interrogation today," Lee told reporters before entering the office.
Lee, reportedly worth about $6 billion, left 15 hours later.
Lee's father, Samsung Chairman Lee Kun-hee, has remained hospitalized since mid-2014 after suffering a debilitating heart attack.
Prosecutors said they made "sufficient preparations" this time around and hoped they would succeed in jailing the younger Lee, whose late grandfather was Samsung's founder.
Among the allegations this time were two new charges: concealing gains from a criminal act and diverting funds overseas.
Samsung officials weren't immediately available for comment.
The new charges relate to about $38 million diverted to companies managed by Choi, the presidential confidant, including $7 million shipped to Germany, perhaps without the proper foreign transaction notices, prosecutors said.
It was unclear Friday when the case would proceed and how long Lee would remain jailed. Lee's father, who headed Samsung for nearly three decades, was accused of financial wrongdoing in 2008. But he never served time in jail. Park's predecessor, Lee Myung-bak, pardoned him.
Samsung, the world's top smartphone manufacturer, is South Korea's largest conglomerate, or chaebol, the hugely influential businesses here. Many of their reclusive executives have faced questions relating to the scandal, but Lee is the first — and most powerful — to face criminal charges.
Choi, who remains jailed, is accused of using her influence with the president to gain access to sensitive government documents and to extort South Korea's powerful conglomerates for donations. The prosecutors believe Park played a role in the scheme.
"This investigation is about civilians, including Choi Soon-sil, meddling in state affairs," the prosecutors' spokesman, Lee Kyu-chul, said. "There are allegations that Choi used her personal ties to President Park or possibly even colluded with the president to receive money and valuables from Samsung. That's why we are investigating the conglomerate. We are not targeting the conglomerate."
Prosecutors on Wednesday said the president talked to Choi nearly 600 times last year, including more than 120 times after Choi left South Korea for Germany.
Also on Thursday, a Seoul court denied a request to force a search at the Blue House, the presidential complex known for its distinctively colored tile roof. Prosecutors were recently denied access to the building to seize presidential records, prompting a dramatic five-hour standoff, because of a law that limits searches of locations with military secrets.
Prosecutors said they hope to get more time to finish the investigation. They need approval from Hwang, a Park ally, so the extension was far from certain.
"Unlike previous investigations, this one has so many more people and branches," said Lee, the prosecutorial spokesman. "We're making the request now because it won't be possible to complete the investigation by [Feb.] 28, and the acting president will need time to review the request before making any decisions."
They have repeatedly sought to question Park, who had planned to sit for an interrogation last week. The deal between her lawyers and prosecutors fell apart, however, after reports of their arrangements were aired in the media.
Park remains immune from standard criminal charges, even while her duties as president are suspended. If the court rules her impeachment was justified, however, prosecutors would be free to seek a criminal case against her.
Stiles is a special correspondent
ALSO
Two more arrests in Malaysia in mysterious death of North Korean leader's half brother
By testing a missile, North Korea was probably also testing Trump, experts say
Secretary of State Rex Tillerson has kept a low profile so far. On Thursday, he spoke up
---
UPDATES:
3:05 p.m.: Updates with Samsung comment.
This article was originally posted at 2:50 p.m.
---
Must-read stories from the L.A. Times
Get the day's top news with our Today's Headlines newsletter, sent every weekday morning.
You may occasionally receive promotional content from the Los Angeles Times.