Taiwan's president calls China a 'threat,' predicts turbulent 2017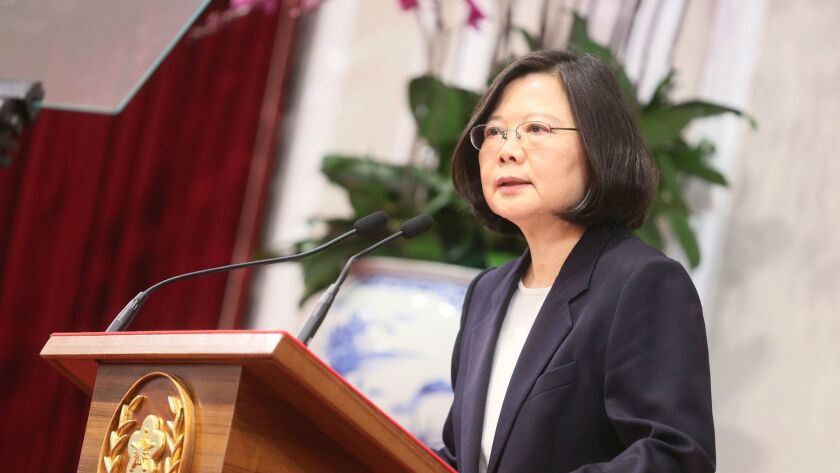 Reporting from TAIPEI, Taiwan —
Taiwan's President Tsai Ing-wen on Saturday said China is becoming a growing threat to the self-ruled island and predicted a volatile but pivotal 2017.
"The Beijing leadership has, step by step, backed onto an old track to polarize, pressure and even threaten and intimidate Taiwan," Tsai said. "We hope that this is not Beijing's adoption of a policy and want to remind it that such moves have hurt Taiwanese people's feelings and affected stability across the Taiwan Strait."
Tsai's comments, at a year-end news conference, came after China sent its first aircraft carrier and five other warships through waters near Taiwan this week. The island has also suffered the loss of diplomatic alliances in Africa to China this year and, since April, a more than 30% drop in tourism from the Chinese mainland.
China has claimed sovereignty over Taiwan since the Chinese civil war in the 1940s and opposes any moves in Taiwan or abroad to legitimize its self-rule.
Tsai has irritated China since taking office May 20 by rejecting Beijing's conditions for talks that the Communist Party leadership hopes could someday lead to unification of the two sides.
Tsai opposes these conditions because they would unite the sides under China. Most Taiwanese prefer self-rule, according to government surveys of public opinion.
Tsai also irked China this month by making a 10-minute phone call to President-elect Donald Trump.
The United States has been an informal ally of and arms seller to Taiwan. But until that day, no American president or president-elect is believed to have spoken directly with a Taiwanese leader since the U.S. recognized the mainland government and cut ties with Taiwan in 1979.
Tsai said Saturday that Taiwan would not meet Beijing with "resistance" but rather "maintain our status of peace and stability."
On Saturday, she travels to four Central American countries: El Salvador, Guatemala, Honduras and Nicaragua. China has asked the U.S. to bar Tsai from transiting through U.S. cities on her way to the region and back.
The loss of Gambia and Sao Tome and Principe as allies has raised concern in Taiwan that China might use development aid as an inducement to other countries to switch sides.
Taiwan will push for closer ties with India and other countries in Southeast Asia that recognize China over Taiwan, Tsai said Saturday.
"In 2017, our society is going to face some turbulence and face some uncertainties," she warned. "It's going to test our whole national security team, as well as the whole government's ability to handle change."
But, she added, "We need to face this matter calmly." If China and Taiwan share a "rational" approach, she said, some problems could be worked out.
"It is not impossible that there is room for creativity."
Jennings is a special correspondent.
ALSO
Two blasts at Baghdad market kill 28, wound 54
United Nations backs Russian-Turkish peace efforts in Syria as truce falters
After Islamic State institutionalized looting in Syria, the market for fake antiquities is booming
---
Must-read stories from the L.A. Times
Get all the day's most vital news with our Today's Headlines newsletter, sent every weekday morning.
You may occasionally receive promotional content from the Los Angeles Times.