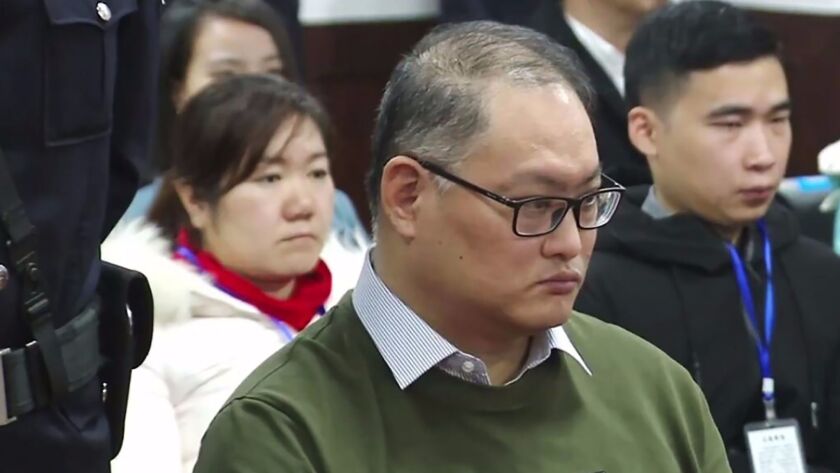 Reporting from Taipei, Taiwan —
A court in China sentenced a man from Taiwan to five years in prison Tuesday over his advocacy of democracy, a verdict that could drive the rival governments further apart instead of nudging them toward Beijing's eventual goal of unification.
A court in southern city of Yueyang convicted Lee Ming-che, 42, of subverting state power. He had used social media to discuss democracy with users of a popular messaging service in China, his supporters say. Chinese state-run news outlets say the social media group was aimed at overthrowing the government.
The sentence, which can be appealed nor shortened for parole, will deter Taiwanese from going to nearby China for work, travel or business, some on the island say. The case may also chill official relations, which are already poor after decades of distrust and a lack of dialogue over the last 18 months.
"Taiwanese people will worry that today's verdict makes clear the gaps between us," said George Hou, a communications lecturer at I-Shou University in Taiwan. The sentence will "lead people to be more careful when going over there, even maybe considering not going."
China and Taiwan have been separately ruled since Chiang Kai-shek's Nationalists moved their base of operations to Taiwan after losing the Chinese civil war in the 1940s. China claims sovereignty over Taiwan and sees formal dialogue as a conduit to eventual unification.
Officials in Beijing resent Taiwanese President Tsai Ing-wen for rejecting their insistence — which they have set as a condition for dialogue — that both sides belong to one country. Since Tsai took office in May 2016, the government in Taiwan says, China has added pressure by sending an aircraft carrier around the island, cutting back on tourist arrivals and persuading two countries to stop recognizing Taiwan's independence. The two sides talked from 2008 to 2015.
Lee's verdict will "inevitably have a serious negative effect on cross-strait relations," Taiwan's Mainland Affairs Council said in a statement.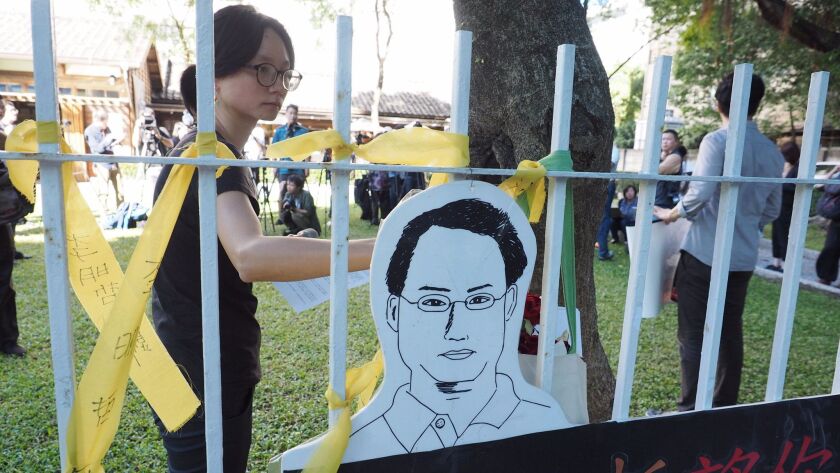 The island's ruling Democratic Progressive Party, for which Lee had worked in a branch office 10 years ago, said in a statement that the defendant had been "concerned about the development of democracy and freedom in mainland China and shared and exchanged views with friends about Taiwan's democratic experience."
In 2012, Lee had become the "backbone" of a China-Taiwan social media group formed by Chinese national Peng Yuhua, who received a seven-year sentence Tuesday, the official New China News Agency reported. The group, which attracted as many as 2,000 people at a time, eventually formed a political party and aimed to overthrow the current form of government, the agency said.
The sentence is severe because it will exceed three years, said Chiu Yi-ling, secretary-general of the Taipei-based advocacy group Taiwan Assn. for Human Rights. He had faced up to 10 years.
Activists, scholars and media in Taipei speculate that China wants to send a message that Taiwanese should avoid discussing political issues with mainland people, even from home. Taiwan democratized in the late 1980s. The Washington-based advocacy group Freedom House this year gave China a score of 15 out of 100 and Taiwan a 91 in its annual report on the state of political rights and civil liberties worldwide.
"What he did is go online here in our land. Then he was sentenced in China," lawyer Kao Jung-chih at the Taipei-based Judicial Reform Foundation said at a news conference in Taipei.
"This is something all Taiwanese do," Kao said. "Using our computers and keyboards, we're sending out our ideas. [The sentence] is something Taiwanese people can't accept. We think this is the most basic freedom of speech."
About 1 million to 3 million Taiwanese live in China long term, often as investors and their relatives. China encourages younger Taiwanese to come as interns or employees of start-ups, a chance to earn money in an $11.2-trillion-plus economy that is growing at nearly 7% annually, faster than Taiwan's.
"A lot of the pundits, they're saying China is trying to send a message, and the message is once you're in China, don't do anything against the local laws or regulations," said Raymond Wu, managing director of the Taipei-based political consulting group e-telligence.
Chinese police and state security officers occasionally detain Taiwanese for political reasons or block their entry, said Shane Lee, a political scientist at Chang Jung Christian University in Taiwan. A dealer of politically suggestive old stamps was detained once, he said. Two years ago, Chinese authorities detained a Taiwanese practitioner of the banned spiritual group Falun Gong.
Lee Ming-che, who worked most recently as a university program manager, was charged in China after disappearing March 19 in the Chinese territory of Macau.
Some analysts in Taiwan suspect the verdict and other recent events were designed to pressure Tsai back to the bargaining table on Beijing's condition. Government opinion surveys since 2015 have found that at least 70% of Taiwanese prefer autonomy from China.
Taiwan may feel more pressure in its "international space" unless it agrees to the one-China condition, Wu said, referring to Taiwan's diplomatic relations and participation in international organizations.
China may have linked Lee to other political activists as well, Amnesty International said in a statement. The London-based advocacy group says China has cracked down since July 2015. It called Lee "the latest to suffer under the Chinese authorities' relentless attack against human rights and democracy activists."
ALSO
Latest North Korean launch is believed to be an ICBM, the third this year
Taiwan's military says a missing pilot didn't defect to China, but speculation blooms anyway
Many in China outraged by shocking sexual abuse allegations at a kindergarten in Beijing
Jennings is a special correspondent.
---