China is tightening the screws on Taiwan. Here are the ways it is exerting pressure
Taiwan gave up hope Monday that it would be invited to the World Health Organization's annual assembly in Geneva as an observer. Officials in Taipei believe that China, Taiwan's 70-year political rival, pressured the U.N. group's secretariat to withhold an invitation to the May 22-31 event.
China claims sovereignty over self-ruled Taiwan and wants the two sides to unify. Taiwan has observed the assembly, where 192 countries discuss policy and a budget, every year since 2009 as the two sides built trust through dialogue. But this year's assembly is the first under Taiwan President Tsai Ing-wen, who disputes China's insistence that Taiwan consider itself Chinese territory.
China has been turning up the heat on Taiwan since Tsai took office a year ago. Here are five other ways the country has exerted pressure — all reversible should Tsai eventually warm to Beijing:
1. Rejection from other U.N. organizations
Over the past year, China blocked Taiwan's request to observe the International Civil Aviation Organization, officials in Taipei say, and stood in the way of its participation in the U.N. Framework Convention on Climate Change. Taiwanese officials think China uses economic clout and its more than 170 diplomatic allies to block Taiwan.
The World Health Assembly rejection stings because Taiwan wants to promote medical tourism, show off healthcare efforts in developing countries and share tips on containing contagious diseases.
"Is the whole world going to let China, one country, destroy a global medical protection network?" Taiwan ruling party legislator Yeh Yi-chin angrily asked at a news conference Monday. "If a protective net springs a leak, then it's a totally ineffective net."
2. Making cases of people who cross the line
China expressed "indignation" and demanded Saturday that Taiwan hand back two fishing boat personnel caught in Taiwan-controlled waters and injured with rubber bullets fired by the coast guard. It has held a Taiwanese democracy and human rights advocate since March 19 without announcing charges. Taiwanese authorities arrested a business administration university student in March on suspicion that China sent him to spy.
3. Passing an aircraft carrier around the island
In December, China sent its Liaoning aircraft carrier through the Pacific around Taiwan's east coast and along its west side a month later. The carrier's movement put the Taiwanese Defense Ministry on alert. China made the move to warn Tsai about getting too close to the United States after her Dec. 2 phone call with President Trump, analysts said.
4. Cutting back tourist arrivals
Group tourist arrivals from China to Taiwan dropped 30% in 2016 after reaching a record 3.3 million in 2015. People in Taiwan's travel sector suspect Beijing was asking tour agencies to steer customers to other offshore vacation spots so Taiwan's service sector would miss them and ask their government to talk with China again.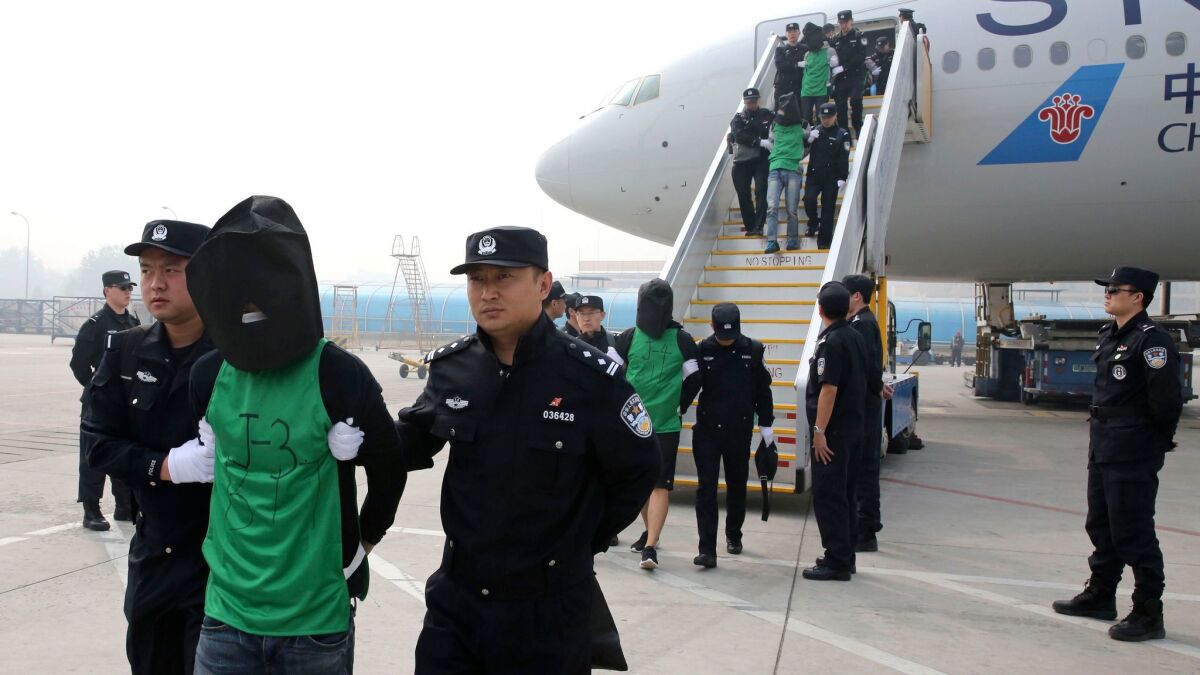 5. Extraditing Taiwanese fraud suspects from other countries
China is holding 223 Taiwanese fraud suspects sent over in batches from five countries that hosted scam operations alleged to have cheated mainland Chinese citizens by phone, wire or Internet. Since April 2016, China has asked other countries to consider classifying Taiwanese suspects as Chinese for extradition purposes. Chinese fraud sentences usually are longer than those in Taiwan.
Jennings is a special correspondent.
ALSO
Taiwan demonstrates a newfound love of dogs with a law to stop killing them
For mainland Chinese students, Taiwan's universities are 'like paradise.' But there's a catch
---
Must-read stories from the L.A. Times
Get the day's top news with our Today's Headlines newsletter, sent every weekday morning.
You may occasionally receive promotional content from the Los Angeles Times.