Trump speaks with Taiwanese president, possibly provoking China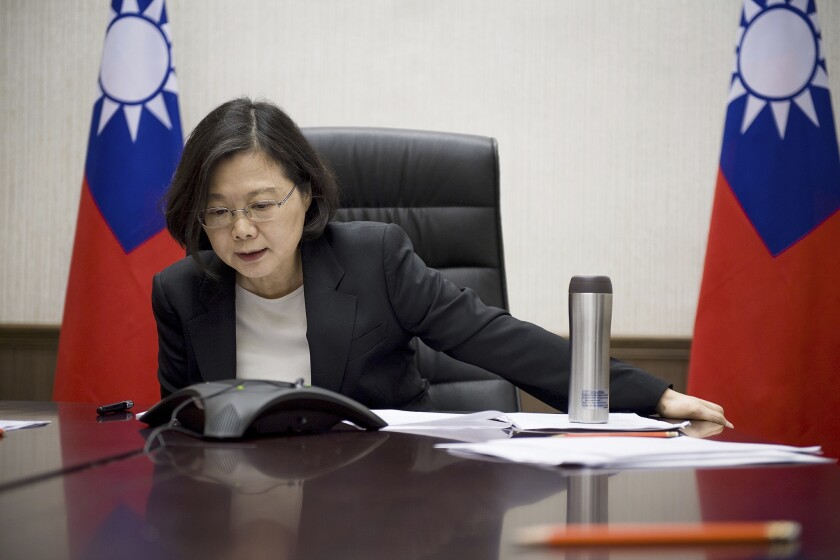 Reporting from taipei, taiwan —
President-elect Donald Trump had a potentially provocative phone conversation Friday with Tsai Ing-wen, the president of Taiwan, which could upset delicate relations between the U.S. and the Chinese government.
It is believed to be the first call between a president or president-elect with a Taiwanese leader since 1979, when the U.S. recognized the mainland government and cut ties with Taiwan.
China has claimed sovereignty over the self-ruled island since the Chinese civil war of the 1940s and insists that its more than 170 diplomatic allies, including the U.S., avoid making official contact with the island's leadership.
But Washington has remained a staunch informal supporter of Taiwan, part of its network of Pacific Rim allies even after the U.S. cut diplomatic ties with Taiwan in 1979 in favor of the economically more powerful China.
On the 10-minute call, a first between a Taiwan leader and a U.S. president-elect since that year, Taiwan President Tsai Ing-wen said her government wanted stronger ties with the United States, Tsai's office said in a statement.
"The president hopes to strengthen two-way interaction and communication and establish closer cooperative relations," the statement said. "The president also told Trump that in the future she hopes that on the question of international relations, the U.S. side can continue to help Taiwan have more chances to participate and make contributions."
Tsai won election in a landslide in January after running on a platform that included taking a harder line with China than her predecessor, including a refusal to adhere the tacit deal that only one China exists, united on both sides of the Strait of Taiwan.
But her popularity has plummeted amid economic malaise; more than 100,000 people protested outside her office in September. She could face growing pressure to propose conditions for dialogue with China.
China opposes Taiwan's joining any international organizations, such as the United Nations, that require statehood as a prerequisite. Lack of formal ties abroad has hampered the export-reliant island of 23 million from signing trade deals with other countries.
On the call, first reported by the Financial Times, Trump and Tsai also exchanged ideas about stimulating Taiwan's economic development and stepping up security, the presidential office said in a statement. The U.S. government has sold Taiwan advanced weapons in the past despite strong disapproval from China, which is 99 miles away and the island's most likely opponent in any war. China has not ruled out use of force if needed to make the two sides unify under one flag.
Tsai used the call to compliment Trump on his Nov. 8 election and expressed "respect" for his victory amid "intense competition," the statement from her office said.
Chinese Foreign Minister Wang Yi played down the call, referring to it as a "little trick" by Taiwan. Wang, speaking Saturday on Hong Kong's Phoenix TV, said he did not believe it would alter longstanding U.S. policy toward China and hoped the relationship would not be "interfered with or damaged."
Tsai took office May 20 on pledges to engage Beijing only without its precondition that both sides see themselves as part of a single China. That standoff has killed chances of proceeding with the dialogue that her predecessor normalized in 2008. Most Taiwanese oppose unification with China, though many want peaceful relations and strong economic ties with the world's No. 2 economy.
The call is likely to be publicly popular in Taiwan, where many are concerned about their government's lack of high-level contact with the United States, said Alexander Chiang, associate professor of international politics with National Chengchi University in Taipei.
But Trump may not be able to keep up contact after he takes office Jan. 20, Chiang said. China does not let its diplomatic allies, the United States included, make official contact with Taiwan.
"Trump is still president-elect, so we have to wait and see what he does," Chiang said. "It's a trial balloon and Trump wants to see how far he can go because he's still president-elect. After he becomes the president, he won't be able to do that."
On the other hand, the call with Tsai shows that Trump may not follow the usual foreign policy protocol, said Sean King, senior vice president with the New York political consultancy Park Strategies. Other Asian democracies should see the contact with Taiwan as a sign Trump will support them over China, he added.
"It shows Trump doesn't adhere to foreign policy taboos and that everything's on the table," King said. "Although they won't admit it for fear of angering Beijing, it also gives our other Asian allies confidence that America has their back."
Trump repeatedly criticized China during his campaign, promising to brand the country a currency manipulator, which could also add tension to relations with the Pacific power. He blamed China for undermining U.S. manufacturing jobs by selling artificially cheap exports.
The Trump transition team confirmed the call Friday in a statement summarizing contacts with four foreign leaders, including leaders from Afghanistan, the Philippines and Singapore.
"President-elect Trump spoke with President Tsai Ing-wen of Taiwan, who offered her congratulations," the statement said. "During the discussion, they noted the close economic, political, and security ties exists between Taiwan and the United States. President-elect Trump also congratulated President Tsai on becoming president of Taiwan earlier this year."
Trump added on Twitter that he had not initiated the call.
He added: "Interesting how the U.S. sells Taiwan billions of dollars of military equipment, but I should not accept a congratulatory call."
The White House was not informed of the call in advance, Emily Horne, a spokeswoman for the National Security Council, said in a statement.
"There is no change to our longstanding policy on cross-Strait issues. We remain firmly committed to our 'one China' policy. ... Our fundamental interest is in peaceful and stable cross-Strait relations," she said, repeating longstanding, and carefully adhered to, diplomat-speak regarding the sensitive issue.
Less than two weeks ago, Chinese President Xi Jinping sat across from President Obama at an economic summit in Peru and declared that the U.S.-China relationship was at a "hinge moment" following the election of Trump.
"I hope the two sides will work together to focus on cooperation, manage our differences, and make sure there is a smooth transition in the relationship and that it will continue to grow going forward," he said at the start of a bilateral meeting with Obama, their ninth face-to-face encounter.
Xi spoke with Trump days after he was elected. The Chinese president told Trump that cooperation was "the only correct choice for China and the United States," Chinese state media reported.
The White House has not been getting direct reports about Trump's calls with foreign leaders. In some cases, they have gotten informal summaries from foreign counterparts.
On Thursday, a day after Pakistan's government released candid details of a call between Trump and Prime Minister Nawaz Sharif, White House Press Secretary Josh Earnest diplomatically counseled the incoming president and his team about the value of following State Department guidance about sensitive foreign contacts.
"Every president, regardless of which party they're in, benefits enormously from the expertise and service of thousands of patriotic Americans at the State Department," he said. "... And I'm confident that as President-elect Trump takes office, those same State Department employees will stand ready to offer him advice as he conducts the business of the United States overseas. Hopefully he'll take it."
Special correspondent Jennings reported from Taipei. Times staff writers Bierman and Memoli reported from Washington. Special correspondent Jessica Meyers in Beijing contributed to this report.
ALSO
Even elite campaign aides still aren't sure why Donald Trump succeeded
Disney's Bob Iger named to Donald Trump's new President's Strategic and Policy Forum
Scott Brown wants to run the VA for Trump. He has a high-profile liberal supporter in Elizabeth Warren
---
UPDATES:
9:05 p.m.: The article was updated with a statement from the Chinese foreign minister.
This article was originally published at 6:45 p.m.
---
Must-read stories from the L.A. Times
Get the day's top news with our Today's Headlines newsletter, sent every weekday morning.
You may occasionally receive promotional content from the Los Angeles Times.