Taiwan president and U.S. envoy call for more religious freedom in Asia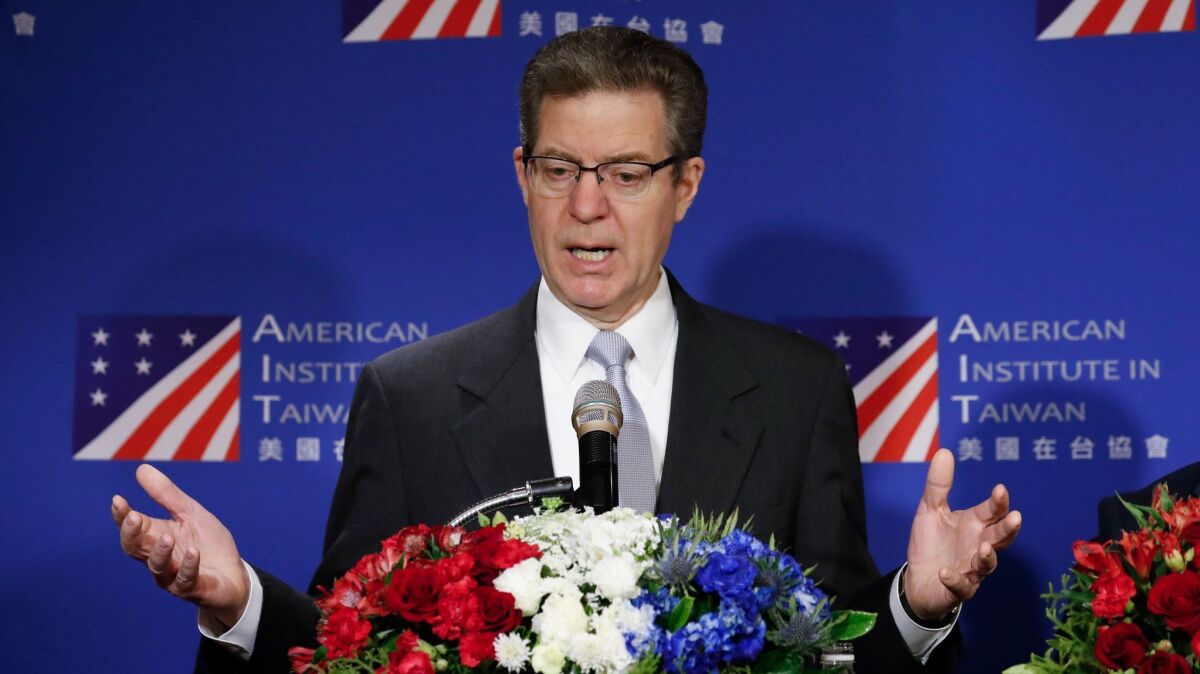 Reporting from Taipei, Taiwan —
Taiwan President Tsai Ing-wen joined a U.S. envoy Monday in advocating more religious freedom in Asia, a joint jab at China, where the government restricts worship and resents American officials for political dealings with the island.
The president of the self-ruled island told Sam Brownback, U.S. ambassador-at-large for international religious freedom, during a closed-door meeting that Taiwan wants to help the United States contribute to the development of religious freedom and democracy, officials said.
Tsai told Brownback she expects that "Taiwan and the United States, through more cooperative exchanges, can in the future continue promoting joint values and strengthen the two sides' partnerships," according to a statement on the presidential office website.
China and Taiwan have been separately ruled since the Chinese civil war of the 1940s, but China insists that the two sides eventually unite. More than 80% of Taiwanese oppose unification, government surveys indicate.
Taiwan has no restrictions on religion. About 35% of its 23 million people practice Buddhism, followed by 33% who follow Taoism, the U.S. government found in a 2017 study. Around 5% follow Christianity. In China, churches are required to register with the government and are subject to Communist Party supervision.
The Trump administration has stepped up informal contact with Taiwan to harden his stance against China during the past year's Sino-U.S. trade disputes.
Brownback told a 15-country religious freedom forum Monday in Taipei that Beijing should negotiate with the Dalai Lama over the exiled Tibetan spiritual leader's return to China. He further accused China of detaining ethnic Uighurs, a Muslim population in China, to silence their family members living abroad.
"What does the Chinese government have to fear from people reading the Bible or Uighurs naming their children Mohammad?" Brownback said at the forum. "The Chinese are a strong and vibrant people. They do not need to fear people who have strong religious beliefs or convictions."
The Chinese foreign ministry objected to Brownback's comments.
"We urge the U.S. to face up to and respect the basic facts, abandon prejudice, be cautious and objectively consider Chinese religious policy and freedom of religious belief, and stop using so-called religious issues to interfere in China's internal affairs," foreign ministry spokesman Lu Kang told a news briefing.
Brownback was expected to spend several days in Taiwan. After the envoy gave a speech Friday in Hong Kong, where he spent four days, China's foreign ministry accused him of "slander." He had said Beijing should allow investigations of detainment camps where ethnic Uighurs say they've been tortured.
"Ambassador Brownback's visit this time not only showcases the values of human rights and freedoms that both sides enjoy, but it's also a great example of ongoing Taiwan-U.S. partnership relations," the foreign ministry in Taipei said Sunday.
Jennings is a special correspondent.
---
Must-read stories from the L.A. Times
Get the day's top news with our Today's Headlines newsletter, sent every weekday morning.
You may occasionally receive promotional content from the Los Angeles Times.