Chinese president warns Taiwan that independence would be a disaster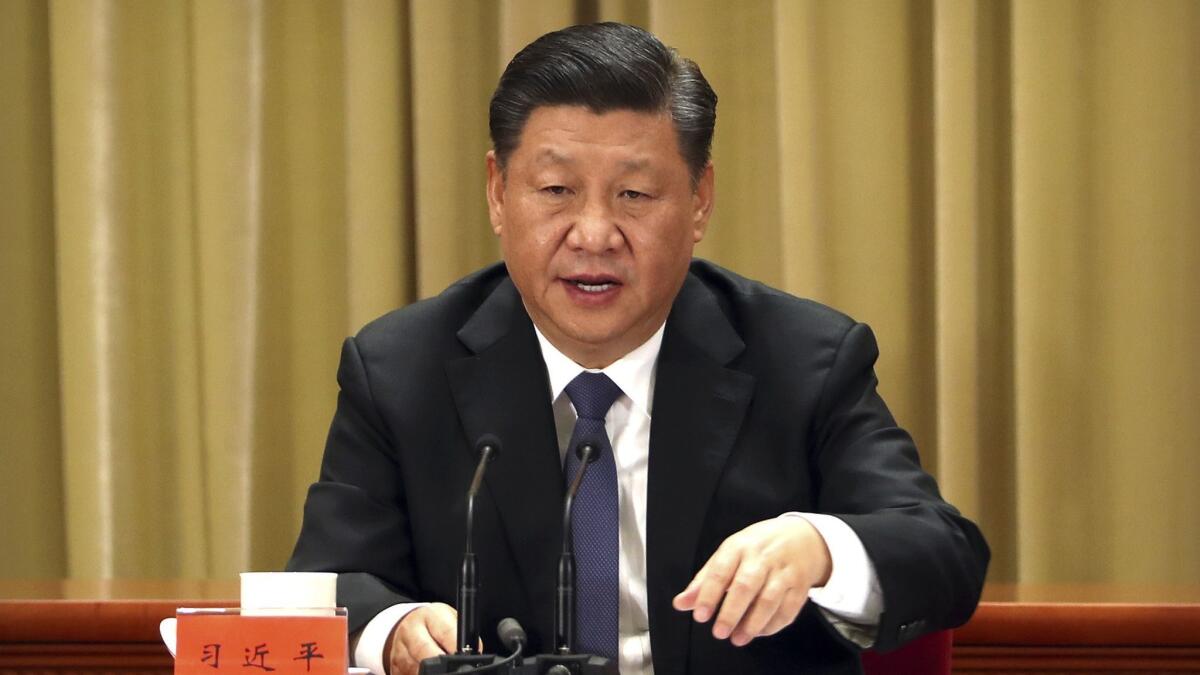 Reporting from Beijing —
Chinese President Xi Jinping on Wednesday warned Taiwan that independence would be disastrous and both sides must work for "reunification," calling for political negotiations to achieve this.
Speaking in the Great Hall of the People, Xi said China would strive for peaceful reunification but would not rule out force to recover the island it sees as an errant province.
"We are willing to create broad space for peaceful reunification, but will leave no room for any form of separatist activities. We make no promise to renounce the use of force and reserve the option of taking all necessary means," Xi said.
China and Taiwan have been governed separately since the Chinese civil war of the 1940s, when Chiang Kai-shek's Nationalists lost to Mao Tse-tung's Communists. The fleeing Nationalists moved their government to Taiwan, but China insists that the two sides must eventually unite, by force if necessary.
Xi's comments were a rebuttal to the Taiwanese president, Tsai Ing-wen, who on Tuesday called on China to respect Taiwan's existence and the democratic heritage of her 23-million population.
In her annual New Year's speech in Taipei, she called on China to "face squarely the reality of the existence" of Taiwan, adding that Beijing "must respect the insistence of 23 million people on freedom and democracy, and must use peaceful, on-parity means to handle our differences."
President Tsai said Chinese respect for Taiwan's existence and democracy formed "the most basic and most key foundation for the positive development of relations between Taiwan and China."
But Xi's speech Wednesday underscored the gulf between the governments when he said nobody could change the fact that Taiwan was part of China and warned that all Taiwanese people must recognize that independence would be a profound disaster.
"It's a legal fact that both sides of the strait belong to one China, and cannot be changed by anyone or any force," he said.
However, he softened his rhetoric from a speech last March when he declared China would never cede one inch of its territory and was ready to fight a bloody battle against its enemies.
He warned Wednesday that foreign interference in the matter would be unacceptable. The speech marked the 40th anniversary of the commencement of communications between China and Taiwan after decades of hostility.
Responding to Xi's speech Wednesday, Tsai reiterated that she does not accept the one-China principle. Her election in 2016 and subsequent repudiation of the one-China principle led to a sharp deterioration in relations, as Beijing cut dialogue and exchanges with the island. It has also conducted military maneuvers near the island and scaled back mainland group tourism to Taiwan.
In recent times China has also issued warnings foreign companies, including airlines, that failed to recognize its one-China policy — for example, by including Taiwan in drop-down menus listing nations on their websites. U.S. and other foreign airlines fell into line with China's demands, rather than risk losing access to routes into China.
With Taiwan's presidential election due in 2020, China has piled pressure on Tsai since the party suffered losses in November city and local government elections, when the opposition Nationalist Party, or Kuomintang — which advocates closer ties with China — picked up support, winning 15 of 22 local seats.
China portrayed the result as indicating a strong will in Taiwan for better relations with the mainland — although analysts say the results were partly due to disapproval of Tsai's economic reforms.
Tsai said Tuesday the results "absolutely do not mean that grass-roots public opinion in Taiwan favors abandoning our sovereignty, nor do they mean that the people want to make concessions regarding Taiwanese identity."
Xi's speech aimed to entice young Taiwanese with the hopes of joining China's economic advance, saying reunification would bring the island great benefits. He promised that China would respect "private assets, religions, beliefs and legitimate rights." He held out the Hong Kong model of governance — one country, two systems — under which Hong Kong retains its own democratic system and laws for at least 50 years. Critics have accused China of encroaching on Hong Kong's freedom of speech and laws in recent years.
Tsai said the island's greatest current challenge is China's use of Taiwan's open democratic system to interfere in its affairs, a claim China denies, and suggested that both sides try to understand each other better.
"What's really needed between the two sides is a practical understanding of the differences between values, beliefs and lifestyles," she said.
An opinion poll in September by the Taiwan Public Opinion Research Foundation indicated Taiwanese support for independence had waned from 51.2% in 2016 to 36.2%. In March the level had been 38%. Support for unification with the mainland was lower, at 26.1%, while 23.2% supported the status quo.
Mainland China and Taiwan have close business, cultural and family ties. A June survey by the same group marked the first time that more Taiwanese had a good impression of China than those with a negative view, 49% compared to 44%.
Raymond Wu, managing director of Taipei-based political risk consultancy e-telligence, said there was a lack of trust between the two governments, meaning negotiations on the island's status were unlikely.
"With the current situation between China and Taiwan, I don't think there is that foundation of trust for any kind of in-depth discussion or debate on these issues," Wu said.
In her speech Tuesday, Tsai warned local officials against exchanges with Beijing based on "vague prerequisites."
Those remarks were largely aimed at warning any of Taiwan's opposition party mayors and county magistrates who talk with Chinese officials on their own, said Shane Lee, political scientist with Chang Jung Christian University in Taiwan.
Special correspondent Jennings reported from Taiwan.
Twitter: @RobynDixon_LAT
Sign up for Essential California for the L.A. Times biggest news, features and recommendations in your inbox six days a week.
You may occasionally receive promotional content from the Los Angeles Times.