Would you like a little salt in that shampoo? A Taiwan company has you covered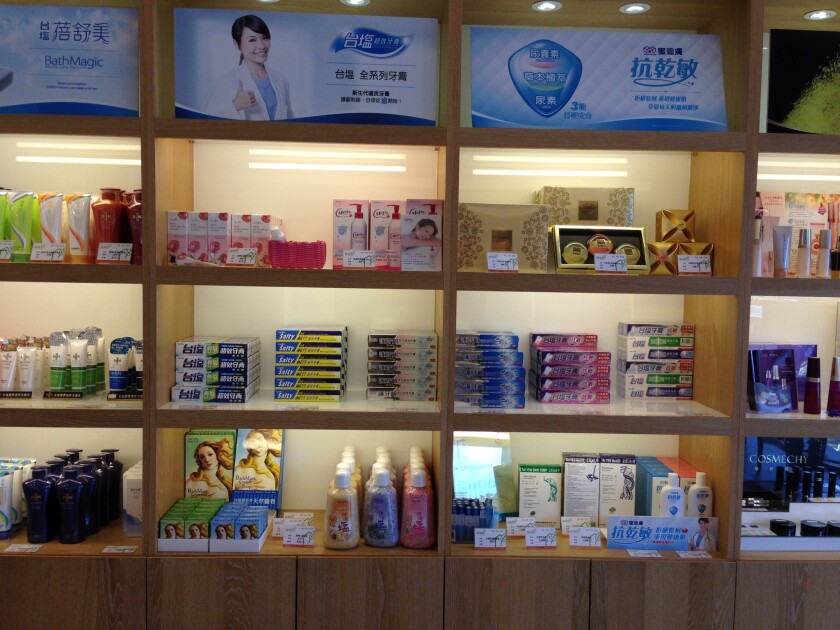 Reporting from TAINAN, Taiwan —
The shampoo carries the tang of the sea. The toothpaste is salty.
A 60-year-old company aptly named Taiwan Salt is selling these products and other unlikely, brine-themed goods after realizing in the 1990s that sales of plain old salt would not make money forever.
The formerly state-owned firm was renamed Taiyen Biotech Co. Ltd. in 2003 and came up with new products that would augment sales of pure salt. Since then, it has rebuilt the business by associating its name, well known to Taiwanese consumers, with the widespread perception among local people that salt contributes to good health.
"Salt is a natural thing and, for example, when you're using it you'll feel it's chemically safe, and then it can get your skin and hair clean," said Tsai Chao-chin, who has owned a company franchise store in Taipei, the Taiwanese capital, for 13 years.
But the company is still sweating over how to find product formulas that will appeal to consumer tastes at home while also building the brand overseas. So far, it has done better with the former than the latter.
There's nothing odd. Their goods are easy to use and less expensive.
— Customer Kuo Chiu-chin
Companies elsewhere use salt in pharmaceuticals, soaps and hygiene goods, said Shivanand Balagali, an analyst with the industry research firm Markets and Markets in India. Colgate-Palmolive, for example, sells "Active Salt" toothpaste in India to fight germs, like Taiyen Biotech playing on the idea of salt as a disinfectant.
Makers of those products commonly use salt as a background chemical ingredient or to generate a scent, he said. It's less common to pack in salt that can be felt or tasted.
"In India, with salt in hair care, the consumer reaction is negative," Balagali said.
Taiyen Biotech has seven brands of briny toiletries and beauty products on the market. It also uses salt in the engineering process for cleansers and other soaps. But the 490-employee company, based in the southern city of Tainan, does sell one salt-free product: bottled water derived from a desalination plant used to extract ocean salt for other products.
Taiwan Salt sold mainly pure salt from its founding until about 1995. The salt was obtained from 4,890 acres near the island's west coast where seawater would intrude and recede, leaving enough dried salt for the sale of 200,000 tons each year.
Then it slowly became cheaper, for Taiwan Salt and other vendors, to import salt. Revenue began to decline. Production from the last coastal salt deposit was discontinued in 2002.
Salt works in hygiene products because it can stop them from oxidizing or getting gummy in hot weather, company Vice President Chen Shih-hui said. Customers report that salt's grainy texture in shampoo massages the scalp, he said, and some believe it can clean toxins from the body.
"Taiwan Salt's reputation is quite strong and they have a lot of products," said customer Kuo Chiu-chin, 60, who uses a company skin cream and occasionally a toothpaste or soap. She started buying Taiyen Biotech goods six years ago and takes the salt in stride.
"There's nothing odd. Their goods are easy to use and less expensive," she said. "I feel I can relax in using these products too because they're domestically made."
Pure salt now makes up about 20% of the company's annual revenue of $88 million, Chen said. Company revenue has grown by 5% to 8% a year since 2013 and annual profits are in the double digits.
Income from toothpaste, the most popular nonedible product since 2014, grew by more than 10% last year. "A minority of consumers will say, 'Hey it's salty, the feeling is strange,' but the salt is to kill germs and you don't need chemicals that might hurt your mouth," Chen said.
Taiyen Biotech goods sell mainly to women who are middle age or older, said Tsai, who runs one of about 100 franchise stores. Younger customers are harder to persuade. Some stores go for hours without customers.
So the company is studying how to match the tastes of younger Taiwanese and overseas consumers. It has eliminated some products already.
"For youth, fads change fast," Chen said. "But if you're talking about older consumers, they want the quality to be high without a high price."
Taiwanese traditionally associate salt with good health, which helps drive Taiyen Biotech sales, said Rae Hsing, a company analyst with Cathay Securities in Taipei.
The company sells in six Asian countries, including China, where consumers see salt as a natural disinfectant. Taiyen Biotech also runs an eight-person subsidiary in China.
It's working now on a 2017 release of goods geared toward Muslims overseas that avoid use of alcohol in the production process. (Observant Muslims don't drink alcohol, and many shun products made with alcohol, even if it has evaporated.)
"Taiwan is a saturated market," Chen said. "We think there are ways to get into less saturated markets. But first we need something to draw them in."
Profits at home may recede with increases in the prices of oil and coal used to run the company's production equipment, the Cathay Securities analyst said. "If you take ocean water and extract salt, you need those fuels," she said.
Still, the company intends to keep playing up salt — key to its corporate image among consumers.
To do that, it runs a salt theme park in its defunct acreage by the west coast. About 700,000 people visit every year to see salt piled as high as 59 feet. Besides the snow-colored peak, visitors also stop at its salt sculpture exhibition hall, an antique machinery display and a zone to see how the sun produces salt.
In northern Taiwan, the producer runs a salt-themed museum.
It also has sold table salt in five colors and salt sculptures of Qing dynasty-era animal heads representing the 12 creatures of the Chinese zodiac. They sold for as much as $6,370. "Salt won't be eliminated," Chen said.
Jennings is a special correspondent.
MORE WORLD NEWS
Afghan refugees struggle in Turkey: 'We wouldn't live like this in Afghanistan'
In West Bank, showdown between Israeli settlers and Netanyahu looms over illegal outpost
He said, 'I'm on my way, Mama.' Then, like thousands of others in Mexico, he vanished
---
Must-read stories from the L.A. Times
Get the day's top news with our Today's Headlines newsletter, sent every weekday morning.
You may occasionally receive promotional content from the Los Angeles Times.