Wastewater on a stick: The popsicles from Taiwan that you really, really don't want to eat
Reporting from Taipei, Taiwan —
The popsicle looks delicious — orange colored, translucent, with what might be a small slice of citrus suspended inside.
It's also probably toxic.
Three confectioners made the frozen bar — on display at a university exhibition hall near Taipei — from tainted ditch water, and the round thing inside is a bottle cap that found its way into the ditch.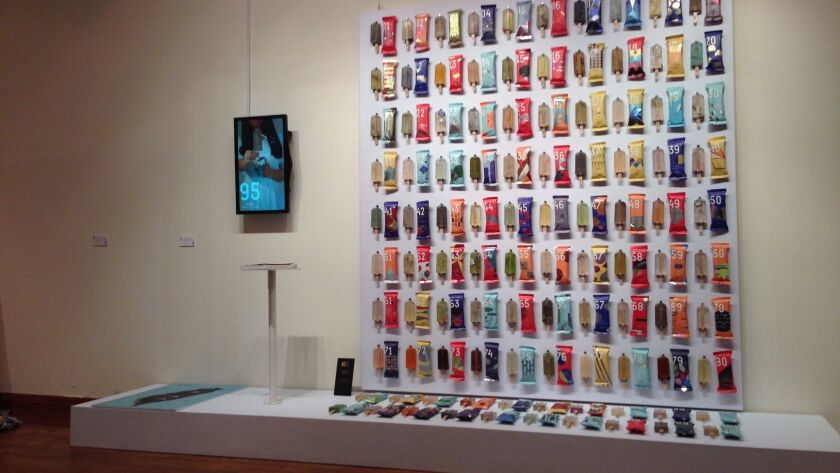 The confectioners are undergraduate students who made this icy chunk of muck and 99 others like it from polluted water sources around Taiwan for shock value. The popsicles completed a class project that would let them graduate from National Taiwan University of Arts.
After their instructor in a packaging design class gave orders for a project covering interactive design, experimentalism and "reverse thinking," the trio of fourth-year students discussed but rejected about 200 other ideas in favor of the popsicles.
So far as they knew, polluted pops had not been made before. They could alert people to an often overlooked issue by twisting the idea of a clean, refreshing food, said Hung Yi-chen, one of the student artists.
The students also had noticed the almost black water in a canal behind their university.
"We also normally wouldn't pay attention," Hung said. "We hope when more people see this they can change their lifestyles."
They may be on their way to that mission. Although the students are keeping the original popsicles frozen in their own fridges, captioned replicas have been shown in four places around greater Taipei since April and picked up a prize at one. The university is considering the project for its campus museum in a Taipei suburb.
Most students given the same assignment invent things that can make money, the university's College of Design Dean Hsu Hsing-jung said. Another team of students this year made sports equipment packaging that can be reassembled for new use, for example.
For the popsicle artists, Hsu said, "the primary consideration is how to get feedback from society and how to help society."
The popsicles should capture wider attention because they're less horrific than some pro-conservation messages, such as photos of sea mammals killed by floating trash, said Hsieh Ying-shih, chief executive of the Taipei advocacy group Environmental Quality Protection Foundation.
"Everyone will see it's a popsicle and then look more carefully and say, 'Hey, that used to be our rivers," Hsieh said. It's normally hard to get attention for clean water causes, he said.
Some exhibit visitors at first assume the popsicles are real, said Kuo Yi-hui, another student behind the project. "Some might say 'it's pretty' and some will want to eat it, but that's not OK," Kuo said. Some popsicles are greasy and oozing bits of garbage.
Taiwan grapples with tainted water because of industrial waste, farm runoff, lack of sewer systems and illegal trash disposal, environmental groups say. Wastewater diversion pipes were installed at just 30% of Taiwan's river basins as of December, the government's Environmental Protection Administration says.
The students spent more than $3,000 of their own money and two months traveling around Taiwan scooping up water samples that they then took back to campus for freezing and mounting on wooden sticks.
They later researched the exact type of pollution contained in each dessert to compile 100 ingredient labels, which make up the pages of a book that goes with the exhibits.
Some Taiwan waterways turned up dead fish, decayed fishing nets and plastic trash such as disposable chopstick wrappers. The trio was particularly surprised by the extent of boat oil in Keelung Harbor along the north coast.
"We couldn't put the fish carcasses in our popsicles," Hung said — they're too large. But they did wedge an oyster shell into one.
Some of the more transparent popsicles show silt specks or bits of plastic trash. Cigarette butts show through the ice on a specimen from the Danshui River near Taipei.
A popsicle prepared from a creek in northern Taiwan captured solid bits of industrial waste.
And a sample from the murky creek behind the artists' university froze into a dark shade of purple due to what the students believe to be waste oil.
Taiwan's EPA acknowledges problematic lakes, rivers and seacoasts. In 2015, the government raised fines on industrial polluters to a maximum of $664,000. Remediation work at 11 severely tainted rivers has reduced polluted stretches nearly in half since 2001, the EPA said.
The EPA "takes a positive stance" on the popsicle project, section chief Cheng Ken-mu said. "One aspect is student creativity and another is that it can show that young people care quite a bit about environmental problems."
Jennings is a special correspondent.
ALSO
Family scatters ashes of Chinese Nobel laureate Liu Xiaobo into the sea
Hong Kong ousts four pro-democracy lawmakers as Beijing supporters gain influence
Finally, visas in hand, Afghan girls depart for the U.S. and a global robotics competition
---
Must-read stories from the L.A. Times
Get all the day's most vital news with our Today's Headlines newsletter, sent every weekday morning.
You may occasionally receive promotional content from the Los Angeles Times.