When Trump meets the Philippines' Duterte, 'drug war' killings will be the elephant in the room. Trump will probably ignore it
Reporting from BEIJING —
In President Rodrigo Duterte's Philippines, the police, with his explicit support, have killed thousands of alleged drug dealers and users without due process, some while they were in jail, or asleep, or at home with their families. They allegedly shot a 17-year-old while he was in custody, then dumped his remains in an alley. The youngest victim was 4.
Human rights groups, the U.S. Congress, the European Union and the United Nations have all condemned Duterte's "war on drugs." Yet when President Trump meets Duterte in Manila, it probably won't enter the conversation.
The two leaders will hold talks at the Assn. of Southeast Asian Nations summit on Monday in Manila, marking the last leg of Trump's five-country Asian tour, which has also included stops in Japan, South Korea, China and Vietnam. There are no signs that he will press Duterte on the killings — the White House, in advance of the trip, said Trump enjoys a "warm rapport" with the Philippine leader. Duterte, analysts say, is probably delighted.
Duterte was in Vietnam on Friday along with Trump and other regional leaders for the Asia-Pacific Economic Cooperation summit, where Duterte made news after saying he killed someone when he was as young as 16. He had previously bragged about killing suspected criminals in Davao, where he had served as mayor.
"When I was a teenager, I would go in and out of jail," Duterte said Friday in Da Nang, Vietnam. "I'd have rumbles here, rumbles there. At the age of 16, I already killed someone — a real person, a rumble, a stabbing. I was just 16 years old. It was just over a look. How much more now that I am president?"
There was no immediate reaction from the White House to this latest admission.
"Duterte is tough-talking, but he's actually notably thin-skinned," said Phelim Kine, a deputy director in Human Rights Watch's Asia Division. "When he's criticized, he lashes out. So what he's looking for, and what he hopes for from Trump, is someone who won't talk about his human rights record, and will give him very much what he desires — which is international acceptance and recognition, what he's been denied since he took office because of his bloody drug war."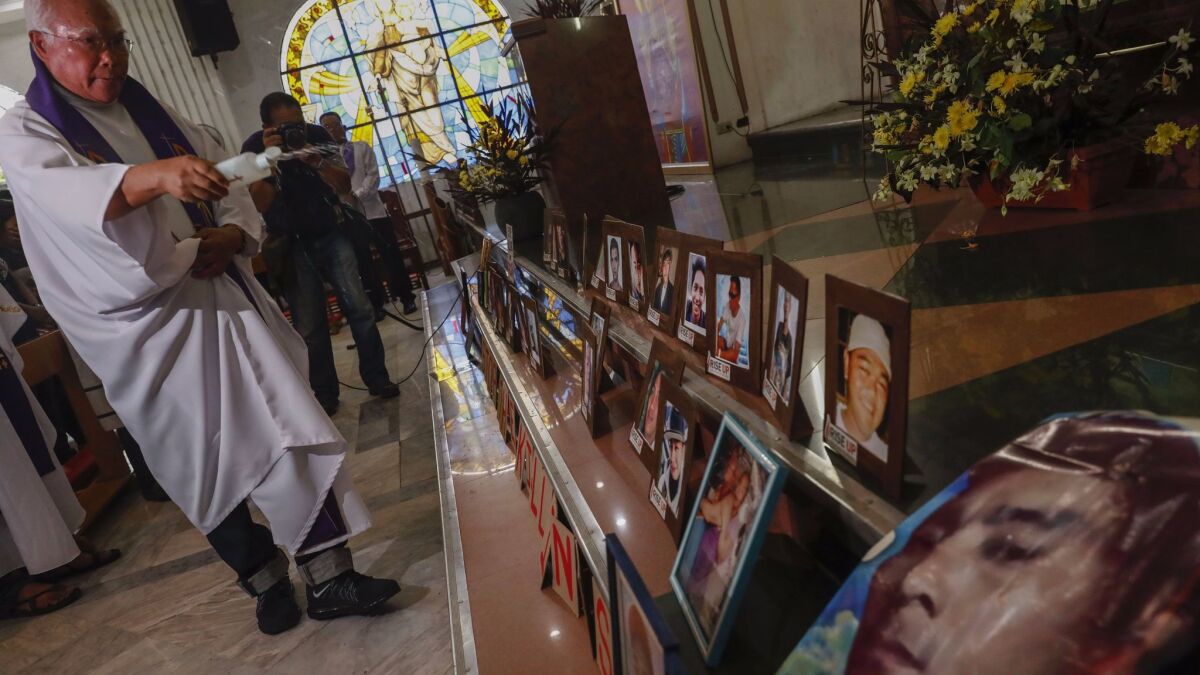 Trump and Duterte will discuss "trade and investment, innovation, addressing cybercrime, countering radicalization, humanitarian assistance and disaster relief, protection and promotion of rights for migrant workers," Robespierre Bolivar, spokesman for the Philippine foreign ministry, said on Friday. They will be joined by U.N. Secretary-General Antonio Guterres and Donald Tusk, president of the European Council, as well as Russian Prime Minister Dmitry Medvedev.
Trump has shown no interest in criticizing the drug war — in an April phone call with Duterte, he reportedly congratulated him for doing an "unbelievable job on the drug problem." Yet Duterte still cautioned Trump against bringing it up. "You want to ask a question, I'll give you an answer," he told reporters on Wednesday. "Lay off. That is not your business. That is my business. I take care of my country, and I will nurture my country to health."
"This is about developing a strongman populist internationale — there's a solidarity between Trump and all the strongmen around the world," said Richard Javad Heydarian, the Manila-based author of "The Rise of Duterte." "Trump was absolutely out of place in [the North Atlantic Treaty Organization], very much isolated among Western allies. He feels at home with people like Duterte, and he loves it. And he knows that Duterte is very popular, not only in the Philippines, but also across the region."
Duterte, known for his profane rhetoric, has struck a more sinister tone with established critics. He said on Wednesday that if Agnes Callamard, the U.N. special rapporteur on extrajudicial, summary or arbitrary executions, investigates him for the killings, "I will slap her in front of you. Why? Because you are insulting me."
Despite Duterte's tough talk, he faces serious headwinds at home — including dwindling domestic support for his campaign. In August, after police killed 17-year-old drug suspect Kian Loyd Delos Santos, they said he drew a gun, forcing them to fire; yet witness accounts and surveillance footage suggested that the teenager was shot while unarmed, in police custody.
The body of another teenager, 14-year-old Reynaldo de Guzman, was found in early September, riddled with stab wounds, his head wrapped in packing tape. The last time he'd been seen, 20 days prior, he was with a 19-year-old friend who was also killed by police.
Duterte cast De Guzman's death as a conspiracy intended to "sabotage" the police. Still, his approval ratings plummeted — the Manila research institution Social Weather Stations in October put his net satisfaction rating at 48%, down 18 points from June.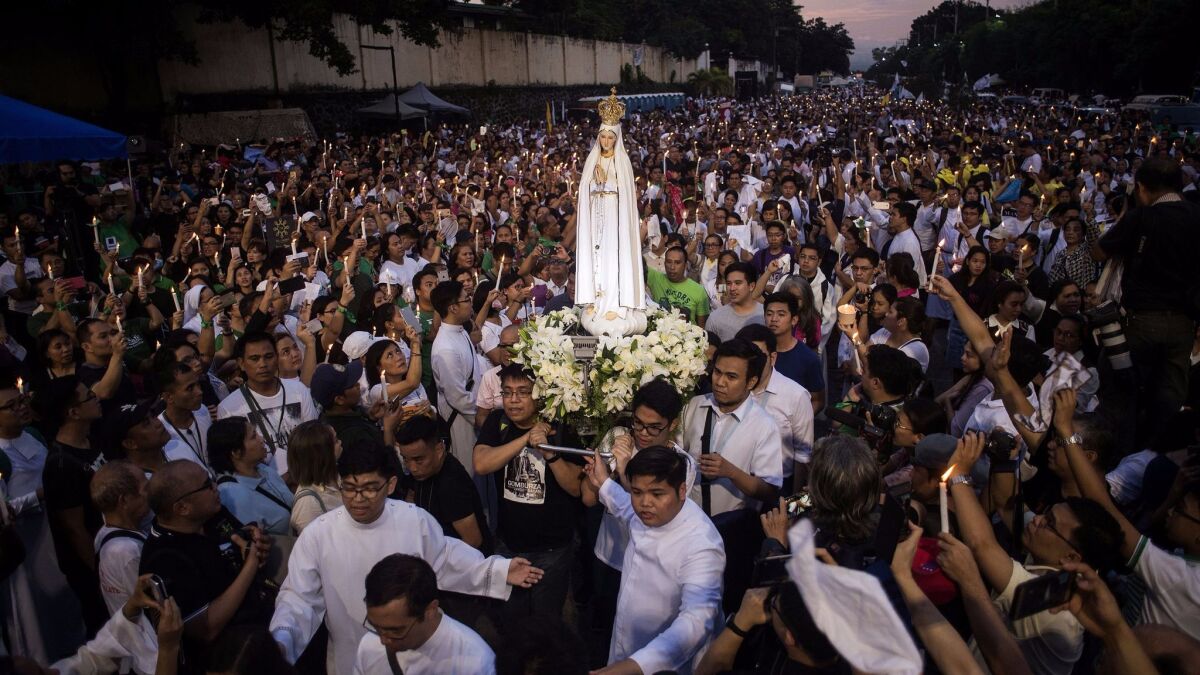 Two U.S. congressmen — Randy Hultgren (R-Ill.) and Jim McGovern (D-Mass.), co-chairs of the House Human Rights Commission — have urged Trump to raise human rights concerns with the Philippine leader. Trump should "reaffirm the US' commitments to fundamental human rights, including due process, and the rule of law," the two wrote. (Duterte, in response, threatened to ban the two congressmen from coming to Manila.)
Trump and Duterte are more likely to discuss a battle between Philippine government forces and Islamic State militants in the southern city of Marawi, which ended in September after five months of grinding urban warfare. They may also discuss the South China Sea, where the Philippines has become a central player in resisting China's increasingly assertive territorial claims.
"Obviously, Trump has made human rights a low priority," said Joshua Kurlantzick, senior fellow for Southeast Asia at the Council on Foreign Relations. "But this is also about Duterte recognizing he needs certain things from the U.S."
Experts say Duterte, despite his harsh words toward Washington, hasn't significantly altered the underpinnings of the U.S.-Philippine alliance, which dates back more than six decades.
"I think it's still worth watching the extent to which the Philippines does continue to increase Chinese economic and security assistance," said Andrew Shearer, a senior advisor at the Center for Strategic and International Studies in Washington. "But so far the only practical Chinese security assistance has been a lot of second-hand assault rifles, which the Philippine military doesn't even want."
"Then you stack up on the other side of the ledger, the support that comes from the U.S. — like Coast Guard vessels, much more modern equipment, and beyond that, the training, and behind the scenes assistance with intelligence," he continued. "And of course, most dramatically, the U.S. support once things blew up in Marawi — that, I think, came along at the perfect time to remind Duterte and the Philippines more generally that the U.S. is an indispensable security partner."
Duterte, stung by U.S. criticisms of his drug war — and enticed by offers of Chinese investment and aid — has signaled a shift away from Washington and toward Beijing. He has struck a far more conciliatory tone toward China than his predecessor, Benigno Aquino III. In August, the Philippines did not challenge Chinese boats operating near an island in the heart of disputed territory. "Why should I defend a sandbar and kill the Filipinos because of a sandbar?" Duterte said at the time.
Duterte told reporters on Wednesday that he would ask Chinese President Xi Jinping about South China Sea issues. "You want to control the passage, or do we have free passage?" he said. Yet Philippine Trade Secretary Ramon Lopez told Bloomberg that Duterte and Xi have a "very strong, close relationship, like brothers," suggesting he will not broach the subject with force.
Special correspondent Simon Roughneen contributed to this report from Manila.
For more news from Asia, follow @JRKaiman on Twitter
ALSO
As Trump visits Seoul, talk likely to focus on 'horrible' trade deal. Koreans don't see it that way
Ask the Chinese: Trump's a straight shooter, a successful businessman – and a symptom of American decline
As Japan's serial killing case unfolds, people ask: Did killer find victims through Twitter?
UCLA basketball players, reportedly accused of shoplifting, await their fate in scenic Chinese town
Must-read stories from the L.A. Times
Get the day's top news with our Today's Headlines newsletter, sent every weekday morning.
You may occasionally receive promotional content from the Los Angeles Times.