In wake of Typhoon Soudelor, Saipan gets U.S. aid; storm heads for Taiwan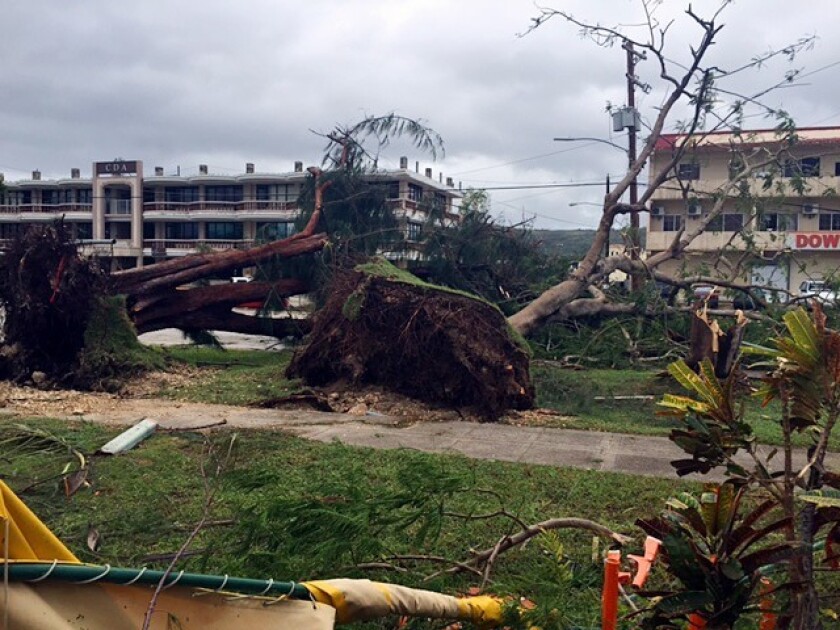 reporting from BEIJING —
President Obama late Wednesday declared the Northern Mariana Islands a major disaster zone in the wake of Typhoon Soudelor, which tore across Saipan late Sunday with winds of up to 100 miles an hour, destroying hundreds of homes and knocking the island's main power station out of commission.
The storm, one of the largest in the Pacific this season, was heading toward Taiwan on Thursday and was expected to make landfall sometime Friday, the island's weather bureau said. Some ferry and train services were being suspended in anticipation of the storm's arrival in Taiwan.
Obama's declaration releases federal funding to boost short- and longer-term recovery efforts to the Northern Marianas, a U.S. territory consisting of 14 tropical islands stretched across 400 miles some 3,200 miles west of Honolulu and 1,300 miles south of Tokyo.
More than 90% of the Northern Marianas' nearly 54,000 inhabitants live on Saipan. Saipan and the islands of Rota and Tinian were hit the hardest, but there were no major injuries reported.
Initial estimates of damage were set at $20 million, but that number was expected to rise. "I think $20 million is very conservative and hardly sufficient," Rep. Gregorio Kilili Camacho Sablan, the islands' delegate to Congress, said in a phone interview. He added that he expected the governor to put in a supplemental request after a more detailed survey is completed.
Without power, Saipan's public water system has been out of commission, with residents unable to flush toilets or take showers. The Federal Emergency Management Agency has dispatched a barge from Guam with 11 electrical generators. The generators are expected to arrive Saturday and are to be used to help get the island's water system back into operation.
The barge is also carrying water, meals and emergency shelter supplies, said Sablan, and the U.S. ship Ashland, with several hundred Marines aboard, is en route as well. Those troops will be available to assist with debris removal among other tasks, he said.
NEWSLETTER: Get the day's top headlines from Times Editor Davan Maharaj >>
The islands' Emergency Operations Center put the number of destroyed houses at 384. The executive director of the local Red Cross, John Hirsh, told local media that 158 houses were destroyed, 296 suffered major damage, and hundreds of others had minor damage.
Nenita Ta, who runs the Micro Beach Hotel, said half of her 48 rooms were occupied by stranded tourists and the other half by displaced locals. Without running water, her guests were using the ocean to bathe.
Gasoline is in limited supply on Saipan, she said, with lines stretching up to six hours and motorists limited to $50 worth of fuel. According to Sablan's staff, a delivery of gasoline was made to the island just ahead of the storm, but one holding tank near the port was damaged in the storm, resulting in a spill of some fuel.
Downed electrical lines will be a major obstacle to restoring electrical service even after the power plant is brought back online, said Sablan. Saipan has only a limited stock of power poles.
Sablan said authorities were trying to discourage tourists from coming to the islands at this point, because any hotel rooms that are habitable will be needed for FEMA officials and others assisting with relief efforts.
Tourism accounts for the bulk of the Northern Marianas' economy, with most visitors coming from China, South Korea, Japan and Russia. But the trade has suffered in recent years, and Saipan is planning a large casino targeted at Chinese visitors, who can travel visa-free to the island.
Follow @JulieMakLAT for news from Asia
ALSO:
Tibetans lose a haven in Nepal under Chinese pressure
Japan marks 70th anniversary of Hiroshima atomic bombing
Obama accuses critics of wanting to go to war against Iran
---
Must-read stories from the L.A. Times
Get all the day's most vital news with our Today's Headlines newsletter, sent every weekday morning.
You may occasionally receive promotional content from the Los Angeles Times.