North Korean leader 'is begging for war,' Nikki Haley tells U.N. Security Council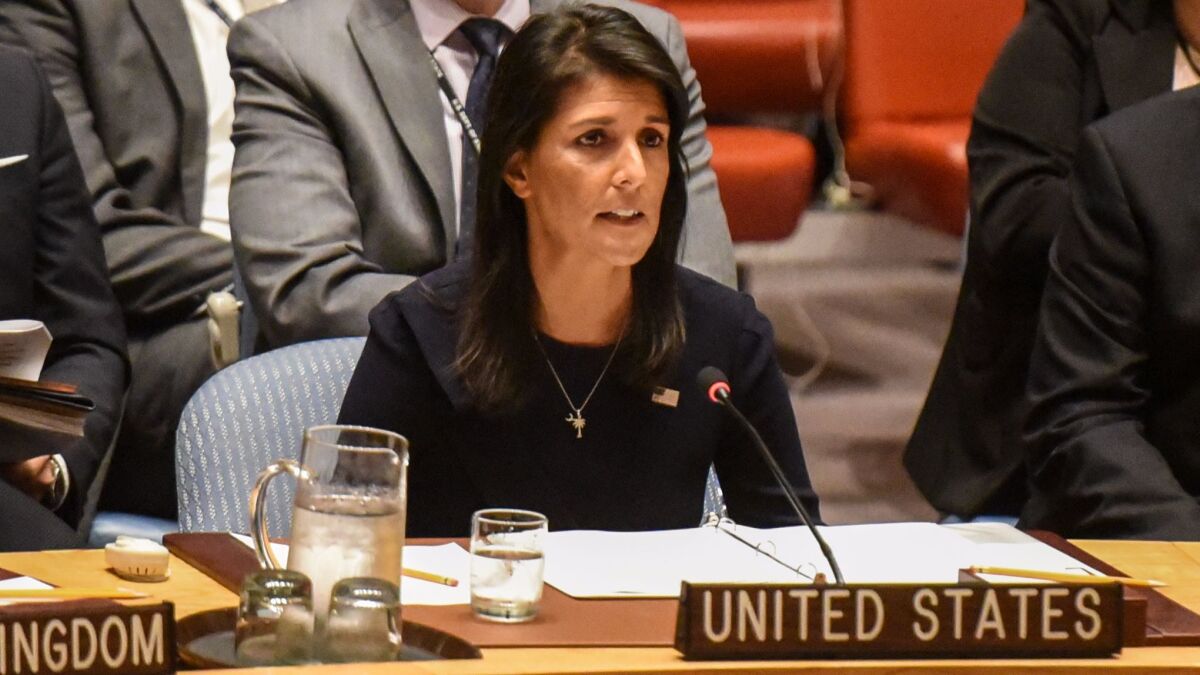 Reporting from New York —
The U.S. ambassador to the United Nations said Monday that North Korea's leader, Kim Jong Un, is "begging for war,'' and called for members to exhaust all possible diplomatic measures and impose urgent economic sanctions to prevent it.
From the United States to Japan, ambassadors at an emergency meeting of the U.N. Security Council spoke in increasingly shrill tones, expressing fear and anger after Sunday's test of a nuclear bomb eight times as large as the device that destroyed Hiroshima at the end of World War II.
"His abusive use of missiles and his nuclear threats shows that he is begging for war,'' U.S. ambassador Nikki Haley said of Kim. She called for expanded sanctions to punish not just North Korea, but all of its trading partners--- echoing a call made on Twitter by President Trump on Sunday.
"The United States will look at every country that does business with North Korea as a country that is giving aid to their reckless and dangerous nuclear intentions," Haley said.
But blacklisting North Korea's trading partners would almost certainly prove logistically impossible and economically unfeasible, given that China, which holds veto power in the Security Council, accounts for 80% of North Korea's trade and is also the largest U.S. trading partner.
The test on Sunday was North Korea's sixth and most powerful to date and the first since Trump took office. The device had an estimated explosive yield of 120 kilotons.
North Korean state media claimed tht the test was a "perfect success." They also described the bomb as "a multifunctional thermonuclear nuke with great destructive power which can be detonated even at high altitudes for super-powerful EMP attack'' — referring to an electromagnetic pulse that might be used not to kill but to paralyze the electrical grid of a country targeted.
Monday's meeting marked the 10th time that the Security Council has met on North Korea this year and the second time in less than a week, according to Jeffrey Feltman, undersecretary for political affairs. The most recent followed North Korea's Aug. 28 launch of a missile over Japan.
On Aug. 5, the U.N. Security Council unanimously approved sanctions that could cost North Korea $1 billion in export revenues, but additional tools for punishing North Korea are limited. The U.S. is drawing up a new resolution, which it expects will be brought for a vote Sept. 11.
New sanctions slapped on Pyongyang could result in another new round of provocations.
"This adds to a cycle that we are quite familiar with and it is a cycle that has seemingly gotten worse,'' said Scott Snyder of the Council on Foreign Relations. "But when you look at the necessity to pressure the regime, this turns out to be the most reasonable of the bad options."
"We are in a downward spiral that I find very worrisome," said Joseph DeThomas, a professor at Pennsylvania State University and a contributor to 38 North, a respected North Korea-monitoring website. "This is what the dynamic that took us into World War I looks like. There needs to be some credible voice that shows up with an alternative or we are going to stumble into something bad."
North Korea is the only country known to have tested a nuclear weapon in the 21st century, and the ambassadors at Monday's meeting decried Pyongyang as a threat to not just the United States and Asia, but the entire world. Among specific suggestions raised were banning all exports of food from North Korea and banning the use of North Korean guest workers abroad, one of the methods that Pyongyang uses to raise money for its weapons program.
"On the U.N. side, we are at the point of diminishing returns," said Joshua Stanton, a Washington-based attorney and North Korean sanctions expert. "The U.N. sanctions have always required member states to reinforce them…. China's violations of sanctions have been so consistent and so flagrant they can only be the result of a deliberate policy of non-enforcement.''
The Trump administration is also moving to cut off from the international financial system Chinese banks and trading companies that supply Pyongyang, however, those cases are moving slowly because of the hiring freeze at the State Department and personnel shortages at the Justice and Treasury departments, according to Stanton. "The government has made some of the right policy decisions, at least in sanctions, but they are not putting enough people on task,'' he said.
Despite Beijing's exasperation with a North Korean nuclear test so powerful that it rattled dishes across the border in northeastern China, there was little indication of a radical change of policy.
"The peninsula issue must be resolved peacefully. China will never allow chaos and war [on the peninsula],'' said the Chinese ambassador to the U.N., Liu Jieyi.
Both China and Russia are pushing a proposal called "suspension for suspension," in which North Korea would freeze its weapons program in exchange for reduced U.S. and South Korean military exercises.
Without mentioning China and Russia by name, Haley spoke sharply against the proposal, which she called "insulting."
"When a rogue regime has a nuclear weapon and an ICBM pointed at you, you do not take steps to lower your guard. No one would do that. We certainly won't."
ALSO
North Korea's sixth nuclear test was more than a slap in the face to President Trump. It also sent a signal to China
Analysis: Trump faces pair of double-barreled crises at home and abroad
Torched villages, dead civilians, squalid refugee camps: Myanmar's Rakhine state is caught in a cycle of horrific violence. Here's why
ALSO
North Korea's sixth nuclear test was more than a slap in the face to President Trump. It also sent a signal to China
Mexican president says country will not compromise its 'dignity' when dealing with the U.S.
Where the border fence meets the sea, a strange beach scene contrasting the U.S. and Mexico
---
UPDATES:
11:55 a.m.: This article has been updated with analyst quotes.
9:55 a.m.: This article has been updated with additional comments and details.
This article was originally posted at 8:35 a.m.
---
Must-read stories from the L.A. Times
Get the day's top news with our Today's Headlines newsletter, sent every weekday morning.
You may occasionally receive promotional content from the Los Angeles Times.