Trump's Huawei ban — and the risk of retaliation — threatens the global tech industry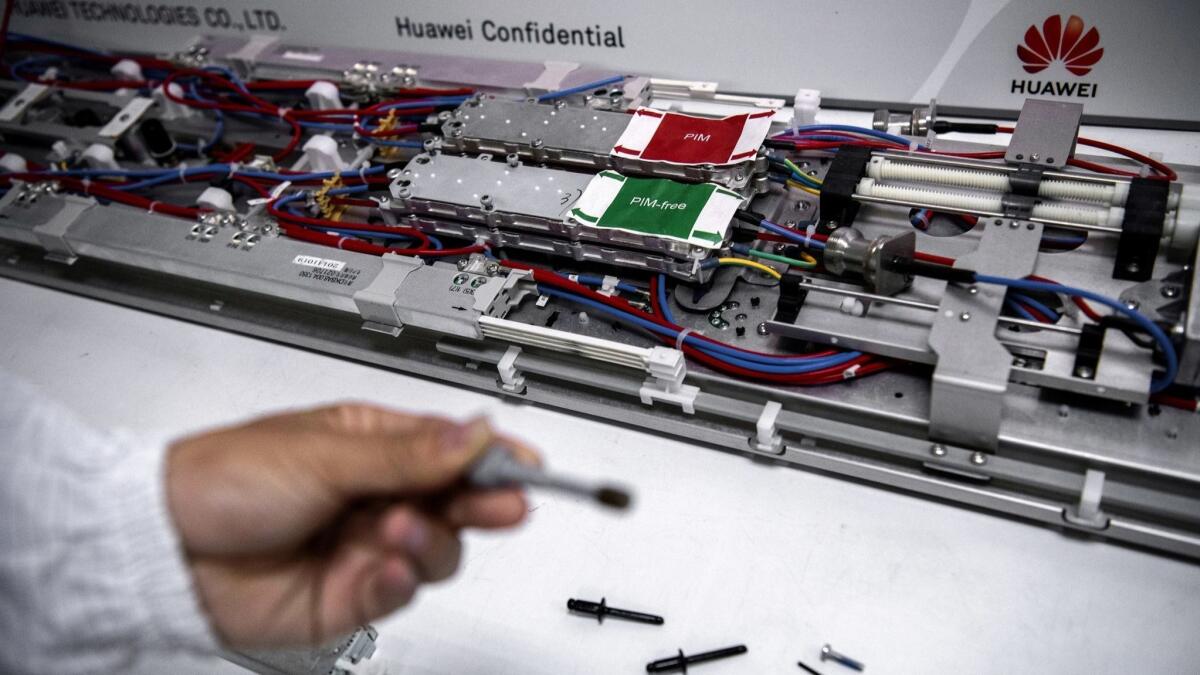 The world-changing technology of the last 40 years has been spun from the strands of supply chains crisscrossing the Pacific. But that system is at risk of fraying after the Trump administration's decision to blacklist Huawei, China's largest telecommunications firm and smartphone manufacturer, from doing business in the U.S. or with U.S. suppliers.
The consequences could soon be felt by companies and consumers on both sides of the trade war.
Chip and memory manufacturers such as Intel, Qualcomm, Broadcom, Western Digital and Micron have reportedly cut ties, and Google announced that it would stop licensing its crucial Android smartphone operating system to the Chinese company.
With the Trump administration reportedly considering additional bans on five major Chinese surveillance technology firms, including Megvii and Hikvision, tensions are only rising.
If China chooses to retaliate by restricting Chinese firms from serving U.S. customers or buying from American suppliers, then the intricate supply chain built over decades could break under the strain, forcing companies to scramble for alternatives.
Such a split would undoubtedly shake global markets, though consequences would be more severe for some companies than others, depending on their position along the supply chain.
"At the center, caught in the crossfire of the U.S.-China battle will be the semiconductor [manufacturers] as well as Apple," said Dan Ives, a tech analyst at Wedbush Securities. "Apple is the poster child for the trade wars, with semiconductor names such as Micron, Skyworks, Intel, Nvidia and Qualcomm potentially having a target on their backs."
Who is Ren Zhengfei -- the man behind Huawei? »
The component crunch
Businesses that assemble and produce components for consumer electronics — companies such as Huawei, Foxconn, Qualcomm, ZTE and Broadcom — stand to lose the most if shipments of the vital parts needed to assemble products are cut off or made vastly more expensive by tariffs.
Chip manufacturers in the U.S. have provided an early window into the disruption caused by a ban on supplying Huawei, a company the Trump administration accuses of spying for the Chinese government. Out of the $70 billion that Huawei spent on components in 2018, $11 billion went to U.S. companies.
Data from Bloomberg Supply Chain shows that the small chip manufacturer NeoPhotonics is the most at risk, with 49% of its revenue coming from Huawei. But some of the largest chip houses are also significantly exposed. In 2018, Huawei sales made up 13% of Micron's $30 billion and 5% of Broadcom's $20 billion revenues.
Stock prices for those chipmakers have all experienced dips since the Trump administration's move Friday.
Cutting to Apple's core
Retail hardware brands such as Apple would lose sales if iced out of the world's largest country, but the bigger risk is manufacturing.
Finding viable manufacturers for consumer devices outside of the Chinese firms such companies rely on could take years. But they would at least have the option of passing rising costs down to customers to buoy their bottom lines as they reshape their supply chains.
But if the Chinese government takes the step of blacklisting Apple, which has the country's largest smartphone market share of any non-Chinese company, it would deliver a serious blow to the company's business.
Earlier this year, Chief Executive Tim Cook blamed Apple's disappointing earnings numbers on a weaker Chinese economy, which it had looked to for growth outside of the saturated American market. Losing access to the Chinese market entirely would cut Apple's overall revenues by 20%.
But that's assuming that Apple still has smartphones to sell after being banned from China. The components for the company's devices come from all over the world — gyroscopes from France, memory from Japan and Taiwan, Gorilla Glass for the touchscreens from Kentucky. But the vast majority are assembled in Foxconn's factory complex in Shenzhen, China.
Apple's stock has dipped 13% this month in response to the rising trade tensions. But with $245 billion in cash on hand as of January — equivalent to an entire year's revenue — the Cupertino, Calif., company has the resources to survive most crises, and Foxconn has been reported to be considering opening an iPhone facility in Vietnam in order to sidestep a trade war.
A soft landing for software
Smartphone software makers like Google stand to lose a chunk of their revenues if Chinese phone makers such as Huawei can't license their operating systems and apps. But Silicon Valley's software companies may be tech's least exposed to the risks of a possible decoupling, since many American apps and websites have been banned in China for years.
Google's decision to pull Android from new Huawei devices — a move delayed for 90 days after the U.S. Commerce Department's decision to issue a temporary reprieve — doesn't represent much of a financial sacrifice for the company.
Google's core business is advertising, with its search, email, content, artificial intelligence and operating system products all feeding back into the basic mission of amassing user data and using it to sell more effective ads to companies. So for years, Google has offered its Android operating system to smartphone manufacturers such as Huawei for free.
In some markets, Google profits by making money selling ads to the users of those phones, gleaning data through its browsers and search technology, and selling apps through its Google Play store.
In mainland China, Huawei devices running Android block Google's search and Play store because of Beijing's policy restricting open access to the internet. Huawei devices have been making inroads in the European market, where Google search and Play are available, but European revenues for Google Play are minuscule compared to U.S., Japanese, and South Korean markets.
"About 70% of Google Play revenue comes from markets where Huawei has a total market share of less than 4%," said Randy Nelson, head of mobile insights at research firm Sensor Tower. "I feel like that puts the potential Google Play revenue impact of losing their Android license into perspective."
'We have prepared'
Huawei, the second-largest smartphone manufacturer after Samsung, is dependent on U.S. components and Android software for its devices.
The loss of American suppliers is likely to massively disrupt the company's business and hamper any plans to expand beyond China. But the company's chief executive, Ren Zhengfei, is downplaying the risk, saying that the company was prepared for U.S. sanctions, having stockpiled components to weather several months of supply disruption.
"We always need U.S.-developed chipsets, and we can't exclude American products with a narrow mind," Zhengfei said in a televised interview with Chinese media.
But he added that Huawei is working to develop its own chips and software to reduce its dependence on American products.
"Even if there is an insufficient supply from our partners, we will face no problems," he said.
david.pierson@latimes.com | Follow me @dhpierson
Sign up for Essential California for the L.A. Times biggest news, features and recommendations in your inbox six days a week.
You may occasionally receive promotional content from the Los Angeles Times.