NSA chief says Chinese government encourages cybertheft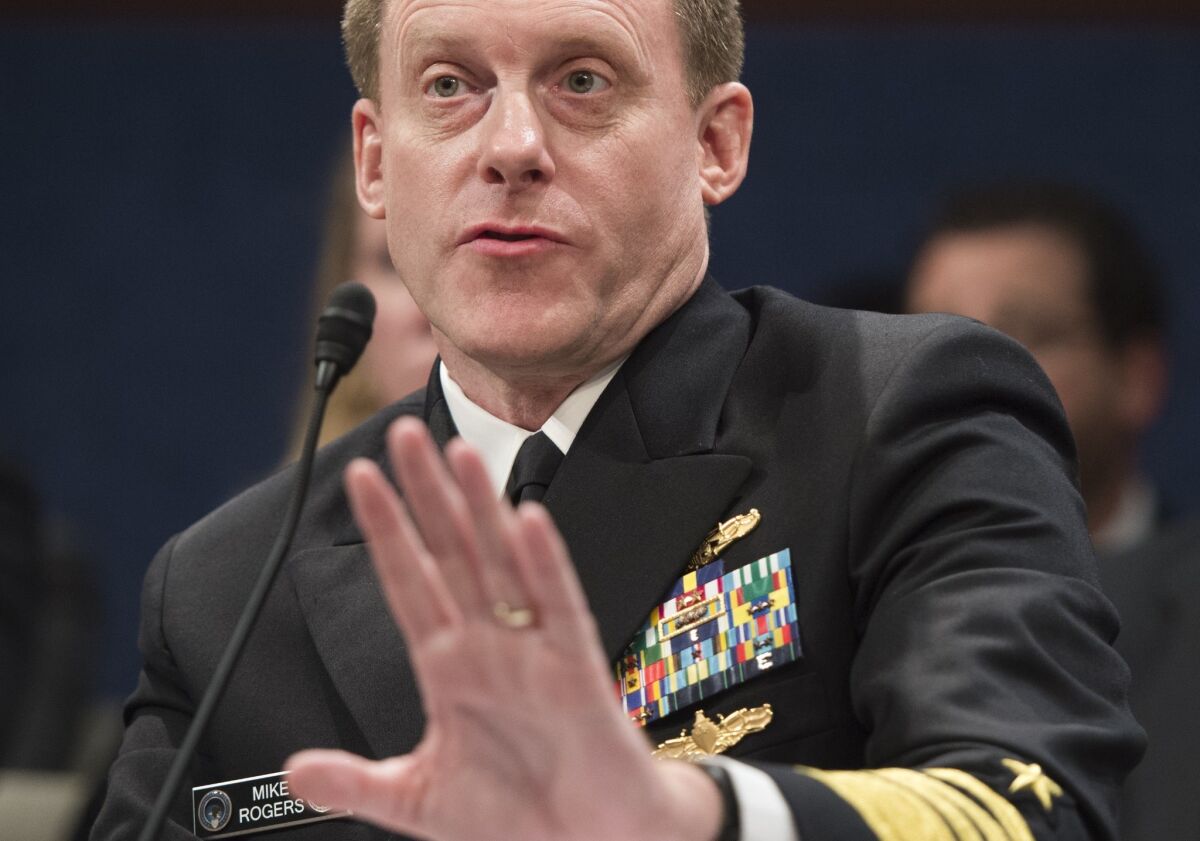 Reporting from Washington —
The head of the National Security Agency told a Senate panel Thursday that Chinese officials are behind the theft of U.S. commercial data and regularly access private digital communications and data that flow through China.
Michael S. Rogers, America's top cybersecurity official, spoke hours before President Obama prepared to sit down at a working dinner with Chinese President Xi Jinping, who arrived in Washington Thursday afternoon for a state visit.
During the dinner, and in more formal talks at the White House on Friday, aides said Obama will press U.S. concerns about Chinese-backed intrusions of U.S. computer networks.
U.S. and Chinese officials have met behind closed doors in recent weeks to try to craft an agreement, similar to an arms control deal, that sets limits on cyberattacks from each country.
"We have been very up front," Rogers told the Senate Intelligence Committee. "We cannot sustain a long term relationship" if China continues unrestrained cybertheft of U.S. intellectual property.
U.S. intelligence officials believe hackers based in China have stolen U.S. security clearance files on more than 20 million Americans, as well as vast troves of health insurance and banking data, since 2014.
On Wednesday, the Office of Personnel Management said hackers also stole 5.6 million fingerprint records collected as part of background checks for sensitive government jobs, including intelligence, law enforcement, military service and the judiciary.
In response to questions from lawmakers, Rogers said China's government actively encouraged and sometimes directed theft of U.S. commercial and trade data as well as government secrets.
Chinese officials use government spying systems to collect purely economic intelligence that can help Chinese companies. The U.S. government says it does not share foreign intelligence with American companies.
"They clearly don't have the same lines in the sand, if you will, with that regard," Rogers said. "I watch some of my counterparts there do things I could never do."
China's security agencies believe they have a right to collect and analyze all conversations and information that move across China's borders, Rogers said.
Leaks by rogue NSA contractor Edward Snowden since 2013 revealed extensive NSA systems to secretly collect data from most emails and phone calls in America. But the agency needs a court order to review the data, and only for cases of espionage and terrorism.
Rogers said Beijing has no such restrictions and Chinese officials "believe that access to communications and data is a sovereign right," he said.
During the hearing, Rogers was pressed to weigh in on the private computer server that Hillary Rodham Clinton used for both personal and government emails while she was Secretary of State.
"You really want to drag me into this, sir?" he responded when Sen. Tom Cotton (R-Ark.) asked him whether use of the server might pose security risks.
Communications to and from senior U.S. officials are valuable to foreign intelligence agencies, and protecting them should be a priority, Rogers added without commenting directly on the Democratic presidential candidate.
But if a top foreign official was using a private server for government communications, Rogers said he would consider that a potential target for digital espionage.
"From a foreign intelligence perspective, that presents an opportunity," he said.
The FBI is looking into the security surrounding Clinton's email arrangement. She has insisted she never sent or received anything marked classified at the time, but concerns she may have failed to protect sensitive information have dogged her presidential campaign.
Twitter: @ByBrianBennett
MORE
Chinese President Xi Jinping eager to be seen as an equal in U.S. visit
China and Russia are using hacked data to target U.S. spies, officials say
China arrests Texas woman held six months on suspicion of spying
---
Must-read stories from the L.A. Times
Get the day's top news with our Today's Headlines newsletter, sent every weekday morning.
You may occasionally receive promotional content from the Los Angeles Times.