Global Development: Tiny Belarus is a throwback to the Soviet Union — and the center of a booming tech economy
Reporting from Minsk, Belarus —
It's a long way from Silicon Valley to Minsk.
Communist-era statues and murals dot the capital of tiny Belarus, which has clung to Soviet traditions for more than two decades since the collapse of the U.S.S.R. President Alexander Lukashenko rules this forested nation of 10 million with an iron fist and a determined political mantra: "There will be no reforms."
Belarus still relies on state-run manufacturers and Soviet-era collective farms. The European Union prefers not to buy food from those farms because one-fifth of Belarus was contaminated by fallout from the 1986 Chernobyl nuclear disaster in Ukraine.
Video games, however, are another matter, as are mobile phone apps and software products. All these are being produced in a drab industrial park on the northeastern outskirts of Minsk, an unlikely but booming high-tech hub.
Hi-Tech Park is a pillar of the Belarusian information technology sector, which has shown formidable growth in recent years, with some 250 start-ups and outsourcing companies that employ tens of thousands. Lukashenko's government promotes it further with tax breaks, visa-free entry for Westerners — and claims that products developed here are used by a billion people in almost 200 nations.
From the archives: Belarus President Lukashenko easily wins fifth term »
Tech entrepreneurs such as Igor Shoifot, the San Francisco-based founding partner of TMT Investments, a venture capital company, have no qualms about investing here.
"Does NASA directly support [Russian President Vladimir] Putin by buying RD-180 engines?" he asked, referring to Russian-made engines used in Atlas V rockets. "Do tens of millions of users of Viber or 'World of Tanks' support Lukashenko's government?"
Probably not knowingly. But the development of Viber, an immensely popular messenger app, mostly took place in Minsk. "World of Tanks," one of the world's top-grossing online games with 160 million users, including Lukashenko's 14-year-old son, Nikolay, was also developed in Belarus, a major site of World War II tank battles.
Back in 2014, Shoifot's company invested $400,000 in PandaDoc, a start-up that develops built-in electronic signatures and document management software and facilitates digital transactions. U.S. investors were rare in Belarus at the time.
"When they arrived, it was an anomaly," said Mikita Mikado, PandaDoc's chief executive, who started it with three partners in a tiny office in Minsk.
A year later, Altos Ventures, a Menlo Park, Calif.-based investment company, followed suit. "So far, the company is doing well and we are happy with the results," Ho Nam, the company's managing director, said in an email.
Since then, PandaDoc raised about $20 million from investors such as Microsoft Ventures and the European Bank for research and development. The company moved its headquarters to San Francisco, but 100 of its 170 staffers are still based in Minsk.
"We can't complain about how things turned out for PandaDoc," Mikado said in a phone interview from his office in Union Square. "That wouldn't happen if it wasn't for the team in Belarus."
Other success stories from Belarus include Flo Period Tracker, an artificial-intelligence-powered women's health platform, and Masquerade, a filter app for selfie videos. Facebook bought Masquerade in 2016 after television host Jimmy Kimmel used it on his show to "put on" celebrity faces.
The Belarusian IT industry had humble beginnings as an outsourcing hub that offered jobs to disoriented and jobless Belarusians after the 1991 Soviet collapse. Their labor was cheap — and its results were oriented toward the West.
Arkadiy Dobkin started his company, Effective Programming for America, in 1993 in the basement of an apartment building. "We had nothing but talent," the son of a World War II veteran and a Holocaust survivor told a business conference in Minsk in 2017.
These days, EPAM, as the company is known, is headquartered in Newtown, Pa., and has offices in a dozen countries, includingIndia. It has become one of Europe's largest outsourcers with 22,000 employees, a revenue of $1.45 billion in 2017 and a roster of clients that includes Google, Coca-Cola, Citibank, MTV and Adidas.
After EPAM went public in 2012, Forbes magazine placed it among the 25 fastest-growing public tech companies worldwide — for five years in a row.
To many in today's Belarus, an IT job is the only alternative to emigration or poverty, and the money they earn trickles down to a general population that lives on an average salary of less than $500 a month.
"It's all the rage these days. Everybody wants to work there," said Lyudmila Petrenko, a retired schoolteacher who rents her two-bedroom apartment in central Minsk to a software engineer's family.
Billboards advertising coding schools or jobs in Hi-Tech Park are a familiar sight throughout Minsk. An entire neighborhood near the park where dozens of new pubs and restaurants cater to the IT crowd is now known as "Drunk Street."
Several universities and tech schools churn out thousands of software engineers a year, and companies such as Cisco have opened labs to train promising students.
While much of the money fueling the Belarusian tech industry comes from California, a significant amount flows west from Russia.
Viktor Prokopenya, one of the most successful Belarusian IT entrepreneurs and head of the VP Capital investment company, is allied with a major Russian investor, Mikhail Gutseriev.
Gutseriev, Russia's 20th richest man and a friend of Lukashenko, has pledged a $100-million investment in Belarusian start-ups.
One of them is Banuba, a developer of AI-powered software that can identify a potential customer's age, sex, skin color and hair color to create instant personalized ads. With other Banuba apps, users can goof around with video selfie masks that make them look like Charlie Chaplin or as if spiders are crawling out of their mouths.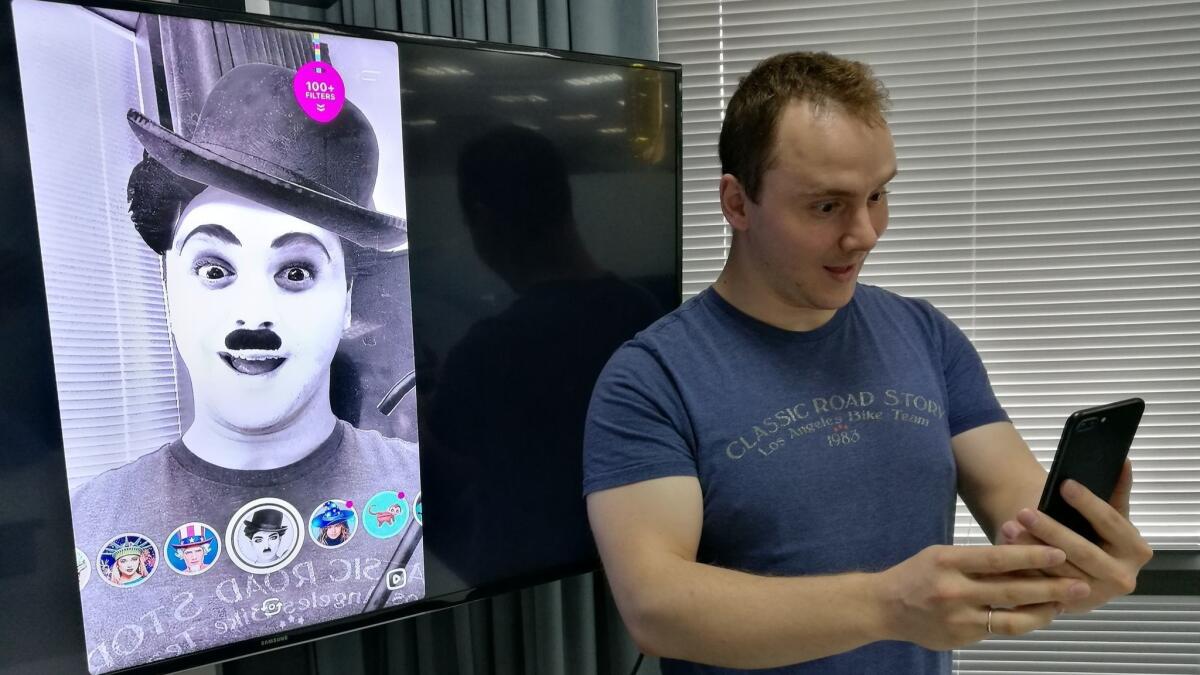 "We're all about the face," said Vadim Nekhai, Banuba's founder and chief executive. "We let the cellphone see the user."
However, Lukashenko's behavior instills fear that the hothouse conditions may end as abruptly as they began.
In December 2017, Lukashenko signed a decree legalizing transactions using cryptocurrency, and government experts are still working out details to make sure the potential bonanza does not begin with chaos.
Corruption monitors already warn about risks. There are concerns that the virtual currency — which, by design, is virtually impossible to trace — will be a boon for Russians seeking to launder money and avoid Western sanctions.
"Lukashenko is turning Belarus into a quiet laundromat for Russian money," said one Belarusian businessman who lives in the European Union, speaking on condition of anonymity because he fears for his investments back home.
And there are signs that Belarus remains committed to Soviet-style authoritarianism. In early August, 18 journalists working for independent media outlets and a Western broadcaster were detained and questioned for allegedly illegally accessing dispatches from a state-run news agency.
"There was a thaw, liberalization, some sane laws were being adopted, and people began to think — maybe we will be like Singapore, a dictatorship that lets businesses live," an IT expert said on condition of anonymity because he fears for his safety. "Now, you can't be sure of the future, if some cop or KGB agent does not like you."
Mirovalev is a special correspondent.
Sign up for Essential California for news, features and recommendations from the L.A. Times and beyond in your inbox six days a week.
You may occasionally receive promotional content from the Los Angeles Times.