Thousands in Belgium protest Trump's stances on issues ranging from reproductive rights to Brexit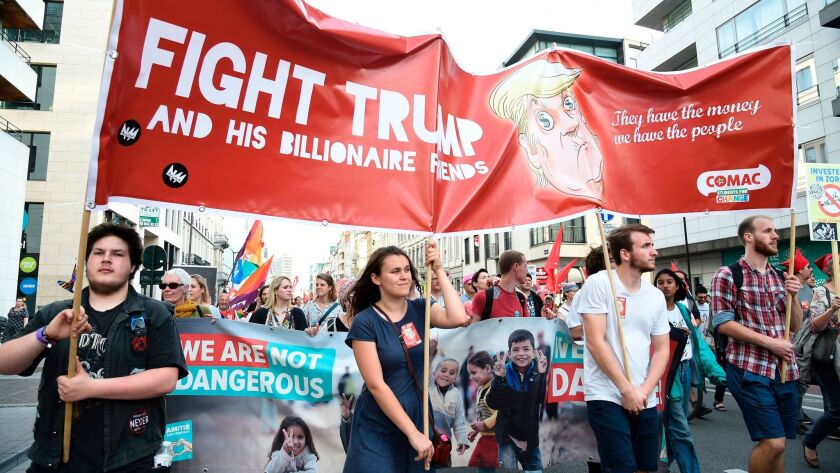 Reporting from Brussels —
Thousands of people with flags, bullhorns and bongos crowded the center of Belgium's capital Wednesday to protest President Trump's arrival for meetings with officials including Belgian Prime Minister Charles Michel and NATO leaders.
Women wearing pink cat-ear hats known as "pussy hats" led the protest, giving a nod to the women's march through Washington and around the world in January in opposition of Trump's stances on such issues as abortion and reproductive rights, discrimination and climate change.
Protesters also carried signs that referenced refugees, LGBTQ rights and other issues.
Joanna Maycock, who runs the European Women's Lobby, an organization in Brussels, wore a pink hat knit by her friend and carried a bullhorn.
"Any attempt in Europe to normalize Donald Trump's language and behavior on women creates a climate that undermines women's rights and the gains we've made here on gender equality," she said.
Trump has been criticized for his behavior toward women. During the presidential campaign, a 2005 "Access Hollywood" recording emerged featuring Trump speaking crudely about women, including saying they let him grab them in the crotch. He later referred to it as locker-room banter.
Several protesters held signs instructing Trump to get out of the "hellhole," a word he used as a candidate to describe Brussels, outraging local residents.
Belgian police said 9,000 people marched through a busy two-mile stretch of Brussels, the nation's and European Union's capital, filling the streets with chants of "Go away, Donald Trump" and "Solidarity with women." It was the larger of two official protests registered Wednesday, a police spokeswoman said.
"It's about the environment, women's rights, migration. He failed on all three in his first five months," said Jurrian Persyn, 34, who traveled from Ghent, Belgium, with his family to march. "Everyday you wake up and there's a new thing you can't believe."
Trump met with Prime Minister Michel and the Belgian king and queen in Brussels' royal palace. He is scheduled to meet European Union leaders Thursday and have lunch with newly elected French President Emmanuel Macron before going to a NATO meeting.
Nikias Verschraegen, a 19-year-old student from Antwerp, Belgium, carried an EU flag through the streets and said he was protesting Trump's disparaging comments against the EU. Trump said this year that Brexit, Britain's planned exit from the multi-nation bloc that has stirred enormous upset in Brussels, was a "great idea."
"He's not standing with us; he's trying to break us apart," Verschraegen said.
Nearby, a large sign put a twist on Trump's campaign slogan "Make America Great Again," reading, "Make PEACE great again."
Stupp is a special correspondent.
---
Must-read stories from the L.A. Times
Get the day's top news with our Today's Headlines newsletter, sent every weekday morning.
You may occasionally receive promotional content from the Los Angeles Times.