Archie, the newest British royal family member, has no title. Here's why (we think)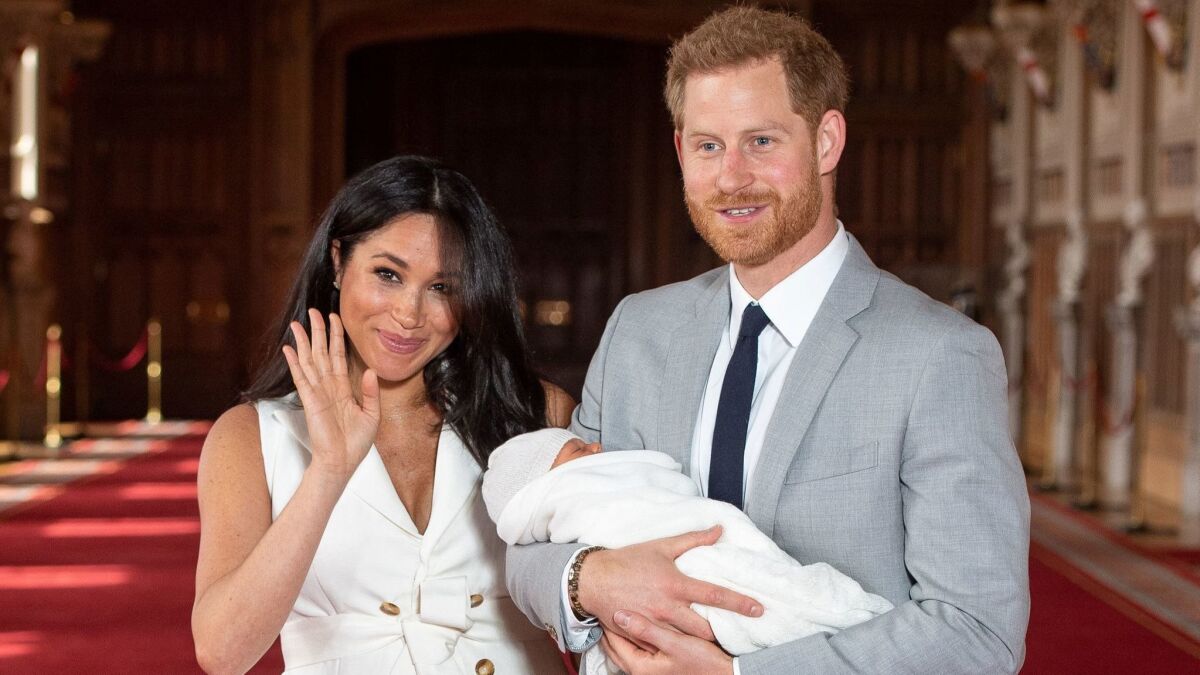 Reporting from London —
He's not a prince, not a lord, not a duke, not an earl.
He's Master Archie.
The Duke and Duchess of Sussex — more commonly known as Prince Harry and Meghan Markle — defied bookmakers' odds when they chose a name for their firstborn that is not steeped in tradition and has no grand title.
That raises some questions: Why did they do it, and why isn't he automatically a grand poobah? Is it just because he's half American? And who decides these things, anyway?
We have answers. Lots of them.
The question of who gets a royal title, what that title is, when they get it and why is steeped in generations-old tradition.
Harry and his brother, William, are princes, yet their wives are duchesses, not princesses. Their parents were Prince Charles and the late Princess Diana — yet Charles' second wife is the Duchess of Cornwall. Some of Queen Elizabeth II's grandchildren are princes and princesses; others are not.
Confused? That's not surprising, says royal commentator Richard Fitzwilliams.
"It's a labyrinth. It really is a minefield, but there is tremendous status in it."
So, let's explain:
Master Archie Harrison Mountbatten-Windsor
Despite his being the great-grandson of Queen Elizabeth II, it was never guaranteed that Archie would be born a prince.
In 1917, King George V decided to limit the number of royal highnesses within the family and decreed that only the children of the monarch, and grandchildren of the monarch in the male line, would be bestowed that title.
This means the queen's four children are known as princes and princesses, but only the monarch's sons can pass that title onto her grandchildren.
Under George V's rules, the eldest grandson of the Prince of Wales — namely, of Prince Charles, the queen's oldest son — would also become a royal highness. But that honor would not be passed on to any of the monarch's other great-grandchildren.
But wait! It's not that, um, simple.
To alter this, the queen issued a "letters patent" in 2012 so that Prince William and his wife, Catherine — aka the Duke and Duchess of Cambridge — could name all their children princes or princesses. This means their three children are Prince George, Princess Charlotte and Prince Louis. But she has not done that for baby Archie; hence, he's not a prince.
Harry and Markle did make the decision to refer to Archie as "master," which is simply an archaic (in most circles) form of address for a child who is not yet a "mister."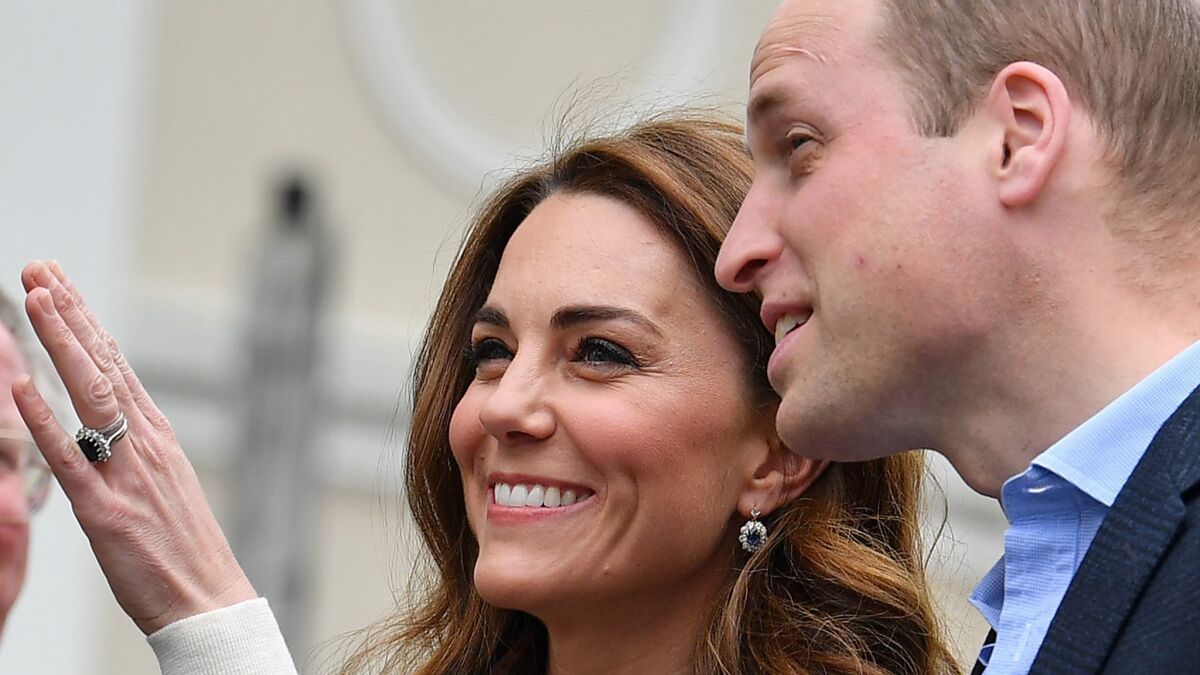 Had they wanted to give their son a title, Prince Harry and Meghan, his Los Angeles-born wife, could have opted for the Earl of Dumbarton. (Don't ask why.) But they rejected that title. Instead, they gave their son the name Archie, which has no link with any other royal, although it has been immortalized in a long-running series of American comic books.
He will use the last name Mountbatten-Windsor, which was formalized into the royal family 13 years after Queen Elizabeth married Prince Philip. Until then, the royal family was only known as Windsor. The change was considered a nod to Philip's side of the family. "Mountbatten-Windsor is used by lesser members of the family — those closest to the queen but not of royal highness status," said Joe Little, managing editor of Majesty magazine.
Given the George V decree, when Prince Charles becomes king, "all his grandchildren get an upgrade from economy to business and become prince and princesses," Little said. So at that point, Archie will be entitled to become a prince. It was reported Thursday that Harry and Meghan are OK with that — they just wanted to keep things less complicated for their newborn for now.
Princess Diana and Camilla, Duchess of Cornwall
Contrary to popular belief, Prince Charles' first wife was never officially named Princess Diana. Her official title was the Princess of Wales. During their 15-year marriage, she also held the title Her Royal Highness, but was stripped of it when they divorced, although she remained a princess.
When Prince Charles married Camilla Parker-Bowles in 2005, it was felt to be too controversial to give her the title Princess of Wales. Diana was much-loved and the public manner of her bitter divorce from Prince Charles and her untimely death in a Paris car crash gave her a special place in British hearts.
Technically speaking, Camilla is the Princess of Wales. But she adopted a subsidiary title instead and became the Duchess of Cornwall. Charles also took on the new title of Duke of Cornwall, while doing double duty as a prince.
When Charles takes the throne, Camilla will officially become queen. But when the couple married, their media team said that she "intended to use" the title Princess Consort instead. Whether that decision still holds after 14 years of marriage remains to be seen.
"There has been a lot of controversy about the marriage, clearly," Little said. "She should be Queen Camilla. She would have the same status as her husband."
Meghan Markle, Duchess of Sussex
Upon marrying a prince, Markle became Her Royal Highness, The Duchess of Sussex — but not a princess.
Likewise, upon marrying Prince William, Catherine Middleton — like Markle, a commoner, albeit a British one — became Her Royal Highness, The Duchess of Cambridge. When their children's birth certificates were released, however, Catherine's occupation was written as "Princess of the United Kingdom" so, by default, she is a princess even though she is not one by name.
It's not yet clear whether Markle will receive similar treatment.
Both William and Harry have other titles also. William is Duke of Cambridge, Earl of Strathearn and Baron Carrickfergus. (Hey, we're not making this up.) And Harry is also Earl of Dumbarton and Baron Kilkeel.
Sorry, but a wedding — no matter how royal — will not create 'Princess Meghan' »
The two wives cannot be known as Princess Catherine and Princess Meghan because they do not have royal blood, so they are not princesses in their own right.
The other children of Queen Elizabeth II and Prince Philip
The queen and her husband, Prince Philip, the Duke of Edinburgh, had four children — three boys and one girl. In birth order, they are Prince Charles, Princess Anne, Prince Andrew, and Prince Edward.
Under the George V rules, Princess Anne's children were not able to use the "royal highness" title but it is believed that the queen offered to give them a courtesy title at birth, which was declined. They were therefore simply named Peter and Zara Phillips. (Zara was quoted in the Times of London saying that she felt "very lucky" that her parents decided not to give their children titles.)
The queen's youngest son, Prince Edward, also decided to break with tradition and turn down the chance to give his children the title of prince and princess. Upon marrying his wife, Sophie, they adopted the title of Earl and Countess of Wessex, instead of the more prestigious Duke and Duchess. They also chose to give their children the more modest titles of Lady Louise Windsor and James, Viscount Severn.
The queen's third-born, Prince Andrew, Duke of York, stuck to tradition. His two daughters are known as Princesses Beatrice and Eugenie of York.
Boyle is a special correspondent.
Must-read stories from the L.A. Times
Get the day's top news with our Today's Headlines newsletter, sent every weekday morning.
You may occasionally receive promotional content from the Los Angeles Times.