From L.A. girl to British royalty: Meghan Markle is now the talk of the town
By late afternoon Monday, the black-and-red "No Trespassing" sign hanging on Doria Ragland's front gate was probably feeling more like a plea than an order.
On Sunday, Ragland had been living her life in Los Angeles as a social worker. The following day, her View Park-Windsor Hills home was swarming with reporters. A security guard in a Chevrolet truck sat outside, handing out a note adorned with the royal family's Kensington Palace letterhead.
The request? Privacy.
On Monday, Ragland became mother to the now-fiancee of Britain's Prince Harry. After dating for the last 1 ½ years, the couple got engaged this month in London.
Countdown to the Royal Wedding » Your complete guide to the royal wedding 2018
Meghan Markle grew up in Los Angeles, and after news broke of the royal engagement, her mother's home was one of many places around L.A. with a connection to Markle that were getting unexpected attention.
As Ragland's neighbor Valerie Goodloe, 66, put it: Markle's mother was a "regular person" — until Monday.
Markle and the prince are used to the glare of the British tabloids. The Daily Mail last year ran a story titled: "Harry's girl is (almost) straight outta Compton: Gang-scarred home of her mother revealed — so will he be dropping by for tea?"
The tone of the coverage angered Prince Harry so much he issued a rare statement rebuking the media for their disrespectful treatment of Markle. She "has been subject to a wave of abuse and harassment. Some of this has been very public — the smear on the front page of a national newspaper; the racial undertones of comment pieces; and the outright sexism and racism of social media trolls and web article comments," the statement read.
What the British press had also referred to as "Crenshaw" is really the more upscale Baldwin Hills area, where her mother lives.
"They won't be going to the wrong address after today," Goodloe said.
Markle has discussed her life growing up in Los Angeles, the daughter of an African American social worker and a white Hollywood TV cinematographer.
In a 2015 essay for Elle magazine, she wrote that people would assume her mother was the nanny because of the color of her skin. She said that people often were curious about her racial background and asked where her parents were from.
"While I could say Pennsylvania and Ohio, and continue this proverbial two-step, I instead give them what they're after: 'My dad is Caucasian and my mom is African American. I'm half black and half white,'" she wrote.
Growing up, Markle spent a fair amount of time on the set of "Married... With Children," where her father worked as director of photography.
"Every day after school for 10 years, I was on the set of 'Married … With Children,' which is a really funny and perverse place for a little girl in a Catholic school uniform to grow up," Markle said in an interview with Esquire. "There were a lot of times my dad would say, 'Meg, why don't you go and help with the craft services room over there? This is just a little off-color for your 11-year-old eyes.'"
Amanda Bearse, who played neighbor Marcy on the popular sitcom, said Monday that she remembered Markle on the set as a quiet and respectful kid.
Bearse, who also directed episodes of the show, said Markle's father, Thomas Markle, helped her learn a lot about working behind the camera, which she has continued to do for the last 25 years.
"He was so supportive and just really truly a lovely, lovely man," Bearse said. "I am not one bit surprised he grew such a lovely child."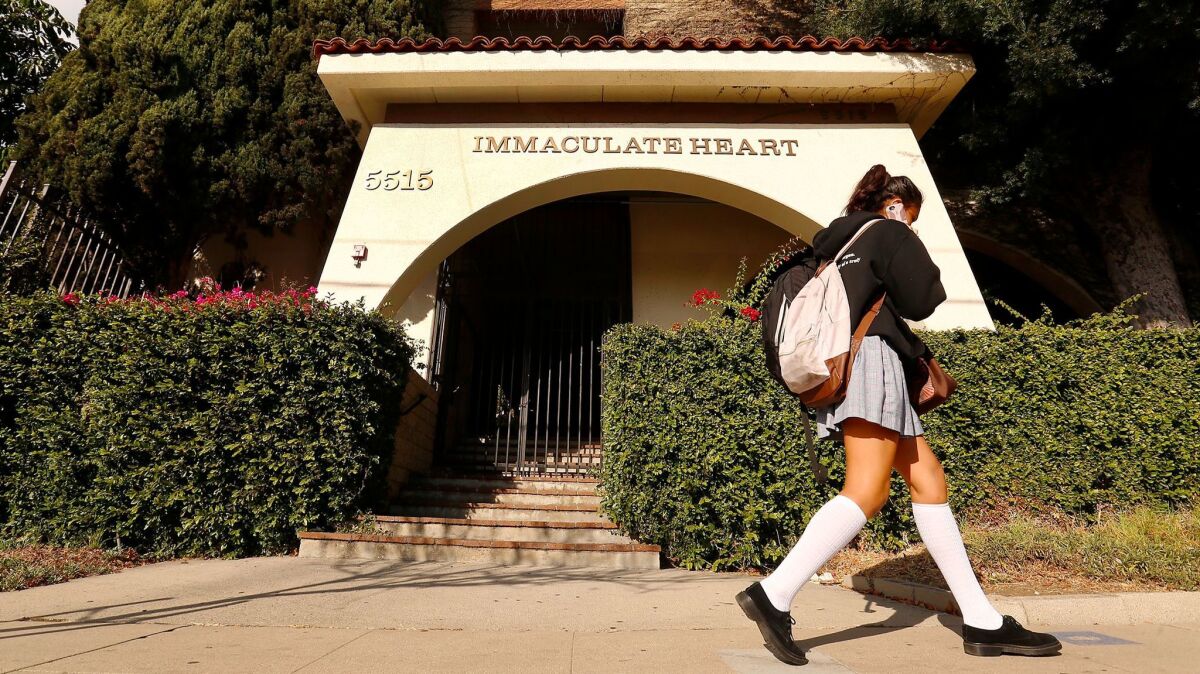 Markle, 36, attended Immaculate Heart High, an all-girls school in the Hollywood Hills. She went on to study theater and international relations at Northwestern University.
At Immaculate Heart on Monday, a staff member at the front desk confirmed that Markle was a graduate and said that they wished her well.
Markle is most famous for her role as paralegal Rachel Zane on USA Network's "Suits," now in its seventh season. She has played smaller parts in shows including "Fringe," "CSI: Miami" and "Castle," as well as movies such as "Horrible Bosses."
Besides acting, Markle has been an advocate for gender equality as part of UN Women, a United Nations organization focused on female empowerment.
Robert Jobson, royal editor of the London Evening Standard, said that initially, Markle's title probably will be Princess Henry of Wales. If Prince Harry becomes a duke, Markle then would be a duchess.
Regardless of what her title ends up being, the L.A. native's life is set on a trajectory far greater than her role on "Suits."
"Her acting will be on the world stage with the royals," Jobson said in an email. "Her on-screen acting days are over."
In a city filled with people chasing fame and fortune, the news that a local woman was marrying into royalty was met with pride as well as apathy.
"It's L.A.," said Los Feliz resident Serena Gallegos. "The most beautiful and amazing people live and come from here, so it's not surprising."
At Leimert Park Plaza, near where Markle grew up, shop owner Jackie Ryan said British royalty doesn't mean much to her.
"Not that I don't think they deserve each other, but I don't want to hear any more about kings and queens and movie stars," Ryan said.
While sipping a coffee in the Hollywood & Highland Center, Renee Heck, 58, remembered watching the late Princess Diana's wedding in 1981. It was right after her own wedding.
Heck, who said she casually follows the royal family, was familiar with Markle from her role on "Suits" and was happy to see the prince marry someone biracial.
"It's a big deal to me to know the queen is accepting of that," Heck said.
In an interview Monday with the BBC, Prince Harry and Markle discussed how — although he had tried to warn her of the media attention that would come with their relationship — neither of them truly had been ready for it.
There was a misconception, Markle said, that because she worked in the entertainment industry in America, she would be ready for how the British press covers the royal family.
"I've never been part of tabloid culture. I've never been in pop culture to that degree, and lived a relatively quiet life even though I focus so much on my job. So that was a really stark difference out of the gate," she said.
michael.livingston@latimes.com
makeda.easter@latimes.com
sarah.parvini@latimes.com
jaclyn.cosgrove@latimes.com
The stories shaping California
Get up to speed with our Essential California newsletter, sent six days a week.
You may occasionally receive promotional content from the Los Angeles Times.