Life in Britain's town of Boston, known to some as the least integrated place in the country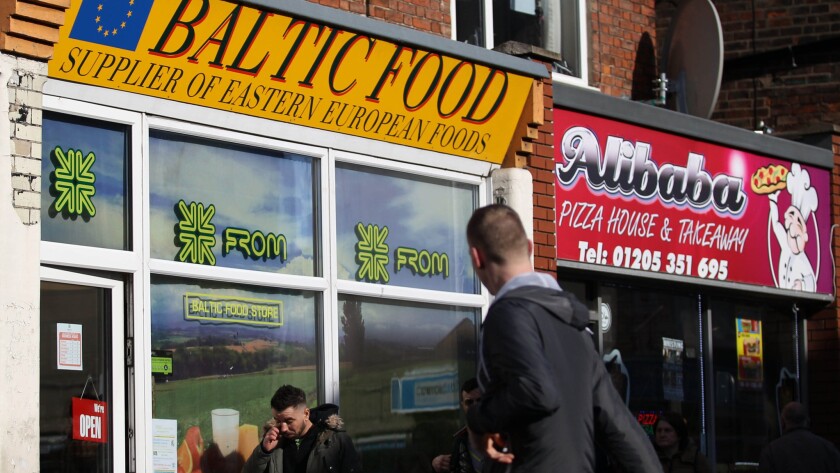 Reporting from Boston, Britain —
Less than a year ago, Henrieta Berzinyte and her husband packed up their lives in Lithuania and moved to a market town near the east coast of Britain with their 3-year-old son.
Like thousands of Eastern Europeans before them, the couple knew Boston in Lincolnshire was a place where low-skilled workers could find jobs that offered higher salaries than they could command at home. It might mean driving a forklift or maybe packing boxes.
The city also offered a growing community of Eastern European migrants that included Berzinyte's father and sister, who moved there several years ago.
"It's way better here," Berzinyte, 26, said recently.
But Boston, with a population of about 64,600, also has become known as a place of deep divisions.
The town early this year was described as the least integrated place in Britain by the Policy Exchange think tank. In studying Boston, the organization found that many longtime residents and newcomers essentially did not mix much.
Then in June, when Britain held a referendum on whether to pull out of the 28-nation European Union — a move driven in part by anti-immigrant sentiments — Boston recorded the highest percentage of "Leave" votes in the country. About 76% of the city's voters supported the so-called Brexit , compared with about 52% nationwide.
For some, the port town stopped feeling like a good place to raise a family.
Berzinyte, who works at a small grocery store, worries about the town and whether her family will fit in, considering that some residents do not welcome migrants.
"If things get worse then we can ... go home," she said.
Many of Boston's Eastern European residents congregate near West Street, a road that stretches about a third of a mile from the train station toward the main market square. Some British locals refer to it as "East Street" because of the concentration of Eastern European markets, restaurants and people.
In the grocery stores dotted along this road, much of the food is imported to cater to customers from places like Poland, Latvia and Lithuania.
One day recently, Polish music played near stores called European Market and Europe Express. Several business displayed the gold-starred EU flag on their awnings.
Many of Boston's foreign-born residents say they were lured by the area's abundance of factory and farm work, mostly picking vegetables and packing produce for supermarket shelves. They can earn in a week here what they might make in a month back home.
The city's share of foreign-born residents increased from 3.1% in 2001 to 15.1% in 2011, according to census figures, a change that makes some residents uncomfortable.
Paul Dyke, 69, and his wife Julie, 61, said the growing presence of migrants was undeniable and they were hoping the EU referendum vote would help counter it.
"I'm retired and so I can walk around town in the day and you have a hard time finding someone speaking English," said Paul Dyke, who has lived in Boston his whole life. "It's all foreigners."
Boston has always relied on outside workers who come in to help pick and package the vegetables produced in the surrounding area.
They used to come from nearby cities like Sheffield or Peterborough, until Europeans began arriving in significant numbers. Many Portuguese came in the 1990s, then Eastern Europeans.
This is a town which has seen repeated population changes, which unnerves people who have lived here a long time.
Paul Gleeson, member of the Boston Borough Council
"This is a town which has seen repeated population changes, which unnerves people who have lived here a long time," said the Labor Party's Paul Gleeson, a member of the Boston Borough Council. "And you've got a situation now where living conditions are becoming harder for everybody, and the easiest thing to do is to blame the migrants."
The Conservative leader of the Boston Borough Council, Peter Bedford, said there have been issues with integration, but the council was working on improving the situation.
City officials and police are trying to clamp down on the exploitation of workers who are forced to give part of their pay to so-called gang masters who find them work.
Ziedonis Barbaks, a Latvian community representative who moved to Britain 16 years ago and has been living in Boston for 11 years, said he has tried to help improve relations and offers advice to European newcomers, but has not seen enough from the council.
"I put lots of hours in driving around to meet the [council] people and nothing has changed," he said. "What kind of change is there going to be after Brexit? Only more exploitation."
Gleeson said the town's officials have historically not worked hard enough to protect the rights of migrants from EU countries and make them feel more comfortable settling in Boston.
"Traditionally, Boston is very insular," he said.
What happens next in Boston and throughout Britain, which is home to about 3 million European Union citizens, remains uncertain.
Some prominent campaigners on both sides of the Brexit vote have called on the government to ensure that any changes in the rules on EU migration apply only to new arrivals, not those who already live in Britain. Under existing rules, citizens of any of the 28 EU member countries are allowed to freely work in and travel to any other EU country.
Theresa May, who became prime minister after the referendum, is charged with reuniting a deeply fractured country.
Bedford, who supported the "Remain" campaign, said there was a misconception among the local British community about how to fix existing problems and what their vote would mean.
"I think the Brexit vote [in Boston] stemmed from immigration," Bedford said. "I think that the majority of people thought that if they voted for Brexit the Eastern Europeans would disappear, which clearly is not the case and will not be the case."
See the most-read stories this hour »
Damian Hosse, a forklift operator at a produce packing house who moved to Boston from Poland 10 years ago, said he frequently thinks about leaving Boston, but he does not want to quit his job and does not know where he would go.
"Who will be working in the factories if we leave? English people don't want to do that work," said Hosse, 28.
"I live here many years now, and I know everything," he said. "I have friends, I have a job … Maybe I will change countries, but I don't think I will go to Poland. At the moment, England is all right."
Boyle is a special correspondent.
MORE WORLD NEWS
This town in South Sudan has no name. It was never supposed to exist. Now 21,000 people live there
White House considers ending for-profit immigrant detainee centers, but critics say it could add billions to the cost
---
Must-read stories from the L.A. Times
Get all the day's most vital news with our Today's Headlines newsletter, sent every weekday morning.
You may occasionally receive promotional content from the Los Angeles Times.