White House considers ending for-profit immigrant detainee centers, but critics say it could add billions to the cost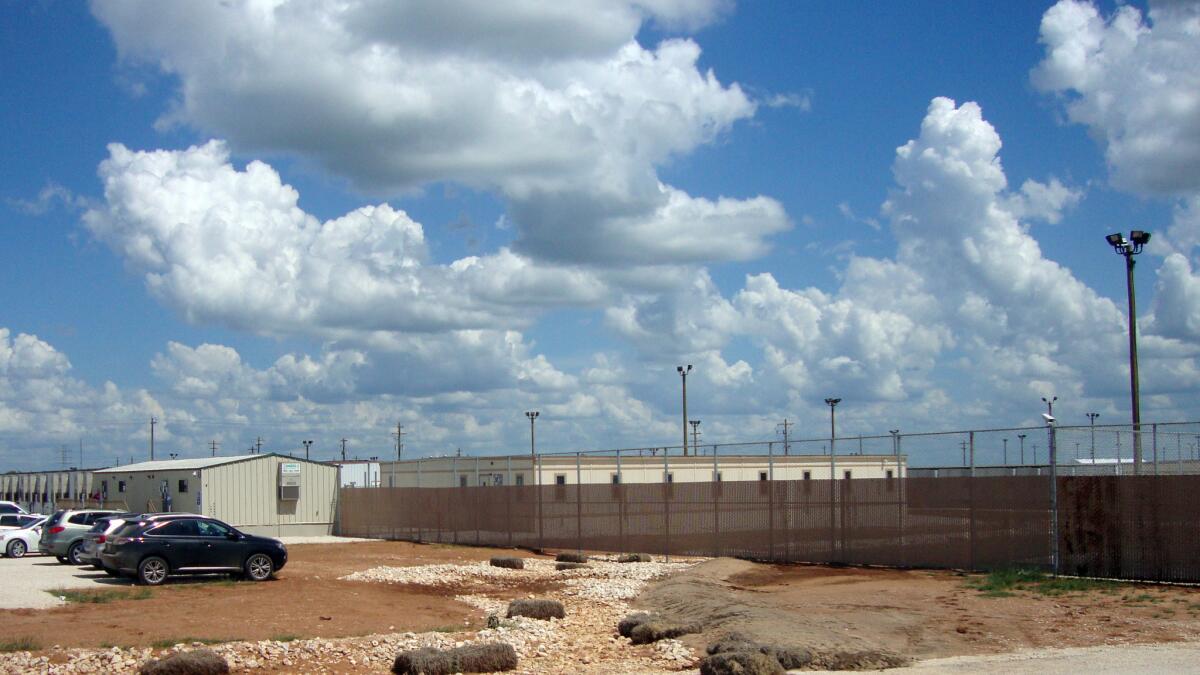 Reporting from Washington —
The Obama administration is considering an end to the practice of keeping immigrant detainees in for-profit centers, weeks after the Federal Bureau of Prisons announced it would stop its use of private prisons.
Homeland Security Secretary Jeh Johnson, whose agency includes the immigration service and the Border Patrol, in late August ordered a review of ways to end the use of the private facilities.

For the record:
9:10 a.m. Sept. 6, 2016
A previous photo accompanying this article had a caption saying it showed the immigration detention center in Adelanto, Calif. The photo showed the Desert View Modified Community Correctional Facility, which is next to the detention center.
A decision to do so would mark a major victory for the coalition of civil rights groups and immigrant advocacy organizations that has sought to roll back the growth of the private-prison industry. Immigration detention facilities house far more detainees than the private facilities the federal prison system has used.
But immigration officials have pushed back against the idea, arguing that they have no cost-effective alternative to the private facilities and that other choices could be worse.
"It would be remarkably detrimental," said a senior Immigration and Customs Enforcement official, speaking anonymously to comment on the internal debate.
Cutting out private companies from the system would cost taxpayers billions of dollars more a year and take more than a decade to implement, the official warned.
Johnson's Homeland Security Advisory Council is expected to make a recommendation by the end of November. The secretary has not indicated which side of the debate he favors.
Nine of the country's 10 largest immigration detention facilities are operated by private companies, and they hold about two-thirds of the detainees in a system that currently keeps more than 31,000 people in custody on a typical day. While some centers are located in border areas, others are far from the border because deportation officers arrest migrants living in the interior of the country as well.
The federal government contracts with four privately run detention facilities in California that hold about 3,700 people each day, including immigrants in the country illegally, asylum seekers, green card holders and those awaiting immigration hearings.
The California Legislature recently passed a bill that would block local governments from contracting with private companies wanting to run immigration detention centers in the state. Senate Bill 1289, also known as the Dignity Not Detention Act, is now on Gov. Jerry Brown's desk.
The Obama administration has budgeted $2.1 billion for detention operations in 2017, a slight decrease from 2016 as the administration has moved to reduce the number of people held in detention each day from 34,000 to about 31,000, including 960 "family beds."
Immigration and Customs Enforcement estimates the cost of housing a person in immigrant detention at $127 a day and $161 a day for those held in facilities designed for families.
ICE has not publicly said how much of that money goes to private facilities, but an analysis of federal budget data by Grassroots Leadership, an organization based in Austin, Texas, that advocates against the use of private companies indicated that about half the annual spending — or roughly $1 billion a year — went to private firms.
Civil rights advocates have documented a pattern of poor medical care and abuse inside private immigration facilities over the last several years. They say such prisons have an incentive to cut corners and reduce costs.
Although the allegations of abuse are not limited to privately run prisons, "we certainly see a lot of these problems magnified when a company is seeking to extract as much profit as it can out of a detention center," said Bob Libal, executive director of Grassroots Leadership.
A review by medical experts of the deaths of 18 migrants held by immigration authorities from 2012 to 2015 concluded substandard medical care had contributed to at least seven of the deaths, according to a Human Rights Watch report published in July.
In December 2012, for example, a 34-year-old Guatemalan man named Manuel Cota-Domingo died of heart disease and complications related to diabetes and pneumonia shortly after being transferred to a hospital in Phoenix from Eloy Detention Center, a private facility run by Corrections Corporation of America about 60 miles southeast.
Cota-Domingo was having trouble breathing for about three hours before detention officers responded and a medical evaluation was conducted, delays which probably contributed to his death, according to a review of the file by medical experts.
ICE officials warn, however, that if they have to reduce or eliminate private detention centers, they could be forced to put more detainees into state and local jails because the federal government does not have enough facilities of its own.
That could be a worse outcome for detainees, they say, because conditions in the jails are sometimes harsher than in the private detention centers and are more difficult for immigration officials to oversee.
The use of jails also means putting detainees who have not been accused of a crime into facilities where they are in contact with potentially dangerous criminals.
Geo Group and Corrections Corp. of America, major operators of private detention facilities, said they welcomed the Department of Homeland Security's review of their business practices.
Geo Group said in a statement that its facilities "are highly rated and provide high-quality, cost-effective services in safe, secure, and humane residential environments pursuant to strict contractual requirements and the federal government's national standards."
Corrections Corp. of America said it is "proud of the quality and value of the services we provide and look forward to sharing that information" with the advisory panel.
A former senior official of ICE, by contrast, said the time has come to reexamine the government's reliance on private companies for detention.
"They should do a real in-depth review," said Alonzo Peña, who was deputy director of Immigration and Customs Enforcement from 2008 to 2010. Peña said he has long been concerned that for-profit prison companies have been hiring former immigration officials to help them secure favorable contract terms.
"They are not better-run, they are not better-managed, they are not providing better service," he said.
If the immigration service stopped using private facilities, some major changes would be necessary. The federal government stopped training its own immigration detention officers in 2002 during the massive bureaucratic shakeup that created the Department of Homeland Security after the Sept. 11, 2001, attacks.
"Before this ever happens, the facilities we currently use have to be replaced — that's basically the only way, or it will shut us down," said Chris Crane, president of the National Immigration and Customs Enforcement Council, the union that represents federal deportation officers.
Eliminating private detention facilities "can't be an excuse to not hold anyone or let bad guys back on the street because we can't lock them up," he said.
Reducing the overall number of people in detention, however, is exactly what many civil rights and immigrant advocacy groups have pushed for. They argue that the government could allow more community organizations to vouch for immigrants and work with courts to ensure that people show up for deportation hearings and other proceedings.
Even if the federal government completely ended its use of private detention facilities, the private-prison industry could still thrive — most people in custody in the U.S. are held by state and local governments, not federal authorities. Many local prisons and jails are run by private companies.
Still, a decision by Washington to cut its chief tie to the industry could set a pattern that states might follow and would be a significant blow to the industry.
In mid-August, the administration decided to end using privately run facilities for federal prisoners.
The Department of Justice and the Federal Bureau of Prisons determined that the private facilities were not substantially cheaper than government-run institutions and did not provide "the same level of correctional services, programs and resources," according to a memo written by Deputy Atty. General Sally Yates.
Follow me @ByBrianBennett on Twitter
ALSO
No more nation of immigrants: Trump plan calls for a major, long-lasting cut in legal entries
Trump's immigration speech decoded: What he said, what it means and how it would work
California's new climate change laws almost didn't happen this year. Here's how lawmakers pulled it off.
Sign up for Essential California for news, features and recommendations from the L.A. Times and beyond in your inbox six days a week.
You may occasionally receive promotional content from the Los Angeles Times.