Messy breakup gets messier: In Britain, draft agreement for 'Brexit' draws howls of protest. What does the deal say?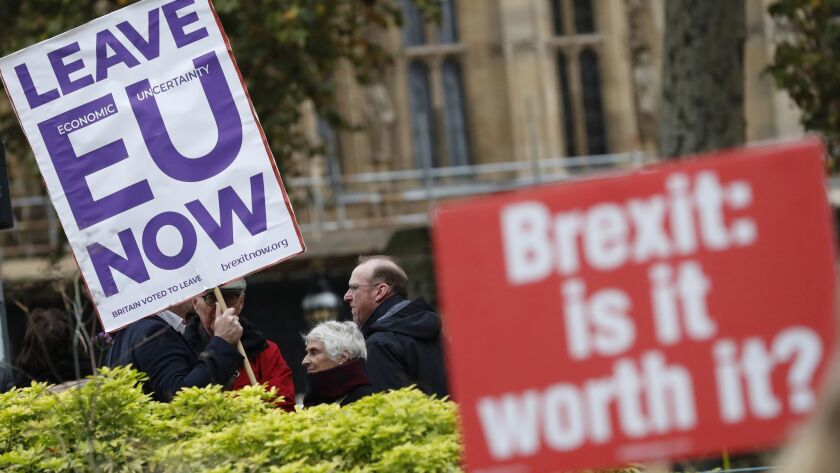 Reporting from Washington —
With the clock ticking on Britain's scheduled March 29 withdrawal from the European Union — the messy breakup universally known as "Brexit" — a draft agreement emerged this week on the terms of the split.
But British Prime Minister Theresa May's proposed deal with the EU ignited a political firestorm, with the bitterest criticism coming from those who want to see a clean break with Europe and are frustrated by the draft accord's call to leave many ties in place — at least for now.
Brexit proponents say the draft agreement, approved by a divided Cabinet on Wednesday, leaves Britain under the thumb of the EU's bureaucrats and legal institutions such as the European Court of Justice.
Opponents, though, believe the draft accord doesn't leave Britain with close enough ties to the EU, a bedrock organization created after World War II to stave off future conflict in part by intertwining Europe's economies, arguing, in effect, that May's government is giving up a valuable seat at the European table with very little to show for it.
Now the prime minister's job is in jeopardy as key ministers have fled her government, and the plan's prospects for winning parliamentary approval are uncertain. May's argument has been that it's not a perfect deal, but that rejecting it would put Britain on "a path of deep and grave uncertainty."
Here are some key points about the Brexit draft agreement.
How is the draft deal structured?
The withdrawal agreement, which would be legally binding if approved, runs nearly 600 pages. Then there's a much shorter and less specific political declaration, which lays down broad guidelines governing future ties between Britain and the remaining 27 EU nations.
When would Britain leave the EU?
Britain's withdrawal date would stay the same: March 29, 2019. Then there would be a 21-month transition period, until December 2020, for British and EU negotiators to try to reach an accord on a permanent new trade relationship.
Is there any wriggle room on that?
If the transition period isn't long enough for a lasting agreement to be struck, both parties could agree to extend it. They'd have to do that by July 2020 under terms of the accord. It's not spelled out yet how long such an extension could last.
What are the trade terms?
The long-term trade arrangement wouldn't be known for more than two years. The draft accord envisions Britain staying in the bloc's so-called single market until the end of 2020, which would allow time to work out a permanent new trade relationship.
But in the meantime, Britain would be bound by EU rules. Supporters of Brexit say that flies in the face of one of the June 2016 referendum's main underpinnings: freeing Britain from what critics describe as burdensome EU regulations.
What will this divorce cost Britain?
Under the draft withdrawal deal, Britain would pay 39 billion pounds, or around $50 billion at current exchange rates, to settle its outstanding obligations to the EU. Britain will have to keep covering its contributions to various European Union programs until 2020. And it will have to pay for staff pensions linked to them.
But both sides acknowledge that larger and longer-term economic effects of the deal are impossible to predict at this point.
What does it mean for expatriate Britons on the continent, and European nationals who live in Britain?
Anti-immigrant sentiment was a big driver of the divisive referendum vote, but it's proving nearly impossible for negotiators to scrap free movement within the bloc without also disrupting the lives of those who have built lives and careers outside their home countries. Under the draft plan, both British nationals and citizens of EU countries would be allowed to stay where they currently live. But it leaves families and individuals in limbo as to whether they will be able to work in the long term. That's already forced many to make hard choices about whether to uproot rather than wait for a potential bad outcome.
Is the 'Ireland question' settled?
From the beginning, this has been one of the thorniest questions. The Republic of Ireland is in the European Union and will remain so. Northern Ireland is part of the United Kingdom.
Britain and the European Union agreed nearly a year ago that there should be no "hard border," with customs posts and other physical infrastructure, between Northern Ireland and Ireland, but working out the legality of that arrangement has been challenging, to say the least.
Both sides fear that a hard border would revive the ghosts of "The Troubles," Northern Ireland's devastating three-decade sectarian strife that killed more than 3,500 people, pitting Catholic Irish nationalists against Protestant loyalists who wanted to remain under British rule.
The draft deal sets out a "backstop" solution that avoids a hard border by keeping the whole of the United Kingdom, including Northern Ireland, in a customs arrangement with the EU, but only until new trade arrangements are made.
What does the political declaration say?
That part of the draft plan, which runs only seven pages, is fairly vague — more an expression of broad principles than any specific commitments. It says the two parties will try to agree on a free-trade area with "deep" cooperation on regulatory and customs affairs.
Goals include visa-free travel for Britons and EU residents for short-term visits, cooperation on law enforcement and judicial matters and smooth transport links, by air, land and sea.
What about London's lucrative financial services sector?
While Britain has been part of the EU, banks and insurers have had unfettered access to customers across the bloc in all financial activities. The draft plan envisions "ambitious, comprehensive and balanced" arrangements going forward, but gives no details on what that would entail. If the draft withdrawal is ratified, cross-border access for financial services will be extended to December 2020 as part of the transition process. But most big financial institutions, including global banks, are already making plans to move some operations to the continent.
What else remains up in the air?
Another example of non-agreement in the draft agreement is fishing — both access for European vessels to British waters and British fish producers' ability to sell to European markets. The draft accord simply says the two sides will try their hardest — "use their best endeavors," in the language of the document — to reach an accord.
What now?
May has been trying hard to avoid a "hard" Brexit, crashing out of the EU with no agreement in place, which could trigger a damaging recession. Leaders of the remaining 27 members of the EU are expected to vote on the draft agreement on Nov. 25.
But the prime minister has been warned by British lawmakers that she doesn't have the votes to get the plan through Parliament, which is expected to take up the matter in early December.
---
Must-read stories from the L.A. Times
Get all the day's most vital news with our Today's Headlines newsletter, sent every weekday morning.
You may occasionally receive promotional content from the Los Angeles Times.