Britain's Theresa May has a big 'Brexit' headache — and his name is Jeremy Corbyn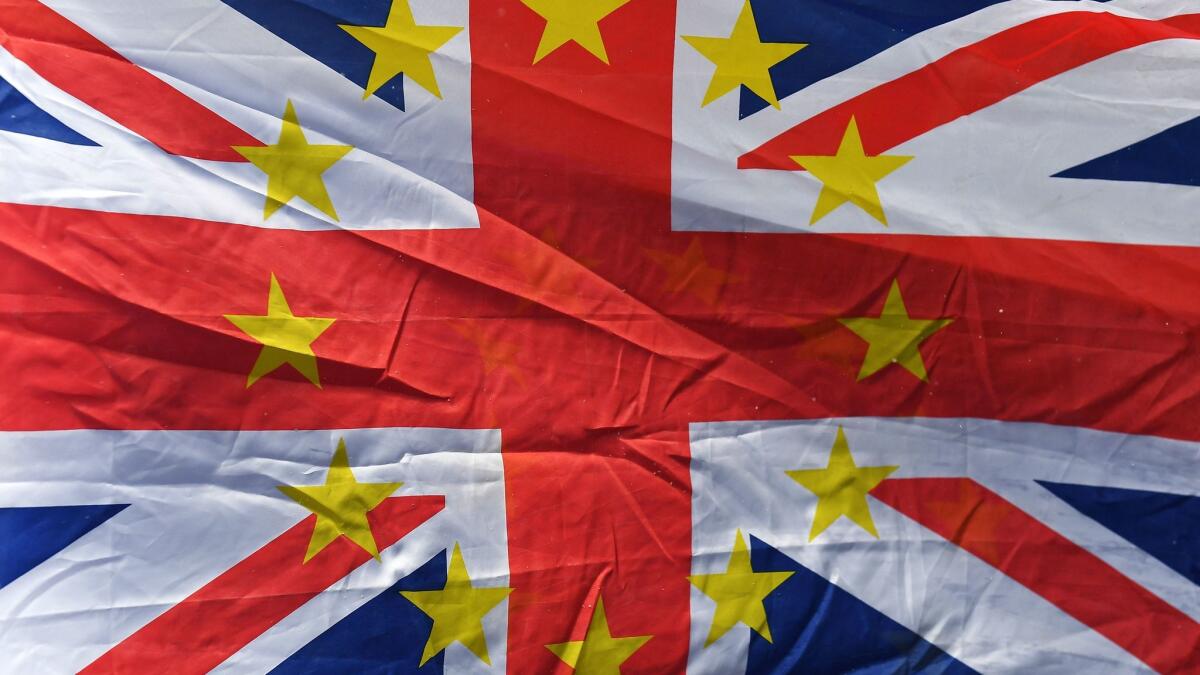 Reporting from London —
British Prime Minister Theresa May is facing a new battlefront in her negotiations over Britain's withdrawal from the European Union after the opposition Labor Party laid out its vision for a future trade deal, setting the stage for a possible showdown during a parliamentary vote.
In a speech on Monday, Labor leader Jeremy Corbyn branded the EU an institution that Britain should not see as the root of all evil, and said he will push for the country to maintain some sort of customs agreement with the remaining 27 EU members once "Brexit" takes effect. He said the cost of severing all ties was simply too high.
The EU customs union provides a free-trade zone for European goods and imposes a common tariff on goods entering the zone.
Corbyn's stance runs counter to the strategy put forward by May, who has said she wants to cut all ties with the EU — both Britain's membership in the single European market and the customs union — in order for Britain to prosper and forge new lucrative trade deals with non-European nations.
It also raises the real possibility that some pro-EU members of her Conservative Party could break ranks and side with Labor when the government asks Parliament to vote on its post-Brexit trade bill.
"It seems to be clear political positioning," said Tim Bale, a professor of politics at Queen Mary University of London. "It puts Labor into a position where it can put forward an amendment [to the trade legislation] that Conservative rebels can support."
The Labor Party is "looking for a Brexit that puts the working people first," Corbyn said during his speech Monday which, for the first time, clearly set out his party's stance.
"We have long argued that a customs union is a viable option for the final deal," he said. "So Labor would seek to negotiate a new comprehensive U.K.-EU customs union to ensure that there are no tariffs with Europe and to help avoid any need whatsoever for a hard border in Northern Ireland."
The speech was immediately applauded by many members of the business community who fear failing to maintain close economic ties with Europe and creating new trade barriers will result in the loss of jobs and a decline in productivity and living standards.
"Many thousands of ambitious U.K. firms are looking to break into new markets," said Carolyn Fairbairn, director-general of the Confederation of British Industry, or CBI, which represents 190,000 businesses. "These companies need government to focus on making access to markets simpler, not putting up barriers to our most important trading partner."
The news also gave a glimmer of hope to pro-European lawmakers and voters around the country who voted to remain in the EU and hope that a "softer" Brexit could still be on the table.
Labor's announcement comes just days before May is due to deliver her own key speech on Brexit on Friday, when she is expected to shed new light on her negotiating strategy as stage two of the talks with the EU are about to formally get underway.
Last year, phase one of the negotiations concluded when both sides agreed on three key issues: the rights of the 3 million EU citizens living in the U.K. and the 1 million U.K. citizens living in the EU; the relationship between Northern Ireland, which will leave the EU along with the mainland United Kingdom, and the Republic of Ireland, an EU member; and how much Britain must pay in order to cease its membership.
But those talks were far from simple and involved a last-minute dash to Brussels by May to finally seal the deal.
At the time, European Council President Donald Tusk warned that phase two of the talks would probably be even more fraught. And last Friday, he told reporters that Britain was operating on "pure illusion" if media reports were accurate when they suggested May's government hoped to maintain close trade ties in some areas, while moving away in others.
Twenty months after the referendum in which Britain voted 52% to 48% to leave the EU, May remains in an unenviable position and her party remains deeply fractured over Brexit.
Those in the "remain" camp argue the country was never asked what sort of Brexit it wanted to see, while Euroskeptics say that the vote to leave was a vote to regain complete independence over Britain's laws, trade agreements and borders, and they will settle for nothing less.
May has also been in a weak position politically ever since she called a snap general election last June hoping to strengthen her party's hold on power; it backfired spectacularly.
She lost her party's majority and now depends on an alliance with the Democratic Unionist Party, which only gives her a working majority of 13. Rumors of leadership challenges are rife.
Corbyn, by contrast, made huge gains during the election, especially among younger voters who overwhelmingly voted to remain in the European Union, and many Conservatives fear he is edging his way into power.
Ministers in May's government will therefore be "trying to get those rebels on [its] side in the next few weeks," before any Brexit trade deal is put to a vote, Bale said, in order to prevent the country from diving headfirst into yet more political turmoil.
Even though analysts doubt Labor's Brexit strategy will cause May to change her own negotiating position, it did set off a new war of words around Britain's ability to successfully go it alone.
International Trade Secretary Liam Fox, a prominent member of the "leave" camp, said Tuesday that that any form of customs union with the EU would be a disaster for Britain and a "complete sellout of Britain's national interests."
"The inevitable price of trying to negotiate with one arm tied behind our back is that we would become less attractive to potential trade partners and forfeit many of the opportunities that would otherwise be available," he said.
On the other side, Martin Donnelly, a former official within Fox's department, said leaving the single market and customs union would be akin to "rejecting a three-course meal now in favor of the promise of a packet of [chips] later."
ALSO
British judge upholds arrest warrant for WikiLeaks founder, says he should have courage to face consequences
Leaders of Britain and France seek to strengthen security and intelligence ties ahead of Brexit
Germany's Merkel sets the stage for her eventual exit by picking a successor
Boyle is a special correspondent.
Sign up for Essential California for news, features and recommendations from the L.A. Times and beyond in your inbox six days a week.
You may occasionally receive promotional content from the Los Angeles Times.