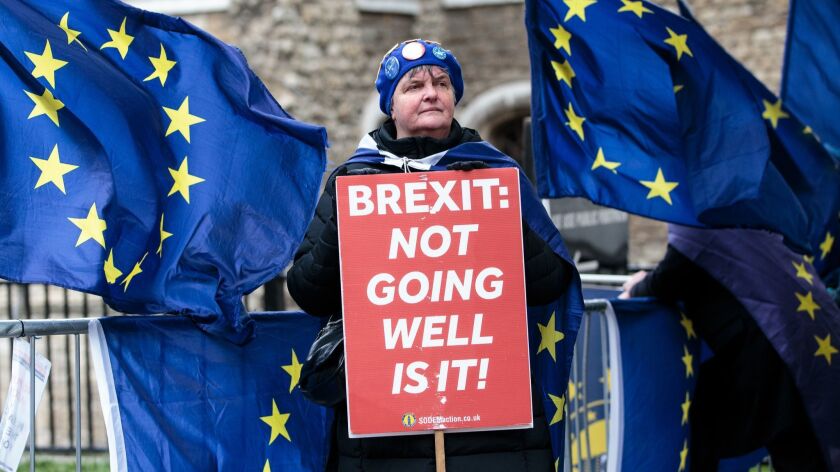 Reporting from London —
As British lawmakers voted on what to do next about Brexit, Aodhan Connolly monitored the political drama in London with a large dose of frustration.
Connolly, director of the Belfast-based Northern Ireland Retail Consortium, said Wednesday that retailers were in a nasty bind by not knowing what exactly to expect from Britain's planned exit from the European Union, which is scheduled for March 29. Businesses have been unable to make contingency plans because they don't know what British officials will do next, he said
"The biggest problem is uncertainty," he said.
To observers like Connolly, British officials have not done much this week to clear up how the government will manage a break from the 28-nation EU bloc.
The day after resoundingly rejecting British Prime Minister Theresa May's Brexit plan, lawmakers on Wednesday voted against leaving the European Union without any deal at all in hopes of avoiding almost certain economic chaos.
Parliament's vote of 321 to 278 indicated that, despite endless infighting, politicians from all parties were worried about the turmoil expected in commerce and other arenas if Britain were to leave the bloc on March 29 — or ever — without a plan in place.
May, however, emphasized that Parliament's votes on the matter were not legally binding and that the legal default remained that Britain would leave the EU on that day. Options include leaving the EU based on the May agreement that lawmakers already have rejected, seeking a new deal despite EU leaders saying they've presented their best offer, seeking an extension on the deadline, or pursuing a second referendum on whether to exit the bloc, May said.
"That would risk no Brexit at all, damaging the fragile trust between the British public and members of this house," she said.
The vote came 24 hours after a tumultuous day in British politics.
On Tuesday, lawmakers rejected May's revised EU withdrawal agreement despite last-minute changes she had hoped would win over a majority of lawmakers. It left the prime minister, Parliament and the European Union unclear about a way forward and with little time to come up with a new plan.
Managing the border between the Republic of Ireland and Northern Ireland, part of the United Kingdom, has been a significant stumbling block to successful Brexit negotiations. British lawmakers were unhappy with a so-called backstop agreement that would take effect if talks over a future trade deal deadlocked. The agreement would keep the whole of the U.K. inside an EU customs union, and Northern Ireland would remain linked to some rules of the more extensive single market.
The Democratic Unionist Party, which May depends on for her majority in Parliament, voted against the revised deal. It said creating different trade agreements between Northern Ireland and mainland U.K. was unacceptable.
Euroskeptics in May's Conservative Party also objected to Britain not being able to unilaterally withdraw from the backstop, and voted no.
May sought assurances from EU leaders that the backstop would not be legally binding, but — despite a last-minute dash to the French city of Strasbourg — the extra written guarantees May secured did not go far enough.
On Wednesday, May spoke with a hoarse and faltering voice in Parliament after days of difficult conversations and late-night negotiations. She said that "she knew the voice of the country" and understood that the British — who voted 52% to 48% to leave the EU in a 2016 referendum — still wanted to leave the bloc and that leaving with a good deal remained her main priority.
"I believe we have a good deal," she said. "No deal is better than a bad deal, but I have been working for us to leave on 29 March and leave with a good deal."
Opposition Labor leader Jeremy Corbyn said May needed to accept that her Brexit strategy, which was rejected by lawmakers in January and again Tuesday, was "in tatters."
"Her deal has been twice rejected and is now dead," he said, urging May to look at alternative proposals, including one put forward by his party that would see Britain remain in a customs union with the remaining 27 EU nations.
But the EU's chief negotiator, Michel Barnier, emphasized that the bloc had gone as far as it could to come up with a divorce deal that was acceptable to all sides and that the ball was now firmly in Britain's court.
"If the U.K. still wants to leave the EU in an orderly manner, this treaty is, and will remain, the only treaty possible," he said in Strasbourg. "I urge you please not to underestimate the risk [of no deal] or its consequences."
No matter the outcome of Wednesday's vote and efforts to put contingency plans in place, the risk of a chaotic, unplanned Brexit cannot be ruled out. To postpone the March 29 deadline, all remaining 27 EU members would have to agree, and many want a clear indication of what exactly an extension would achieve — and how long it would last. The British Parliament was prepared to vote Thursday on whether to pursue an extension.
The EU also has other business, including European Parliament elections in May, that could further complicate additional negotiations.
If the divorce has not been finalized by then, Britain could be faced with the awkward situation of putting forward candidates for the body despite having no intention of remaining in the EU long term.
To prove that it is ready for all eventualities, May's government started to reveal some of the measures that it planned to enforce to protect trade and industry if a no-deal Brexit were to become unavoidable. Tariffs would not be placed on up to 87% of goods entering Britain from the EU apart from some industries, such as agriculture, which it would seek to protect.
On the island of Ireland, no checks would be imposed on goods traveling from the Republic of Ireland, an EU member, to Northern Ireland, which would leave the EU along with the rest of the U.K.
Connolly slammed this idea, saying it would create a "smugglers' paradise."
He lambasted Parliament's defeat of May's deal on Tuesday night by 149 votes, 391 to 242.
"The deal wasn't perfect by any means, but there were some really good things in there," he said. "It's the most vulnerable households who are going to feel this first."
Nigel Farage, the former leader of the UK Independence Party, who spearheaded the campaign for Britain to leave the European Union, said he still expected the country to eventually break away from the EU.
"In the end, we are going to get Brexit because the genie is out of the bottle," he said in a television interview. "The trouble is we have some battles to fight."
Boyle is a special correspondent.
---