It's nearly Prince Harry's turn, along with fiancee Meghan Markle, to join Britain's royal history of matrimony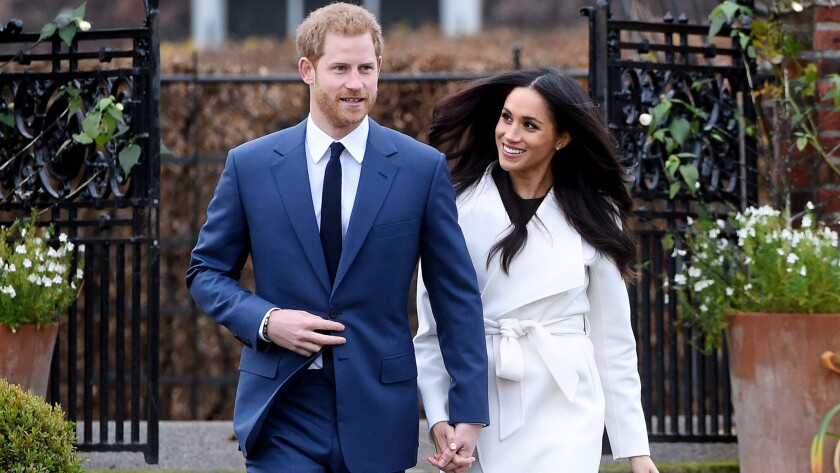 Reporting from London —
Meghan Markle is many things: an American, a divorcee, a television actress, the daughter of an African-American mother and white father of Dutch-Irish descent, a Catholic and a 36-year-old, which makes her three years older than her fiance, Prince Harry.
All of those identities will make her one of the most unconventional figures to join the British royal family.
The union, which was announced Monday, has received the blessing of both Prince Harry's grandmother, Queen Elizabeth, and his father, Prince Charles. But until recently the marriage would have been out of the question.
"She is a very different type of royal bride," said Robert Jobson, author of "The Future Royal Family." "She is glamorous and has an understanding of Hollywood and the media world. What's more she is American — a real life American princess."
So unusual is Prince Harry's choice of bride that the engagement had barely been announced before conspiracy theories began to surface. Some have speculated that the betrothal is a way to distract the country from arduous negotiations around Britain's withdrawal from the European Union or an attempt to improve Britain's standing with its former colonies.
Live updates: Countdown to the Royal Wedding »
Royal commentator Richard Fitzwilliams said there is likely to be intense public interest in the wedding, and he believes Markle's ethnicity could also help generate warmth for the royals when they visit Commonwealth countries as part of their royal duties.
"As Markle is biracial, more people will identify with her," he said. "People of the Commonwealth will see it as an extra bond. It's an international marriage. The royal brand will be amazing."
Here is a look at other royal marriages that have also garnered huge attention, and some notoriety.
Prince William and Kate Middleton
Prince Harry's older brother, Prince William, married his longtime girlfriend Kate Middleton in 2011. His marriage to Middleton, a commoner like Markle, broke with the tradition of generations of royals who felt obliged to marry someone with royal lineage or a member of the British aristocracy.
The pair met while while studying at the University of St. Andrews, in Scotland, and dated on and off for several years. News of their engagement was made public in a similar way to that of Prince Harry and Markle: an official announcement from the palace, a press photo call and a sit-down interview with the BBC.
Royal Wedding: British royal weddings since 1840 »
Their wedding took place in Westminster Abbey and 1 million people lined the route to wish them well along with tens of millions watching the ceremony on televisions around the world. They were bestowed the formal title of duke and duchess of Cambridge and now have two children — Prince George and Princess Charlotte — and a third due in April.
William's marriage instantly made his younger brother the most eligible bachelor in Britain, and speculation has been rife ever since about whom the second-born prince might marry.
Queen Elizabeth II and Prince Philip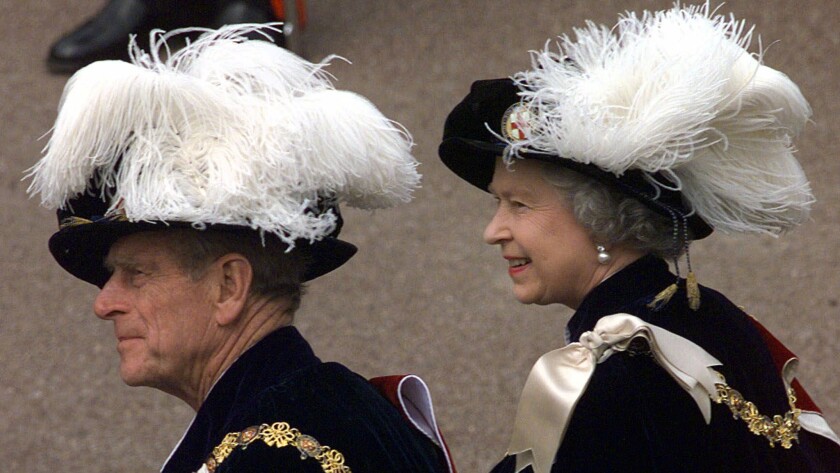 Last week, the British monarch and her husband celebrated 70 years of marriage.
The queen remembers meeting her future husband in 1939, when she was 13 and he was an 18-year-old cadet at the Royal Naval College. It was love at first sight for her, even though the two are distant relations.
They were married in Westminster Abbey in 1947 and had four children: Charles, Anne, Andrew and Edward.
Despite their love for each other, there were some who doubted how suitable Philip was to be husband to the then-princess. He had no money of his own, and his sisters had married Germans with Nazi ties.
Yet their marriage has remained steadfast over the years and the queen, 91, is rarely seen at public events without Prince Philip, 96, by her side.
Prince Charles and Diana
The wedding of Charles and Diana took place inside St. Paul's Cathedral in 1981 and was billed as the "wedding of the century."
It was marked by a national holiday and well-wishers lined the streets cheering the couple and waving British flags. Diana was seen as a fairy tale British princess, the likes of which the country had never witnessed.
She became wildly popular as a fashion icon and for the compassion she showed to ordinary people. During a 1987 visit to a hospital she famously shook the hand of an AIDS patient without wearing gloves, helping to break the stigma around transmission of the disease.
She gave birth to two sons, William and Harry. But her marriage to Prince Charles was deeply flawed and cracks soon appeared. News of his infidelity with Camilla Parker-Bowles hit the headlines alongside images of Diana looking lonely and forlorn. Her battles with depression and bulimia were well documented and the couple's marriage breakdown became the subject of relentless media reports. Diana gave a candid TV interview where she blamed Parker-Bowles for the failure of her marriage. "There were three of us in this marriage, so it was a bit crowded."
Charles and Diana divorced in 1996, and the following year she was killed in a car crash in Paris along with her boyfriend Dodi Fayed. Charles and Parker-Bowles married in 2005.
Prince Harry said in a BBC interview Monday that he thought his mother and fiance would have been fast friends.
"Harry's mission in life is to make his mother proud," Fitzwilliams said. "I believe he believes Meghan will carry the torch."
Edward VIII and Wallis Simpson
Perhaps the most notorious scandal to befall the royal family was the abdication of Edward VIII months into his reign in 1936.
He stunned the nation by announcing he was vacating the throne so he could marry an American socialite, Wallis Simpson, who was twice divorced.
Being the British monarch meant Edward was also the nominal head of the Church of England, which at the time did not allow divorcees to remarry in church. As a result, the establishment decided he could not marry Simpson, who was widely suspected of having ulterior motives — money and power — for wanting to be with him.
His abdication meant that Edward's younger brother became King George VI.
The move changed the line of succession in the royal family and ultimately led to King George's daughter, Elizabeth, becoming queen. Edward and Wallis married in a small ceremony and remained together until his death in 1972.
Boyle is a special correspondent.
---
Must-read stories from the L.A. Times
Get all the day's most vital news with our Today's Headlines newsletter, sent every weekday morning.
You may occasionally receive promotional content from the Los Angeles Times.