Transatlantic rift widens over inflammatory Trump retweets from British far-right group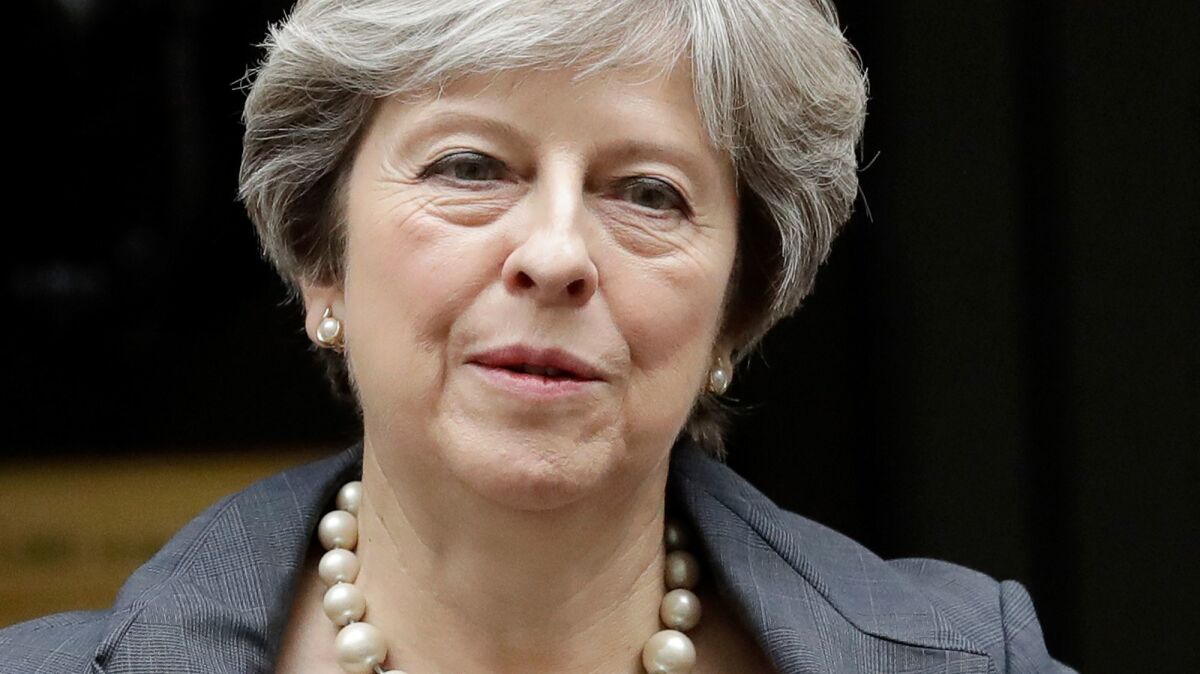 Reporting from LONDON —
If President Trump thought a transatlantic outcry over his online sharing of far-right anti-Muslim Twitter posts might begin subsiding Thursday, that seems to have been a political miscalculation.
In London, the furor that first stirred Wednesday with the president's retweeting of videos promoted by the anti-Muslim group Britain First gained stridency and volume — and moved to the floor of the venerable House of Commons, where one British lawmaker after another denounced the U.S. leader's action and demanded the rescinding of an invitation for him to pay a state visit to the United Kingdom.
"Action is needed now, not a slap on the wrist," said Labor lawmaker Dennis Skinner. "Cancel the state visit!"
Prime Minister Theresa May, caught between the domestic uproar and a clear wish to preserve ties with Britain's closest ally, declared that the retweets were "wrong," but also said the invitation stood, emphasizing the historic friendship between the two countries.
To many, it was the latest example of an unnecessary diplomatic contretemps initiated by Trump with one of Washington's staunchest friends in the world.
May has been ridiculed by some domestic opponents over her unremitting attempts to win over the U.S. president, hurrying to pay the first visit by a foreign leader to Trump's White House shortly after his inauguration. She caught further flak when she quickly invited Trump to make a state visit, a ceremony-laden event that would be hosted by Queen Elizabeth II. It is unusual for such an accolade to be extended so early in a foreign leader's tenure.
In Britain, it was already well into the day on Wednesday when Britain First expressed delight and amazement that Trump, across the pond, had begun his day by sharing a trio of videos posted by the group. The retweets included the far-right group's incendiary commentary, some of it incomplete or inaccurate, about violence committed by Muslims.
Britain's ambassador to the United States disclosed Thursday that he had already expressed displeasure over the episode. The envoy, Kim Darroch, said Britons "overwhelmingly reject the prejudiced rhetoric of the far right" and defended British Muslims as "peaceful and law abiding citizens."
Darroch said he had raised his concerns with the White House on Wednesday, even as White House Press Secretary Sarah Huckabee Sanders was defending the online sharing as a show of the president's concerns about national security issues, whether or not the videos were authentic.
On Thursday, Sanders said "I don't believe so" when asked by reporters whether Trump was aware he was retweeting Jayda Fransen, one of the leaders of Britain First. But Sanders praised the president for having "elevated" the debate over how to confront terrorism.
Trump remained unapologetic. May and her government woke up Thursday to the unwelcome news that overnight in Britain, the president had taken an unusual public jab at the prime minister — albeit one aimed initially at the wrong woman, this one a private citizen whose first and middle names are Theresa May.
In a tweet readdressed to May's correct Twitter handle, Trump called on the British leader to direct her attention to "the destructive Radical Islamic Terrorism that is taking place within the United Kingdom," not at him — wording seen by some Britons as a less-than-sympathetic response to recent terrorist strikes in the country.
May, traveling in Jordan on Thursday, sought to downplay the episode as a disagreement between good friends. "The fact that we work together does not mean that we're afraid to say when we think the United States have got it wrong," she told reporters.
The prime minister has already come under strong pressure to call off Trump's state visit, the date for which has not been set. May said the invitation stood, but back home, lawmakers were joining in a chorus of calls to call the whole thing off.
On the floor of the House of Commons, Parliament members from often-clashing political factions were uniform in their condemnation of Trump's sharing of the Britain First-distributed videos. The head of a major parliamentary committee, Yvette Cooper, called on Trump to take the retweets down.
Speaking for May's government, Home Secretary Amber Rudd told lawmakers that Britain needed to remember the bigger picture. While declaring that groups that "spread hate by demonizing those of other faiths or ethnicities" would not be tolerated, she pointed to ongoing close cooperation with Washington that must not be jeopardized by the incident.
"The importance of the relationship between our two countries, the unparalleled sharing of intelligence between our countries, is vital," she said. But Rudd noted that no arrangements had yet been made for Trump's state visit, raising speculation that the event might be quietly placed on long-term hold.
Even some British supporters of Trump have expressed unease over his seemingly open support for a group regarded as being on the distant margins of British political discourse. Right-wing ex-politician and broadcaster Nigel Farage, who campaigned for Trump, said that he considered the videos to be in "bad taste" and that Trump had showed "poor judgment" in retweeting them.
The three videos, which purported to show Muslims committing violent acts, were presented on Britain First's Twitter feed without context but with inflammatory commentary.
The group's characterization of one of them, which originally appeared this year on a Dutch website, was false, according to the Netherlands Embassy in Washington. The video retweeted by Trump was accompanied by a claim that an assailant who attacked another person who was on crutches was a Muslim migrant. The embassy said the attacker was a native-born Dutch citizen who had been punished for his action.
Some who had criticized Trump initially stepped up their condemnation Thursday. London Mayor Sadiq Khan said the U.S. president had used Twitter to promote "a vile, extremist group that exists solely to sow division and hatred in our country."
Khan, a Muslim who has previously been accused by Trump of downplaying the danger of terrorist attacks, added that it "beggars belief that the president of our closest ally doesn't see that his support of this extremist group actively undermines the values of tolerance and diversity that makes Britain so great."
As unpopular as May might be, many lawmakers took offense at Trump's personal criticism of her, particularly as the prime minister had initially expressed her disapproval of the Wednesday retweets through a spokesman rather than what would have been perceived as the stronger measure of speaking directly.
Some Parliament members also pointedly noted that May, in her former job as home secretary, had banned extremists from entering Britain, suggesting that the same standard should apply to the U.S. leader.
"No modern American president has promoted inflammatory content of this sort from an extremist organization," said Labor lawmaker Naz Shah. "Putting aside the question of a state visit, should he even be allowed to enter our country?"
Special correspondent Boyle reported from London and Times staff writer King from Washington.
Follow @LauraKingLAT
---
UPDATES:
3:10 p.m.: This article was updated throughout with comments by British lawmakers and the dateline changed to London.
This article was originally published at 9:20 a.m.
Must-read stories from the L.A. Times
Get the day's top news with our Today's Headlines newsletter, sent every weekday morning.
You may occasionally receive promotional content from the Los Angeles Times.