When Trump visits Britain, thousands of demonstrators plan to show him some resistance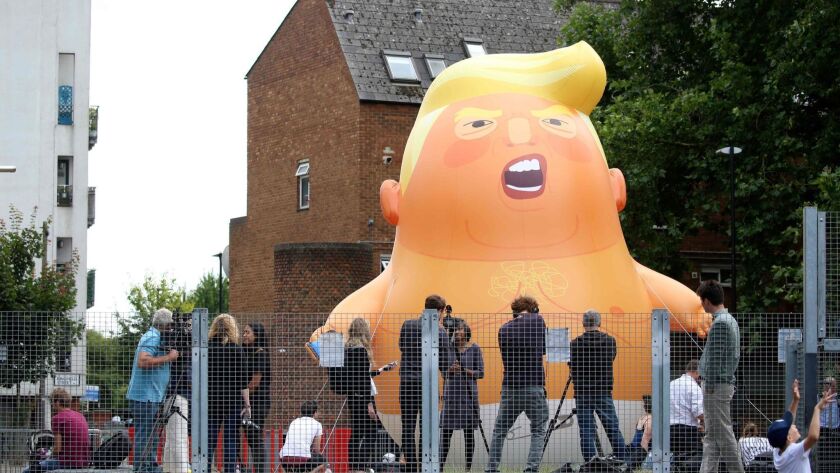 Reporting from London —
If President Trump is holding out hope that his four-day visit to Britain could help improve relations between the two countries, he might want to brace himself.
Protesters from dozens of different groups are promising to deliver a "carnival of resistance" while he is on U.K. soil, ranging from a cacophony of sound to disturb his peace to a giant inflatable orange "Trump baby" blimp hoisted above Parliament.
The myriad demonstrations will commence soon after the president touches down in Britain on Thursday afternoon for the middle leg of his European trip — after a NATO summit in Brussels and before a meeting with Russian President Vladimir Putin in Helsinki.
Organizers hope the scale and sheer variety of protests will reflect how much outrage and anger he has generated among some sections of the population. Tens of thousands of people are expected to participate in the protests, with the primary one planned in London on Friday.
"It will be one of the biggest demonstrations there has been in quite a while," said Asad Rehman, one of the national organizers of the Stop Trump coalition.
"People really want to show their solidarity and deny Donald Trump the pictures and the images that he wants. I think this is a very fitting rebuke to the man himself. This is a rejection of the politics of bigotry and hatred."
Trump's behavior since beginning his presidency in January 2017 has on occasion irked much of the British public on many occasions.
One case was his travel ban on visitors to the U.S. from some majority Muslim countries. Another was his Twitter rant against London Mayor Sadiq Khan after the London Bridge terrorist attacks in June 2017 in which he criticized the response to the assaults, and his decision to retweet an anti-Muslim video posted by far right group Britain First.
The last time a sitting U.S. president generated this much opposition was more than a decade ago when about 1 million people took to the streets of London in 2003 to protest George W. Bush and the Iraq war.
Much of the vitriol this time is expected to be directed at the president himself, rather than a particular policy decision.
"Trump is more front and center in these protests. I think because he's probably associated in many people's minds with nationalism, nativism, with the pushback against liberalism and pluralism," said Peter Trubowitz, director of the United States Center at the London School of Economics.
"Trump is both cause and symptom of a shift in the direction of politics in the West. I think in many respects he's become a magnet for that attention and concern and anxiety," Trubowitz said.
Administration officials have said Trump planned to work with NATO countries to present a united front during the trip, though he generated some controversy in Brussels on Wednesday in part by referring to Germany as "captive to Russia."
Trump's schedule will afford him little, if any, opportunity to interact with the public.
Nor will he spend much time in London, prompting accusations that he is deliberately being kept away from any unrest.
Organizers of the Stop Trump campaign — the umbrella organization for all the different groups that have come together to oppose Trump's visit — say that is a victory in and of itself.
But they also aim to ensure that even if he won't bump into them during his time on British soil, he'll still be aware of their presence. To that end, they plan to be everywhere he goes.
Trump and First Lady Melania Trump are scheduled to attend a black-tie dinner at Blenheim Palace hosted by Prime Minister Theresa May with 100 invited guests, complete with a military performance.
The Trumps are to spend the evening at the U.S. ambassador's official residence in central London, where new fences and counter-terrorism concrete barricades have been installed ahead of the visit.
Demonstrators have set up a Facebook group calling for help making Trump feel unwelcome with a "wall of sound" — "Bring your megaphones, whistles, pots and pans," the organizer's message says.
On Friday, he is scheduled for a meeting with May and a visit with Queen Elizabeth II. But instead of meeting at their high-profile London residences — Downing Street and Buckingham Palace — they will gather at May's country retreat Chequers and Windsor Castle, both far more secluded locations.
Meanwhile, on Friday, about 50,000 people are expected to take to the streets of London. Dozens of buses are set to bring people to the capital from locations around the country, and mass demonstrations are also planned in nine other major British cities, organizers said.
Marching through central London to Trafalgar Square with banners aloft, there will be groups representing different causes including environmental activists, the campaign for nuclear disarmament, trade unions and LGBTQ rights.
A giant orange helium-filled blimp that resembles Trump wearing a diaper will be flown in the skies above Parliament for two hours.
"We want to make sure he knows that all of Britain is looking down on him and laughing at him," the creators behind Trump Baby said.
In Scotland, where Trump is spending the weekend and expected to visit his golf courses, protest rallies are also being planned from Friday through Sunday.
The U.S. Embassy issued an alert on its website for U.S. citizens in Britain to be aware of their surroundings and "exercise caution" while Trump is in town.
"How can he not be aware of the scale of the protests?" Rehman said. "It will be joyful, noisy but a very pointed expression of resistance. I think it will leave a lasting impression on Donald Trump, for sure."
Read more: Trump lands in Great Britain for first UK visit »
Boyle is a special correspondent.
---
Must-read stories from the L.A. Times
Get all the day's most vital news with our Today's Headlines newsletter, sent every weekday morning.
You may occasionally receive promotional content from the Los Angeles Times.