Spanish families confront Catalonian independence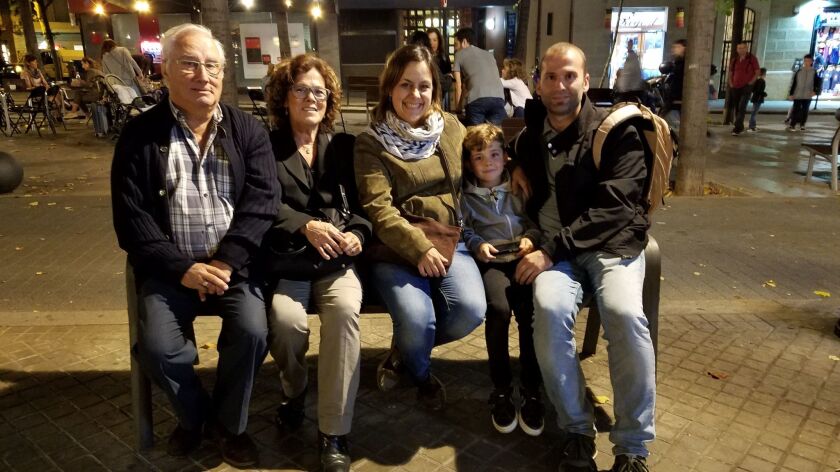 Reporting from Barcelona, Spain —
The struggle over Catalonian independence has divided Spanish communities, from neighborhoods to workplaces and families. It was aggravated by uncertainty Saturday, the day after Catalonian officials proclaimed independence in their northeastern region only to be taken over by the central government in Madrid.
Nowhere were divisions more evident than in Barcelona, the cosmopolitan heart of Catalonia.
In the shadow of the Sagrada Familia, the landmark church designed by Catalan architect Antoni Gaudi in 1882, tourists mixed with parents wheeling strollers and elderly couples walking dogs. It was 7 p.m., the traditional time locals spend together after work and school before dinner.
There were no activists, no independentistas crying "Long live the republic!" in Catalan or unionistas toting Spanish flags, like those who marched down nearby Avinguda Diagonal the night before, breaking a window at Catalunya Radio and sending two men to the hospital. But the neighborhood was divided. All you had to do to see it was look up, where "Hola republica!" signs and starred Estelada flags of the Catalan state dangled from balconies beside the flags of Spain and the European Union.
Given the ongoing tensions, some of those strolling down central Avinguda Gaudi could be forgiven for trying to talk about anything except politics. Even before independence was declared, it led to arguments in families like the Bosches, where everyone seems to have their own unique stance.
Patriarch Augustin Bosch, 68, was born in this neighborhood and ran a successful packaging business before he retired. He believes Catalonia belongs in Spain. On this, he will not budge.
"I am Spanish and Catalan," he said, touching a hand to his cardigan, right above his heart.
He opposed the Oct. 1 referendum on independence, which the central government — and he — considered illegal under the Spanish constitution.
"If it's forbidden, it's forbidden," he said.
His son-in-law — who was also born in this neighborhood — disagreed, but gave up trying to convince Bosch long ago.
"We can't talk," Bosch said, resigned. "My brothers either."
His son-in-law knows they're not alone.
"They have Whatsapp groups where people complain they can't talk about it in their families," son-in-law Carlos Ferreras, 39, said as they walked.
Ferreras' wife and his mother-in-law were at his side, his 5-year-old son Alex scampering ahead in the twilight, past tapas restaurants and gelato stands. Those protesting for independence were not just activists, he said; they were neighbors increasingly dissatisfied that Spain gave more infrastructure and benefits to other parts of the country despite their hefty contribution to the national economy.
Bosch shook his head, and was about to launch into a response when his wife intervened.
Begona Leata, 65, a retired office worker, comes from the Basque region to the northwest, a hotbed of its own nationalist sentiment, but her family was extremely loyal to Spain. She is more moderate, and echoed a sentiment expressed by the mayor of Barcelona: that Catalonian President Carles Puigdemont and Prime Minister Mariano Rajoy need to negotiate a compromise.
"Puigdemont and Rajoy don't want to talk. They could change the laws if they tried a little," she said.
Her husband was getting more frustrated.
"Maybe I should just leave and you can talk," he said.
They kept walking.
"The law is the law," he said.
"And what did the law say about a black woman sitting at the back of the bus?" his son-in-law said. "Laws change."
His wife, Sandra Bosch, who followed her father into the packaging business, shared some of his opinions — and some of her husband's.
"The referendum was not legal," she said of the Oct. 1 secessionist vote. "But we had to do something. I was afraid to go vote, but I had to."
She voted against independence, but recognizes the dissatisfaction many Catalonians feel and wishes the state would respond. Her husband still won't say how he voted. He doesn't want to unduly influence their son, he said.
"They want independence or nothing," Augustin Bosch said, dismissing the independence leaders. "They're liars."
Now his daughter was getting irritated. Like many here, she views current political conflicts through the lens of Spanish history, dominated for 40 years by Gen. Francisco Franco until his death in 1975.
"It's because my father's family didn't suffer under Franco. Others did. So he didn't change his outlook," Sandra Bosch said.
Her husband tried a different approach.
"Spain acts like we are a family," said Ferreras, a Bridgestone tire salesman. "When you're a family, you care for each other. But there are a lot of people who are upset at how Spain is treating its son. When a child does something you don't like, you don't hit their hand. Right now there's a lot of hate between people in different parts of Spain, within families, and that's hard."
Ferreras hopes Spain can learn to treat Catalonia more fairly, helping it advance its economy instead of worsening the conflict.
"This is caring," he said.
His father-in-law smiled and held his tongue, and they all walked home together.
---
Must-read stories from the L.A. Times
Get all the day's most vital news with our Today's Headlines newsletter, sent every weekday morning.
You may occasionally receive promotional content from the Los Angeles Times.