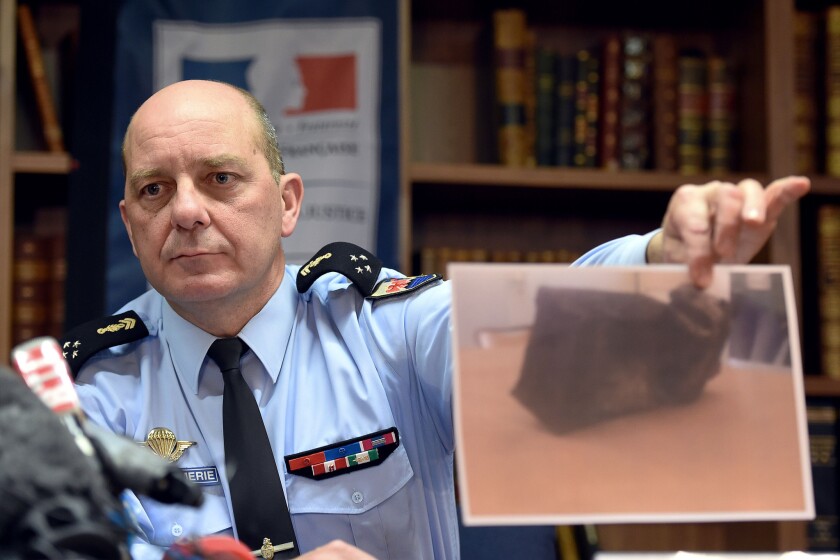 Reporting from Paris —
The copilot of the Germanwings plane that plowed into a mountain, killing all 150 people on board, repeatedly increased the aircraft's speed as it descended, French air accident investigators said Friday.
Information from the aircraft's second "black box," the flight data recorder, showed that, having locked the captain out of the flight deck, Andreas Lubitz, 27, used the automatic pilot to put the Airbus A320 into a fatal descent to just 100 feet as it flew over the southern Alps in France, the BEA, the French air accident investigation agency, said in a statement
As the doomed flight from Barcelona to Dusseldorf dropped in a rapid but controlled way, the copilot deliberately modified the autopilot settings to accelerate the plane, the statement said.
Information from the flight data recorder confirmed data from the plane's cockpit voice recorder, which was found hours after the aircraft crashed 10 days ago. Authorities said that data indicated that Lubitz deliberately destroyed the aircraft, killing all 144 passengers and six crew members.
The BEA said the flight data recorder was sent to investigators Thursday evening and that experts are continuing to examine its data.
"A first reading shows that the pilot present in the cockpit used the automatic pilot to engage the plane in a descent to an altitude of 100 feet, then, several times during the course of the descent, the pilot modified the setting of the automatic pilot to increase the speed of the descending plane," the statement said.
Flight 9525 went down on March 24. Authorities said the cockpit voice recorder showed that Lubitz locked pilot Patrick Sondenheimer out of the flight deck after his superior officer left to use the bathroom, and refused to let him back in despite increasingly desperate pleas and attempts to break down the cockpit door.
The aircraft was destroyed as it hit a mountain at about 435 mph. Investigators said sounds from the cockpit recorder suggested that Lubitz was "breathing normally" and thus conscious until impact. This has been confirmed by the second recorder, they said.
Since the tragedy, German investigators said that after searching Lubitz's home, they have discovered a large amount of medication and a torn-up sick note showing he had been excused from work on the day of the crash. Police also said they found that Lubitz had searched online for information about suicide methods and cockpit door security systems.
Lubitz was treated for a bout of serious depression in 2009 and was still consulting doctors, official said. The German newspaper Bild claimed Lutitz was also seeking treatment for trauma and vision problems following a car accident at the end of last year.
Willsher is a special correspondent.
---