An employee works on a bowl at the earthenware factory in Gien, France, which was founded in 1821. The glazed earthenware is known as faience, and among the French aristocracy was a discreet symbol of prestige and good taste. But for the last few decades, the faience of Gien has also become a symbol of a lifestyle that is a vanishing art.
(Geraldine Baum / Los Angeles Times)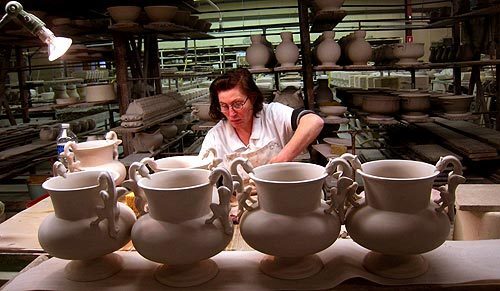 A line of vases stands before a worker at the Gien factory, which has survived the Industrial Revolution, two world wars, floods, fires and a series of owners.
(Geraldine Baum / Los Angeles Times)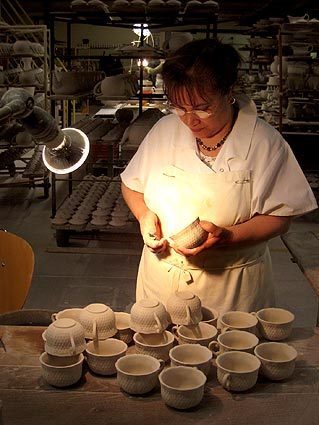 A woman smoothes the surface of a cup manufactured at the Gien factory. The world has changed a great deal since the operation began in 1821. "People lived in huge castles, and some of the original orders called for 2,000 pieces for just one family," says Bertrand Dambrine, who has owned the business since 2002.
(Geraldine Baum / Los Angeles Times)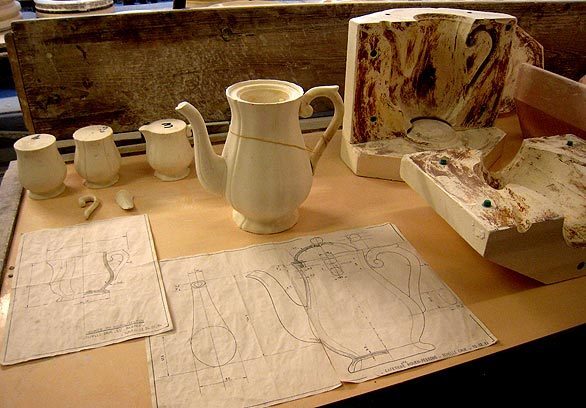 Plans for a teapot sit with the three-dimensional product and its mold at the Gien factory in France. Owner Bertrand Dambrine says that to keep the faience of Gien on the best tables, he and his partner have enlarged their product line with less expensive but high-profit accessories such as oven-to-table baking dishes and paper napkins to bring people to their tableware. "The growth of our business, our future, is not in those old families anymore," Dambrine said.
(Geraldine Baum / Los Angeles Times)