Two years of terror: 278 people have died in recent terror attacks in Europe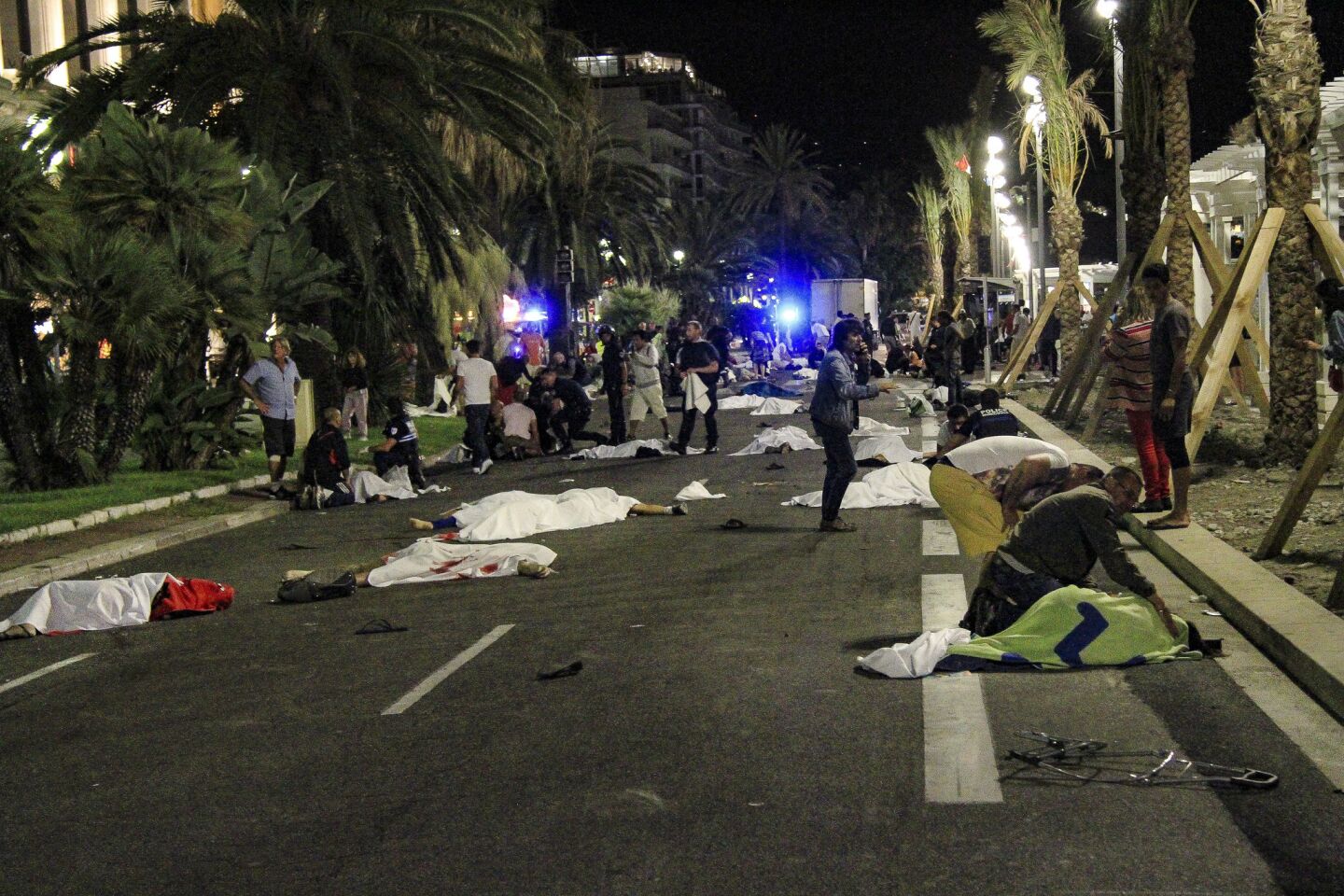 Bodies lay on the street after a truck drove through a crowded seaside promenade in Nice, France, during Bastille Day celebrations, leaving more than 80 dead and hundreds wounded.
(Antoine Chauvel / For the Times)
A ceremony pays tribute to a French police officer and his partner, who were killed June 13 by a man claiming allegiance to the Islamic State group.
(Kamil Zihnioglu / AFP/Getty Images)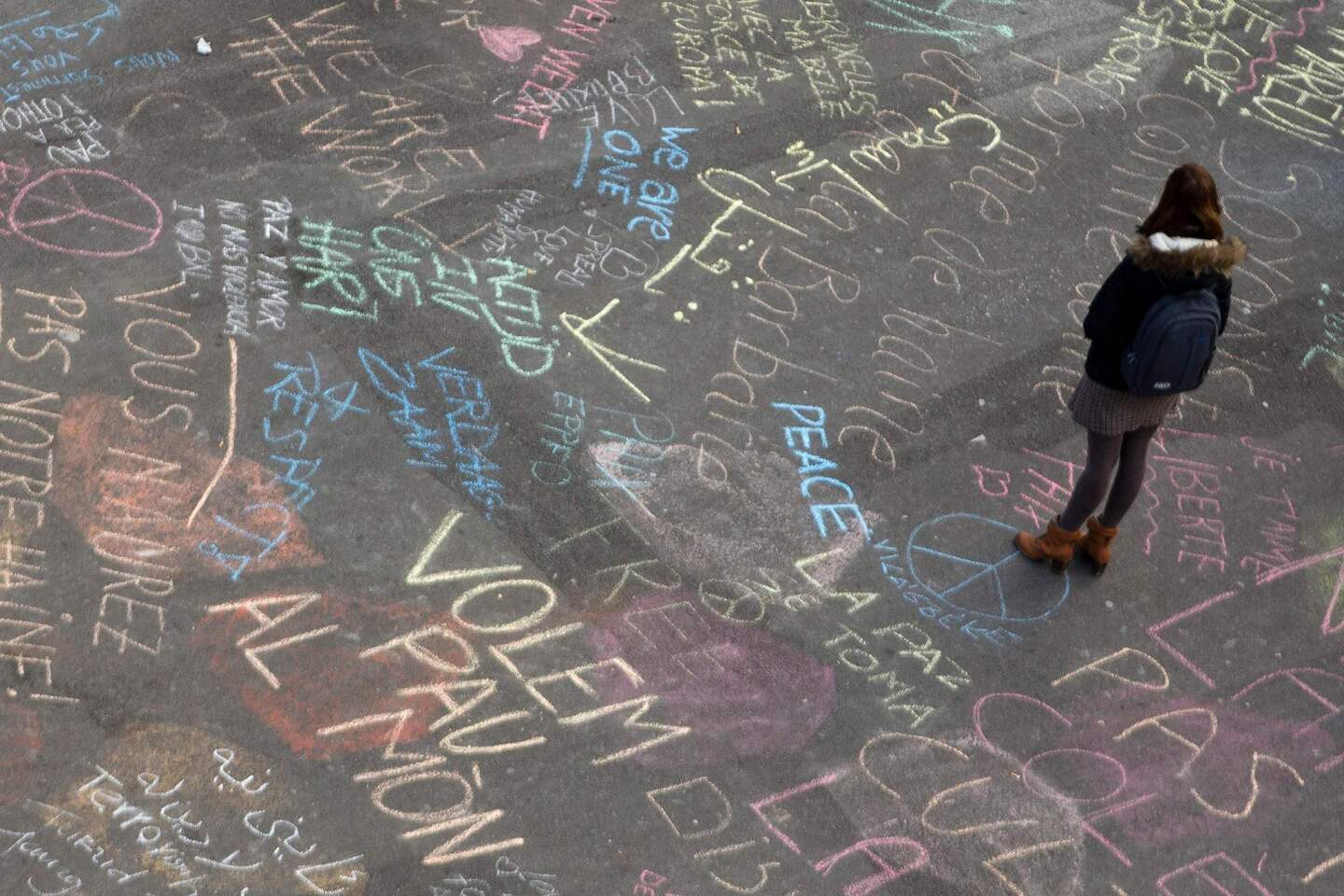 A woman reads messages written on the ground at a makeshift memorial at Place de la Bourse following attacks on March 22 in Brussels.
(Kenzo Tribouillard / AFP/Getty Images)
Crime scene investigators at Leytonstone tube station in east London collect evidence after a man was seriously injured on Dec. 5 by a knife-wielding attacker who reportedly shouted, "This is for Syria."
(Anadolu Agency / Getty Images)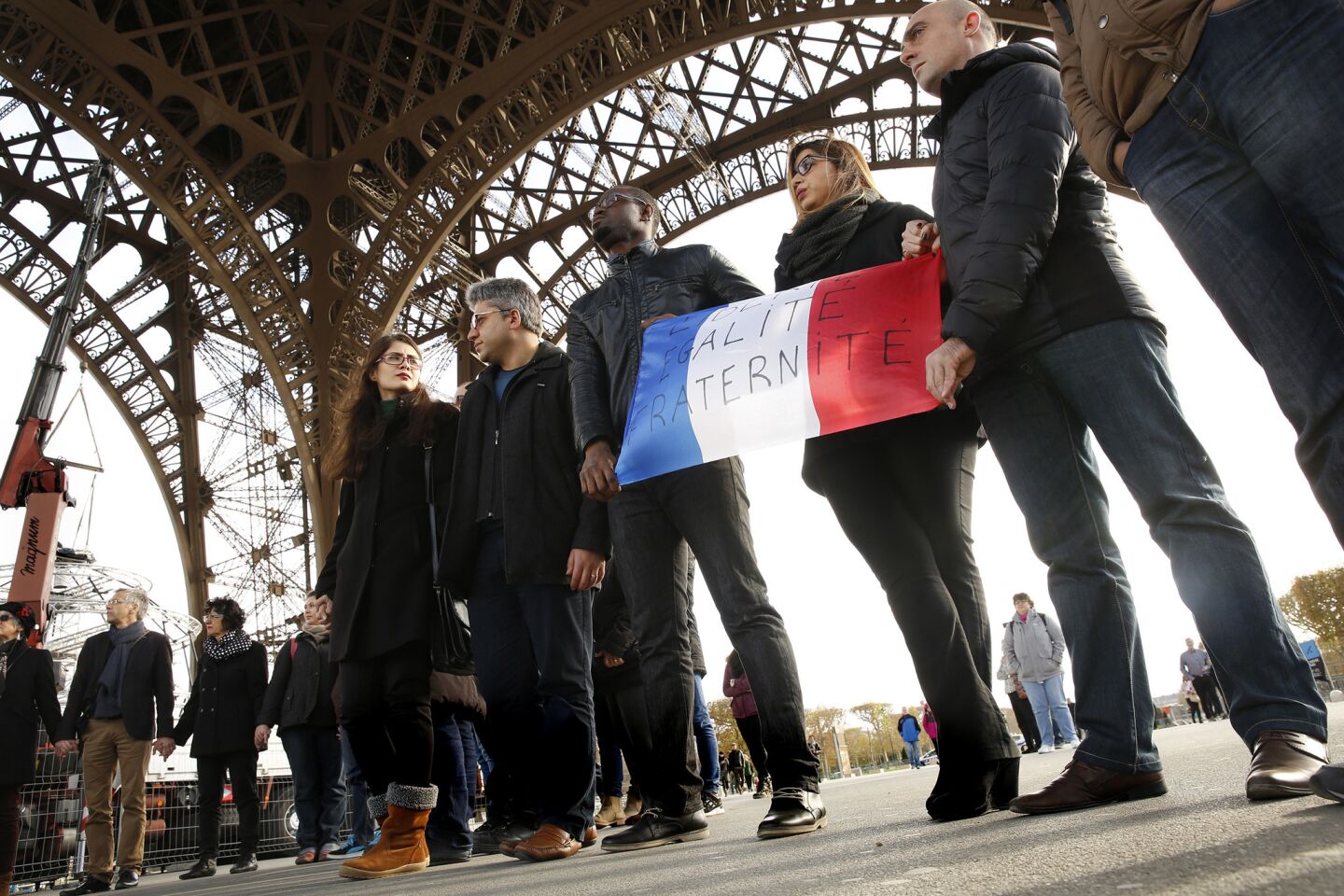 Paris residents take part in a moment of silence under the Eiffel Tower in observance of those who died during the terrorist attacks on Nov. 13.
(Carolyn Cole / Los Angeles Times)
Police walk on a platform next to a Thalys train of French national railway operator SNCF in Arras after a gunman opened fire on a train traveling from Amsterdam to Paris in August 2015.
(Philippe Huguen / AFP/Getty Images)
French police secure the entrance of the Air Products company near Lyon, France, where an attacker carrying an Islamist flag killed one person and injured several others at a gas factory in June 2015.
(Philippe Desmazes / AFP/Getty Images)
Armed French police patrol north of Paris after officers shot a man who was attempting to gain access to a Paris police station while brandishing a knife in January.
(Thierry Chesnot / Getty Images)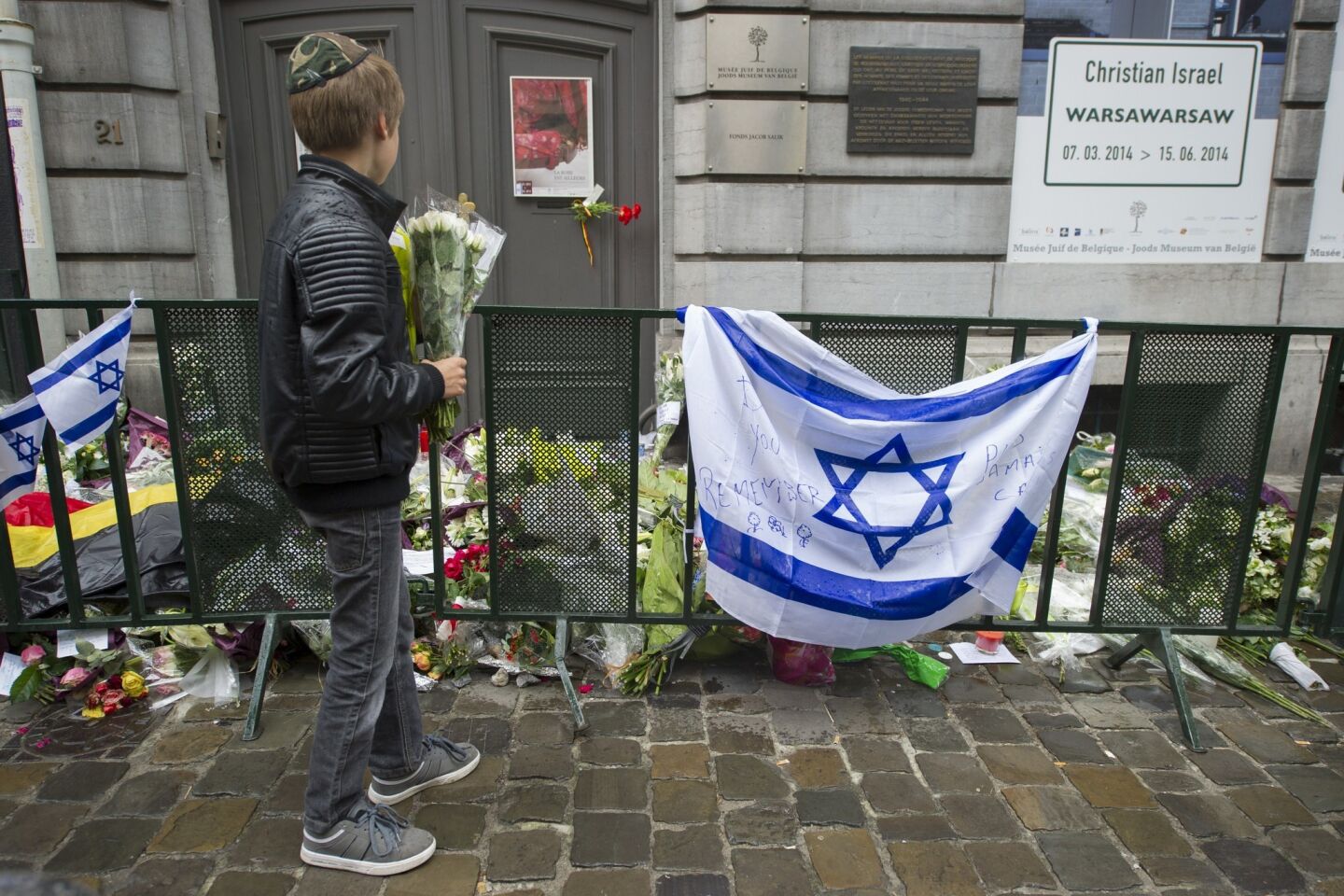 A Jewish boy stands with flowers in front of the Jewish Museum in Brussels, two days after a shooting attack killed an Israeli tourist couple in May 2014.
(Anthony Dehez / AFP/Getty Images)
Police investigating the stabbing of a French soldier in Paris arrest a suspect described as an adherent of "radical Islam" in May 2013.
(Eric Feferberg / AFP/Getty Images)
During a commemoration ceremony at Burgas Airport, Israeli Tourism Minister Stas Misezhnikov pays respects to the five Israeli victims of a suicide blast that targeted a bus of Israeli tourists in July 2012.
(Nikolay Doychinov / AFP/Getty Images)
A woman lays flowers at the site of a blast near a school in Brindisi, Italy. A 16-year-old girl died after a powerful bomb exploded outside her school in May 2012. Seven others were injured, one critically.
(AFP / AFP/Getty Images)
Paratroopers carry the coffin of a French paratrooper who was shot to death in Toulouse, France, in March 2012. The funeral procession at Montauban Cathedral passed by the paratrooper's pregnant fiancee, right.
(Pascal Pavani / AFP/Getty Images)
Thursday's attack in the French Riviera city of Nice was callous and shocking, but not uncommon given the number of prominent terrorist assaults on European cities in recent years. In the last two years alone, 278 people have been killed in attacks by Islamic extremists in several European capitals, including London, Paris and Brussels.
Here are some of them:
July 14, 2016
Nice, France | 84 killed, 202 injured
At least 84 people, including 10 children, were killed and 202 injured, dozens of them critically, after a man identified by French authorities as Mohamed Lahouaiej Bouhlel drove an 18-ton refrigerated truck into a crowded seaside promenade where revelers were celebrating France's Bastille Day. Among the dead were Americans Sean Copeland, 51, and his son 11-year-old-son Brodie, who were vacationing in Nice from Texas.
French prosecutors said Bouhlel, 41, a Tunisian-born French citizen, was killed during an exchange of gunfire with security forces.
June 13, 2016
Magnanville, France | 2 killed
Two French citizens -- a police officer and his wife -- were stabbed to death in Magnanville, France, by a man swearing his allegiance to Islamic State. The attacker was a convicted terrorist identified as Larossi Abballa, 42.
March 22, 2016
Brussels | 35 killed, 300 injured
Brussels bombings include two suicide bombings in Brussels Airport and one bombing in Brussels Metro that resulted in 35 deaths and more than 300 wounded.
Dec. 5, 2015
London | 1 injured
A man was seriously injured in a knife attack at a subway station in London. The incident was labeled as a terror attack because the attacker reportedly shouted, "This is for Syria" during the attack.The attacker was arrested after being tasered by police
Jan. 7, 2016
Paris | 1 killed
French police shot a man as he attempted to gain access to a Paris police station while brandishing a knife. The incident occurred on the first anniversary of the Charlie Hebdo terrorist attacks.
Nov. 13, 2015
Paris | 137 killed, 368 injured
A series of coordinated attacks in Paris, which consisted of mass shootings and suicide bombings, was the most fatal event on French soil since World War II.
Aug. 21, 2015
Arras, France | 5 injured
A shooting and stabbing incident took place on board a Thalys train in France on its way from Amsterdam to Paris. The train had just crossed the border from Belgium into France when the suspect opened fire in a train carriage before being subdued by passengers, one of whom he stabbed.
June 26, 2015
Saint-Quentin-Fallavier, France | 1 killed, 11 injured
A French Muslim of North African descent, Yassine Salhi, allegedly decapitated his employer Hervé Cornara and drove his van into gas cylinders at a gas factory in Saint-Quentin-Fallavier near Lyon, France, which caused an explosion. Salhi was arrested and charged with murder and attempted murder linked to terrorism.
Jan. 7, 2015
Paris | 12 killed, 11 injured
Two brothers forced their way into the offices of the French satirical weekly newspaper Charlie Hebdo in Paris. Armed with assault rifles and other weapons, they killed 11 people and injured 11 others in the building. After leaving, they killed a French National Police officer outside the building.
Jan. 8, 2015
Paris | 5 killed
A policewoman was killed along with four civilians at a Jewish supermarket in an attack connected to the Charlie Hebdo assault. The suspect named as Amedy Coulibaly was later shot dead by police.
Must-read stories from the L.A. Times
Get the day's top news with our Today's Headlines newsletter, sent every weekday morning.
You may occasionally receive promotional content from the Los Angeles Times.