French conservatives, lacking a 'Plan B,' reel as Fillon's presidential campaign seems to implode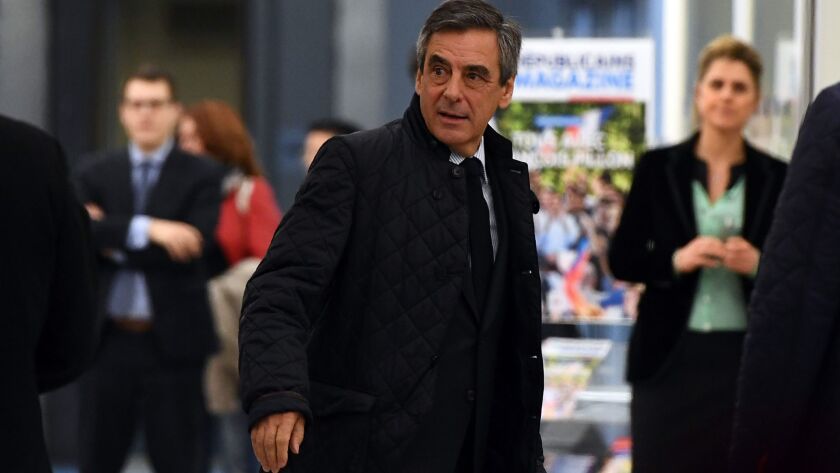 Reporting from Paris —
Less than two months before France's presidential election, the country's conservative party is in crisis after its scandal-plagued candidate insisted he would not pull out and a possible replacement refused to run.
After hastily arranged "emergency" meeting on Monday night, the Republican Party's political committee announced it would unanimously rally behind Francois Fillon. The decision came after Fillon, who is facing fraud accusations, told colleagues there was "no Plan B."
It was the latest twist in a turbulent French presidential campaign that now has two main candidates under investigation over allegations that they misused public money. Police are also looking at claims that first-round, far-right front-runner Marine Le Pen used European Parliament funds to pay for political party staff, including a personal bodyguard. Fillon, a former prime minister, is accused of paying his British-born wife and children hundreds of thousands of dollars of public money for jobs that did not exist.
Fillon, who was running as the Mr. Clean of French politics, pledged to step down if he was officially put under investigation — the nearest thing in France to being arraigned — then backtracked when judges declared they were about to do so, saying it was up to the French voters to decide his future and blaming the current Socialist government, the legal system and the media for his judicial woes.
His stance cost him a sudden drop in popularity, while Le Pen's ratings rose.
In a declaration to the committee, released to the news media, Fillon said it was time to heal the rift that has divided his party.
"Our voters will not forgive those who keep spreading the poison and division," he said.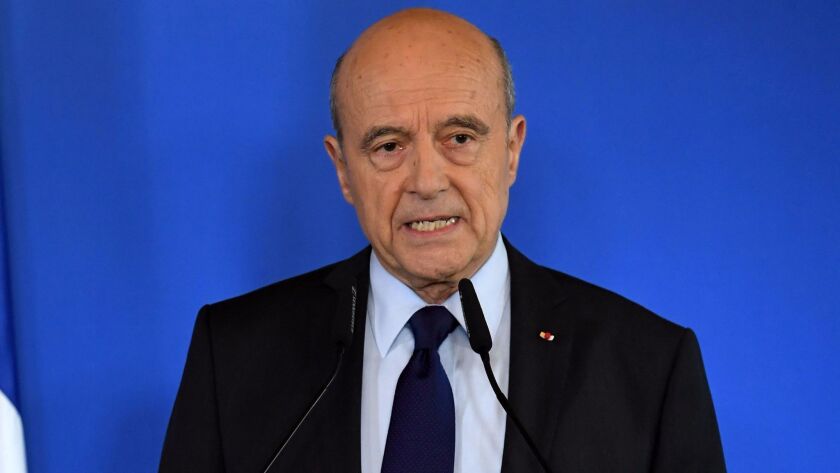 Earlier, party officials had suggested veteran conservative politician Alain Juppe, a former prime minister, could save them by running in place of Fillon. On Monday morning, Juppe — who was himself found guilty of misuse of public funds in the 1980s and 90s — summoned journalists to a news conference to tell them "no."
"I confirm, once and for all, that I will not be a candidate in the election," Juppe said in the city of Bordeaux, where he is mayor. "It's too late," he said, with more than a hint of bitterness.
He lashed out at Fillon for blaming the government, the legal system and the media for his judicial woes.
"What a waste," he said, adding that after Fillon's convincing victory in the party primaries last November, the candidate had "had a boulevard before him" to win.
"The opening of legal inquiries and [Fillon's] defense based on the denouncing of a so-called conspiracy and claims of a 'political assassination' have radicalized his supporters and taken him down a dead end," Juppe said.
Without Juppe, France's center-right opposition party had little choice but to throw its support behind Fillon despite the desertion of about 300 of its members of parliament, who have publicly withdrawn their support for the candidate.
Fillon has repeatedly refused to pull out of the presidential election after being put under preliminary investigation. He has denied any wrongdoing.
Fillon and his wife, Penelope, attended a hastily called rally of supporters in Paris on Sunday afternoon, but both have been summoned to appear before judges on March 15, two days before the official deadline for presidential candidates to declare.
Until the fake jobs scandal that has been called Penelopegate broke at the end of January, opinion polls showed Fillon would win the two-round French presidential election, overcoming the threat from the far-right National Front candidate, Le Pen.
Since then, his popularity has plunged. Former government minister Emmanuel Macron, a centrist, is now expected to be in the second round against the anti-Europe, anti-immigration Le Pen. The left is fielding four candidates who threaten to split the vote and see the governing Socialist Party eliminated in the first round.
Willsher is a special correspondent.
MORE WORLD NEWS
UAE's minister of happiness insists her job is no laughing matter
The day of Trump toilets and condoms in China may have just ended. Here's why that's controversial
Born under a bad sign: Mosul residents with Islamic State birth certificates need a do-over
---
Must-read stories from the L.A. Times
Get the day's top news with our Today's Headlines newsletter, sent every weekday morning.
You may occasionally receive promotional content from the Los Angeles Times.