U.S. veterans find a warm welcome in Normandy 75 years after D-day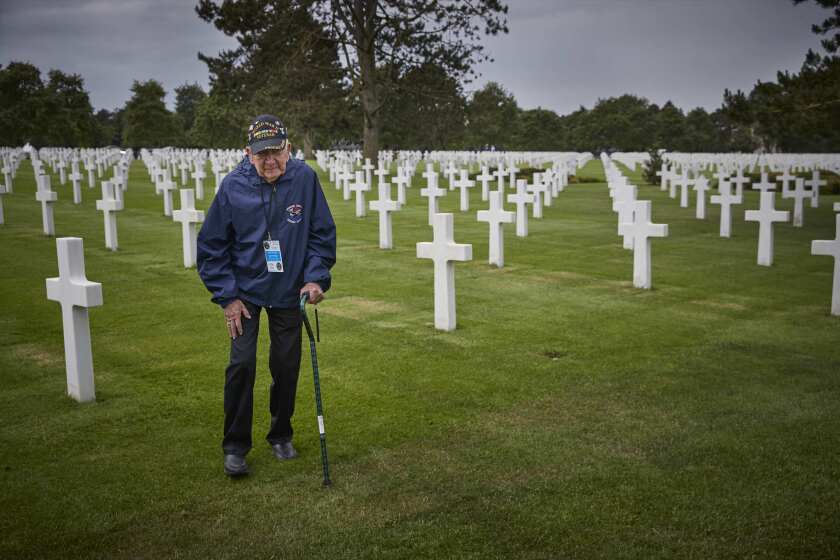 Reporting from Colleville-sur-Mer, France —
In village after village along the winding roads of France's Normandy coast, the flags were out Tuesday.
Stars and Stripes fluttered in the sea breeze — alongside the French tricolor, the British Union Jack and the Canadian flag adorned with its red maple leaf — on poles or as pennants outside homes and public buildings and on the hedges of country fields.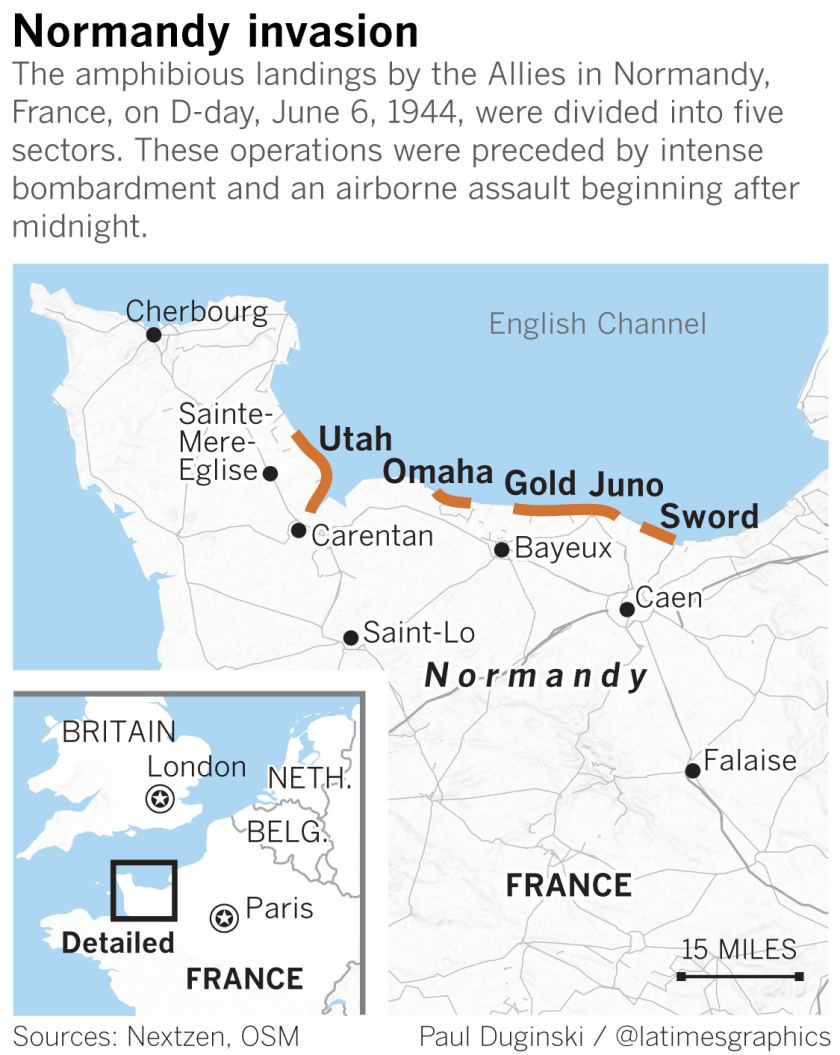 Relations between President Trump and French President Emmanuel Macron may be strained, but the days leading up to the anniversary of the D-day landings — Thursday marks the 75th — show how U.S. veterans are welcomed in Normandy.
"When veterans started coming back here years ago, local people used to turn out to hug and kiss them," said resident Francine Duchemin Noyon, whose organization Normandy Chapters arranges exchange visits for veteran men and women who served in the area during World War II. "The feeling for the American and Allied troops here remains strong, very strong."
At the American cemetery at Colleville-sur-Mer overlooking Omaha Beach, where U.S. troops poured ashore on June 6, 1944, as part of the Allied forces' D-day landings, the flag was at half-staff.
Children lined up to shake the hands of 13 U.S. veterans, all in their 90s, who had returned for the commemorations. Tourists asked them for autographs or kneeled before the veterans' wheelchairs to thank them.
A total of 9,300 U.S. troops who died in the battle for Normandy against German forces occupying France lie in row upon row of graves marked by white crosses in the immaculate grass lawn at Colleville-sur-Mer.
Many of the young men who swarmed ashore under heavy fire or were dropped in by parachute could not have placed France on a world map before that fateful day.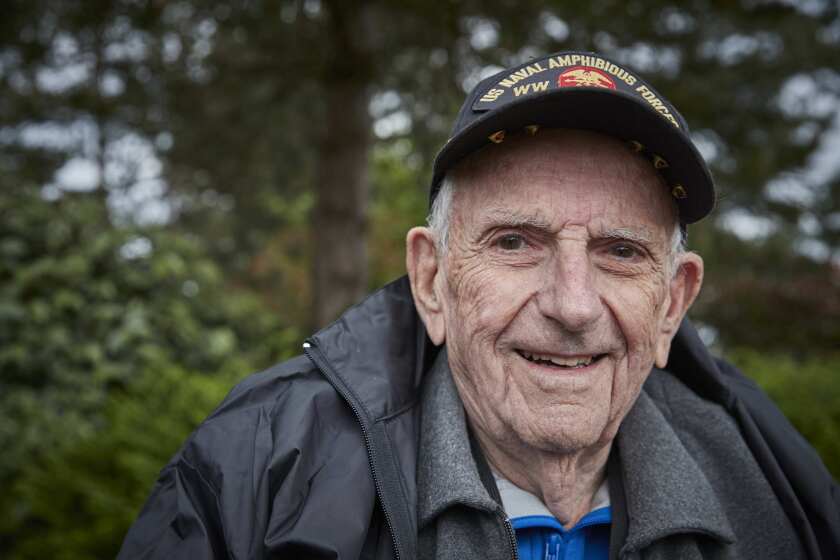 Clifford Goodall, 93, a third-class signalman with the 7th Naval Beach Battalion, remains haunted by his good fortune in surviving the landing at Omaha Beach, unlike the hundreds of his countrymen who were killed and injured.
Goodall, of Chicago, was due to come ashore with the second wave of landing craft; one of his friends had been assigned with the third wave. At the last minute, and for no apparent reason, their places were swapped.
"He was killed going in. I still often think of that," he said. "To this day, I have no idea why we were swapped. It bothered me for a long time, but in the end that's the way it was and you cannot change it."
Joseph Brader, 93, from St. Louis, was serving with the 1st Army VII Corps as an engineer when ordered to drive his jeep off a landing craft in the early hours of D-day.
Portraits of Normandy: U.S. veterans return 75 years after D-day »
"We were too far out and the jeep sank. I had to swim, but I had so much equipment I was sure I was going to drown, that I was a goner. Luckily I got to the shore and lay there for a rest," Brader said. "It was then I noticed the bottom half of a GI was lying next to me. It's impossible now for people to imagine the horror of that day."
Fernando Torres, 97, who was from Laredo, Texas, and now lives in West Covina, Calif., was with the 17th Signal Battalion A company. Torres, who came ashore the following day, June 7, says he will never forget seeing the bodies of comrades on Omaha Beach.
"There were dead everywhere. Many had drowned in the ocean and the waves had washed them up on the beach," he said.
"This is my first time back in Normandy, and it's something else. These men died and never had the opportunity to get an education, to get married, to have children and grandchildren, and I did," Torres said. "Sometimes it makes me angry thinking about that."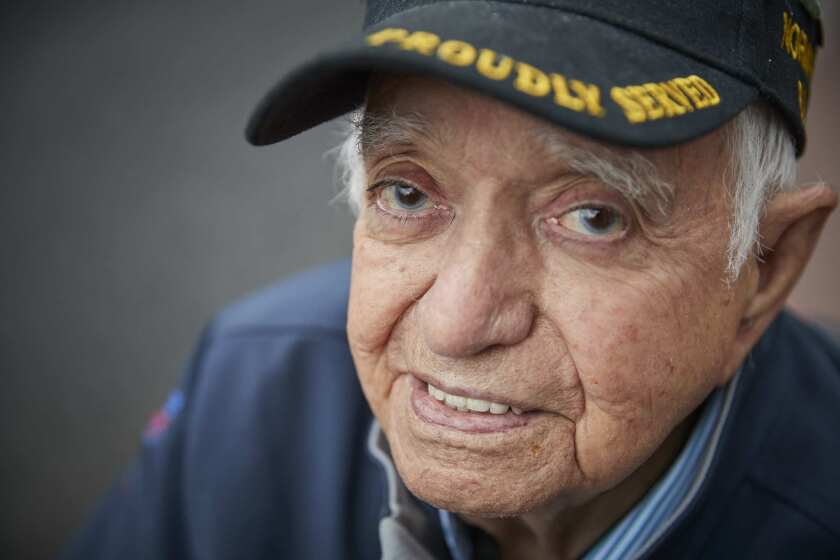 Many veterans visiting Normandy have been sharing their experiences with local children during visits to schools.
Nora Menard, 14, was among a group of youngsters from a local high school. "It's amazing to see these people who fought here and are still with us today to tell us their stories," she said. "It's so interesting to hear them talk about what they did."
Classmates Anoukh Auvray, 15, Emma Picot, 15, and Baptiste Marie, 14, said the occasion was very emotional.
"It's a chance to keep memories alive," Emma said.
The veterans had arrived to the sound of bagpipes. At the end of a wreath-laying ceremony, they left in silence. On the way out of the ceremony they passed a stone inscription reading:
"You can manufacture weapons and you can purchase ammunition, but you can't buy valor and you can't pull heroes off an assembly line."
Willsher is a special correspondent.
---
Must-read stories from the L.A. Times
Get the day's top news with our Today's Headlines newsletter, sent every weekday morning.
You may occasionally receive promotional content from the Los Angeles Times.