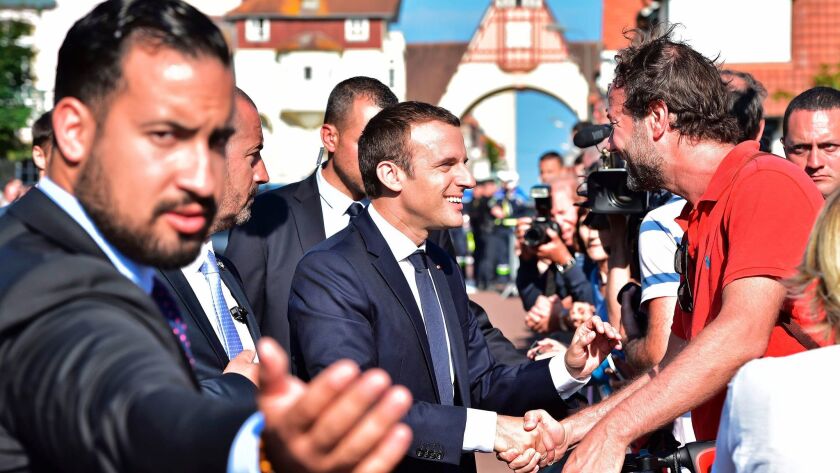 Reporting from Paris —
As predicted, French President Emmanuel Macron's new party won a majority in Parliament in a second round of voting on Sunday, giving him commanding control of the country's political system.
The results, however, did not bring the crushing landslide almost every poll had forecast.
The new leader's party, La Republique En Marche (the Republic on the Move), needed 289 seats to take control of the 577-seat National Assembly, the lower house of Parliament. With 97% of the vote counted early Monday, the interior minister said Macron's party and its ally in government, the centrist Democratic Movement, or MoDem party, had won 342 seats.
The clear majority will give the president a free hand to push through his plans to shake up France with a more business-friendly administration.
The conservative Republicans took 113 seats.
The returns bore out an anticipated catastrophe for the Socialist Party, which ran the country until Macron's election in May. The Socialists took just 29 seats.
The far-left Unbowed France, led by firebrand Jean-Luc Melenchon, won 17 seats, a triumph for a party created only 16 months ago, and the far-right National Front claimed eight seats, up from two.
Parties need at least 15 seats to form an official political group in the house and be eligible for speaking time and funding.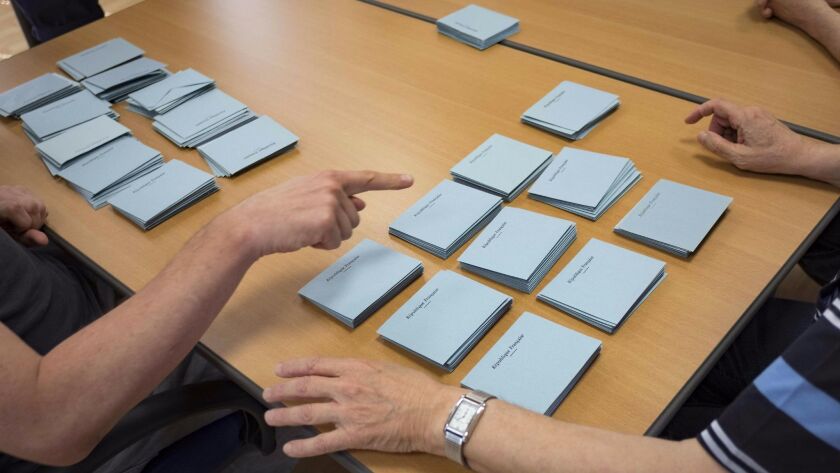 Macron's victory was tempered by the fact that only 43% of voters bothered to turn out, one of the highest rates of abstention ever recorded.
His recently nominated prime minister, Edouard Philippe, a member of the Republicans, said Sunday's result was a "clear majority," but acknowledged that the low turnout was a worry. "Abstention is never good news for democracy," Philippe said, but voters gave his government an "ardent obligation to succeed."
"The French people have chosen hope over anger, optimism over pessimism and confidence over turning in on themselves," he added.
Christophe Castaner, Macron's government spokesman, said voters had shown there was a "will for things to change."
"The French people have given us a clear majority, but they didn't want to give us a blank check," Castaner said.
It was an astonishing double victory for the centrist Macron, a 39-year-old former banker who is relatively new to politics, and is the youngest president in French history.
Just over a year ago, he was the leader of a movement of amateur activists operating with volunteers and public donations. In 12 months, the political outsider came from behind to overtake a packed field of established candidates to win the keys to the Elysee Palace. On Sunday, he consolidated his leadership triumph by wresting absolute control of the lower house of Parliament from the traditional right and left parties.
Macron promised to renew French politics in an out-with-the-old, in-with-the-new program that pledged to ease strict labor laws, introduce flexibility for businesses and clean up French public life after a series of fraud and corruption scandals.
After his presidential win, he followed up on his stance to be "neither left nor right" by appointing a government from across the mainstream political spectrum.
The Socialists' general secretary, Jean-Christophe Cambadelis, immediately announced he was stepping down as party head. He said Macron's triumph was "incontestable."
"The voters wanted to give the new president a chance. They left no chances for his opponents," Cambadelis said in a televised news conference. He warned that Macron now had "absolute power."
Marine Le Pen, head of the far-right National Front, was elected to Parliament for the first time after four failed attempts. She will represent the northern rust-belt town of Henin-Beaumont.
Last-minute polls before electioneering ended at midnight on Friday suggested Macron's party and MoDem could have up to 470 seats in the National Assembly. But they fell far short of that.
La Republique En Marche is only a few weeks old. The party had chosen 526 candidates to run; half were women, and half were political novices. Only 19 of those fielded failed to win in the first- round vote.
Low-voter turnout was blamed on the party primaries, presidential and parliamentary elections over the last seven months leading to voter fatigue as well as disillusionment with the traditional parties on the right and left, the Socialists and Republicans.
Melenchon, the far-left candidate, said the historic abstention rate suggested people had gone on a "civic general strike." He warned Macron that his labor law reforms would be contested and that "not a meter of ground ... will be given up without a fight."
ALSO
In Moscow, protesters fight to save a Soviet relic and their homes
A grim pattern in European attacks: Missed chances to pinpoint terrorism suspects beforehand
Residents lash out at officials over response before and after London apartment tower fire
Willsher is a special correspondent.
---
UPDATES:
5:47 p.m.: This article has been updated with 97% of votes counted, quotes and background information.
This article was originally posted at 12:40 p.m.
---