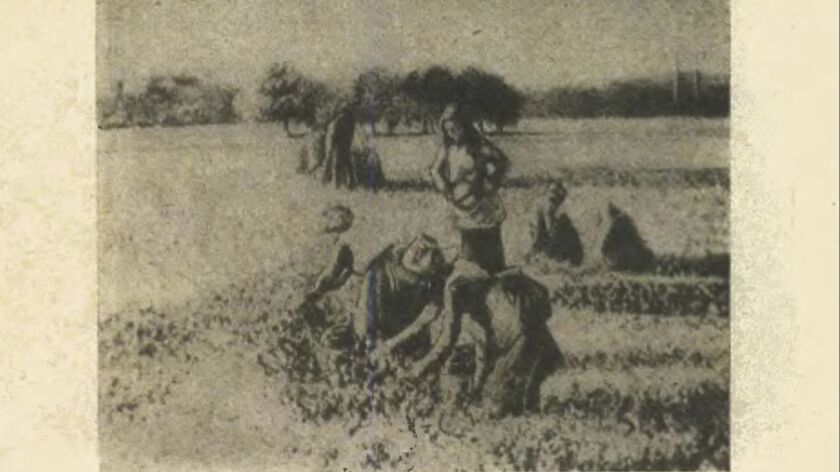 Reporting from Paris —
A U.S. couple who lent an Impressionist masterpiece to a French museum have been told they will not be getting it back because it was looted from a Jewish family during the World War II occupation of Paris.
A Paris court ordered Bruce and Robbi Toll to relinquish the painting by Camille Pissarro called "La Cueillette des Pois" ("Picking Peas"), which they bought in 1995 from the Christie's auction house in New York for $800,000.
The painting, completed in 1887 and depicting peasants in the French countryside, was part of a collection owned by wealthy Jewish businessman Simon Bauer, who had 93 paintings seized in 1943 by the Vichy government that collaborated with the Nazis.
The paintings were later sold, and Bauer was ordered to be transported to the German concentration camps. He was saved from deportation by a train drivers' walkout.
When he died in 1947, he had retrieved only a small number of artworks from his collection.
The Tolls lent the Pissarro to the Marmottan Museum in Paris for a major retrospective of Pissarro's work in 2017, where it was spotted by Bauer's grandson Jean-Jacques Bauer, who has spent 50 years trying to track down missing paintings from his grandfather's collection. Bauer took legal action to have it impounded.
At a hearing in November, a judge ruled that though there was no suggestion the Tolls knew the painting was on a list of World War II looted works, a 1945 declaration in France voiding the sale of such items made their purchase invalid.
On Tuesday, a Paris appeals court upheld this decision, and the Tolls were told the painting had to be returned to the Bauers.
The Bauer family said through its lawyer Cedric Fischer that it would repay almost $127,000 in compensation it received from the postwar French authorities for the stolen painting, once it had been returned. Fischer said the painting was now worth about $1.75 million, the value at which the Tolls had insured it.
Fischer said Tuesday's ruling upheld the "right of the victims of acts of barbarity committed by the Vichy regime to recover, without a time limit, the goods they have been dispossessed of." Fischer had argued that there could be no time limit for the restitution of art looted by the Nazis or their allies as the thefts stemmed from "a crime against humanity."
Ron Soffer, a lawyer representing the Tolls, said his clients had bought the painting in good faith. "It's a case full of emotion and drama, but Mr. Toll isn't responsible for the crimes of Vichy," Soffer said. The court made no order to compensate the Tolls.
The Tolls, who are Jewish and patrons of the Washington and Tel Aviv Holocaust museums, have said they will appeal to the cassation court, France's highest appeals court.
Bruce Toll is a member of the board of trustees of the Philadelphia Museum of Art, and Robbi Toll has served on the board of trustees of the National Museum of American Jewish History in Philadelphia. The couple are based in Palm Beach, Fla., and Rydal, Pa.
About 650,000 pieces of art and property were looted or bought in forced sales from Jewish families in Europe by the Nazis and their allies, about 100,000 of them in France. Many of the works were later sold to people unaware of their provenance. Nobody knows exactly how many works remain missing, and figures vary from 10,000 to 60,000.
In the last two years, France has been ramping up efforts to restore looted artworks in what has been a slow and complex process often involving bitter legal battles.
Three weeks ago, a Renoir painting stolen by the Nazis was returned to Sylvie Sulitzer, the only surviving heir of prominent Paris art collector Alfred Weinberger, in a ceremony in New York.
Willsher is a special correspondent.
---