French Parliament demands answers as Macron aide is indicted on charges of 'gang violence'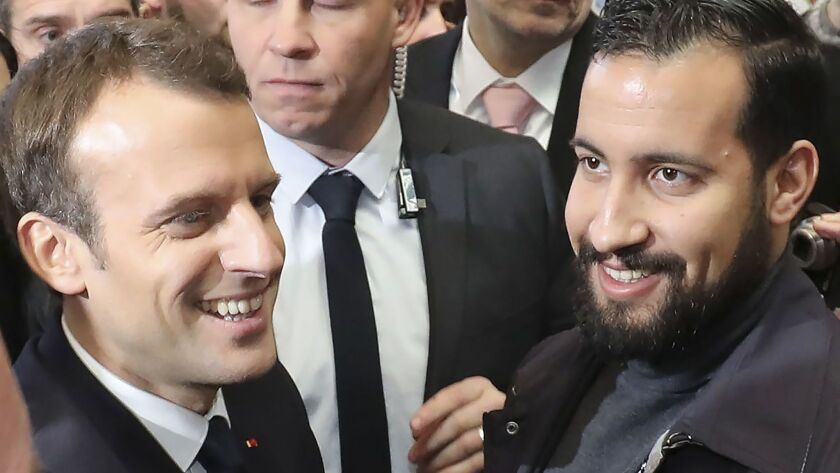 Reporting from Paris —
Members of the French Parliament demanded answers Monday after a senior security aide to President Emmanuel Macron was indicted on charges of engaging in "gang violence" and impersonating a police officer.
In what has become the biggest scandal to rock Macron's 14-month-old administration, Alexandre Benalla was recorded on camera violently attacking a young man and a woman at a Workers' Day demonstration as protesters clashed with riot police on May 1. He has since been fired.
Macron, who knew of the alleged criminal assaults less than 24 hours after they happened, is now under growing pressure to explain why his office failed to report them to the public prosecutor's office.
The president's office had claimed Benalla — who was wearing a police-issue helmet, visor and a police armband and was carrying a police-frequency radio — was authorized to join the operation as an "observer." Police officials have denied this.
Benalla, 26, appeared before a judge on Sunday afternoon along with Vincent Crase, a member of Macron's governing La Republique en Marche (the Republic on the Move) party, also charged with violence against protesters. Three senior police officers were indicted at the same time on charges of having illegally handed over video of the attacks to Benalla.
Macron has made no public statement about the increasingly damaging scandal. After a crisis dinner at the Elysee Palace on Sunday, an unidentified advisor told French journalists that the president considered Benalla's behavior "shocking and unacceptable."
On Monday, two senior officials, Interior Minister Gerard Collomb and Paris Police Chief Michel Delpuech, gave evidence at a hastily called inquiry at the National Assembly.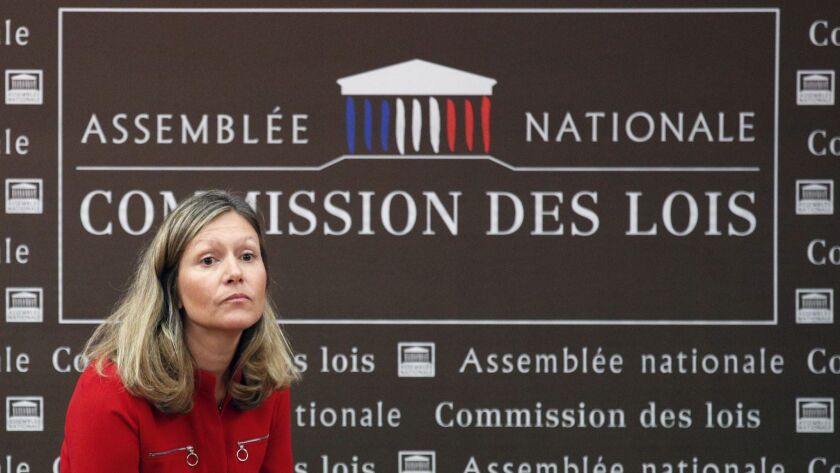 Lawmakers want to know, among other things, why Benalla was suspended for two weeks, then allowed to return to his post, retaining job perks that included a luxury flat in central Paris. He was fired only after questioning by police in the aftermath of the publication Wednesday, by Le Monde news site, of video of the assaults. That was the first the public knew of the scandal.
During more than two hours of quizzing by members of Parliament, Collomb said that he understood Benalla's presence at the demonstrations as an "observer" was legitimate but that his violent behavior was "unacceptable." He told the hearing he had no idea how Benalla obtained a police armband and radio.
Both Collomb and Delpuech admitted knowing about Benalla's attack for more than two months, but passed the buck back to the president's office, saying as Benalla's employer, the Elysee was responsible for reporting his actions to the prosecutor's office.
Asked why his officers had handed over video recordings of the assaults to Benalla, Delpuech suggested there were "unhealthy friendships" between the officers and Benalla.
Delpuech contradicted the Elysee spokesman and Collomb, insisting he had not given any authorization for Benalla to attend the protests and was "astonished" to discover he was present. Alain Gibelin, director of public order at the Paris police prefecture, also testified that Benalla had no official authorization to be with police at the protest.
"The rules are simple: Only the police prefect can give an authorization. I repeat in a precise and formal manner: Mr. Benalla had no authorization whatsoever from the prefect of police to be present at this demonstration," Gibelin said. He said he later discovered a subordinate officer had given Benalla a police helmet and visor; he said he had no idea how Benalla had obtained the armband and radio.
He said those questions were the subject of a police disciplinary investigation. Three further investigations are underway: a criminal investigation overseen by a judge and separate parliamentary investigations in the National Assembly and Senate.
Willsher is a special correspondent.
---
Must-read stories from the L.A. Times
Get all the day's most vital news with our Today's Headlines newsletter, sent every weekday morning.
You may occasionally receive promotional content from the Los Angeles Times.