Gentrification is changing Berlin. Officials are banning rent hikes for 5 years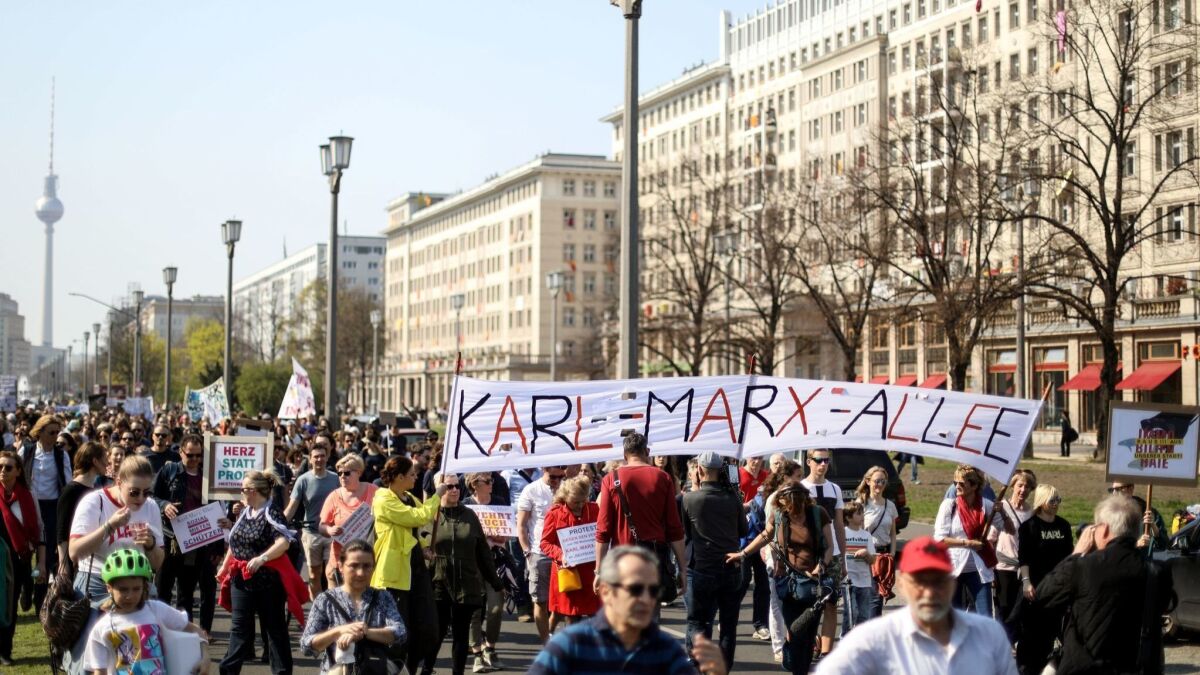 Reporting from Berlin —
German officials facing protests and endless complaints about threats to affordable housing in the nation's capital have decided the solution may be a five-year ban on rent increases and fines as high as $550,000 for violators.
Officials in Berlin, a city of about 3.7 million residents long known for its affordable housing options, announced this week that they plan to temporarily freeze the rents charged on publicly and privately owned apartments in a bid to halt runaway gentrification.
Some landlords and property developers warned that the measure would frighten away investors and exacerbate a worsening housing shortage that has propelled rents higher.
But Berlin officials found themselves shaken by the challenges, seen in many cities worldwide, often tied to urban improvements. The upgrades tend to displace people who can no longer afford to live in the areas.
Apartment dwellers in Berlin have complained about the doubling of rents during the last decade. Thousands of residents have supported the expropriation of about 200,000 apartments, much like private land claimed by government officials via eminent domain, to help keep rents down.
"Hundreds of thousands of people across Germany have been forced out of their apartments because of gentrification," Caren Lay, a leader in Parliament for the Linke, or Left, party who has been crusading to protect renters, said in an interview Wednesday. "We've got to stop that and this is an important first step in Berlin."
Katrin Lompscher, Berlin's minister responsible for housing and a leader of the Left party, said officials had taken a long overdue step against rising rents and property prices.
"The Berlin freeze will protect renters and help cool off an overheated market," Lompscher told reporters Tuesday.
Rents in Berlin are generally lower than in other capital cities in Europe and the United States — with the price for an average-sized furnished apartment of about 750 square feet costing $1,180, according to a survey by HousingAnywhere European Rent Index.
But because rents in Berlin have doubled in the last decade, according to a survey by online housing portal immowelt.de, and wage increases have not kept pace, there has been a surge in popular outrage manifesting itself in regular protest marches against the rising rents. Rents were up 7% in the first quarter of 2019.
The recent increases are the result of demand outstripping supply: The Berlin population has been growing by an average of 40,000 people a year but only about 16,000 housing units were added in 2018 — or about 4,000 fewer than needed to meet the rising demand, according to experts.
It remains unclear whether the government changes in Berlin, one of Germany's 16 federal states, will spread to other states and especially crowded urban areas such as Munich, Cologne, Frankfurt and Hamburg that also have seen sharp increases in rents.
The Berlin measure, with a full detailed bill to be drafted and passed by the city council by October, is expected to take effect in January and retroactively negate any rent increase from June 18, 2019. It would make it illegal for landlords to demand more money on about 1.6 million apartments. About 85% of the city's residents live in rented apartments or houses.
Fines as high as $550,000 could be leveled against landlords who break the law, Lompscher said. The exact details of the fines still have to be worked out, officials said.
Lay said that the comparatively moderate rents had helped make Berlin one of the most livable big cities in the world and that it was important that the German capital remain affordable for nurses, car mechanics as well as ordinary income earners from all walks of life.
"We don't want housing treated as an investment object. We want to stop the yield hunters," Lay said. "When I moved to Berlin as a student 25 years ago it was still affordable and people didn't have to spend so much of their lives working to pay rent. We want to protect that."
Klaus-Peter Hesse, the ZIA German Property Federation's managing board spokesman, said the decision by the local government in Berlin would worsen the shortage of housing in the city.
"Berlin will only be walling itself in politically by putting a cap on rents for the next five years," Hesse said in an interview. The ZIA represents the interests of 37,000 companies in the housing sector across Germany.
"It will scare away investors who will find alternative markets with less regulation," he said. "It's a socialist and populist attack on the free market and it's not going to lead to a single new apartment being built."
Haus & Grund Berlin, the association of property owners in Germany, spoke out against the measure and urged landlords to quickly jack up their rents before the local government's announcement Tuesday.
"This could be your last chance to raise rents," the association said last week.
The change was inspired by a grassroots movement in Berlin, where cheap rents were long considered a veritable birthright. Berlin has been an attractive destination for students, artists, musicians and start-ups from around the world in large part because of its tradition for cheap rents.
The protests were designed to pressure the city government to take back ownership of apartment buildings it had sold off to private housing companies in the years after the Berlin Wall fell.
The center-left Social Democrats rule in an awkward three-way coalition with the hard-left Linke party and the ecologist Greens. The left wing in Berlin has a proud tradition of being further to the left than anywhere else in Germany.
"I think it's a good move but unfortunately it's not going to help me," said Jana Tschitschke, an office worker in Berlin who is now paying $1,250 for her 600-square-foot one-bedroom apartment. "I just moved back to Berlin after living in southern Germany for a few years and was shocked that rents had risen so much. You have to pay twice as much now. It's crazy."
Some landlords welcomed the decision by the local Berlin government to put a cap on rents.
Ulrich Hirtreiter rents several apartments in Berlin and was hoping to buy more this year but was put off by the surge in property prices in the last year or two. He is hopeful that the freeze will lower property prices so he can afford to buy more apartments to rent out.
"The market prices for housing were getting totally over the top and the only way you could get any kind of a return on property that expensive would be to demand very high rents," Hirtreiter said. "So this should help bring prices back down a bit, which is a good thing.
"I don't like gentrification. I don't like the idea of the state expropriating housing either," he said. "I'm all for reasonable rents that people can afford and I think this rent freeze is a step in the right direction."
Kirschbaum is a special correspondent.
Must-read stories from the L.A. Times
Get the day's top news with our Today's Headlines newsletter, sent every weekday morning.
You may occasionally receive promotional content from the Los Angeles Times.