Germany's ruling party selects new chair to succeed Angela Merkel, who remains chancellor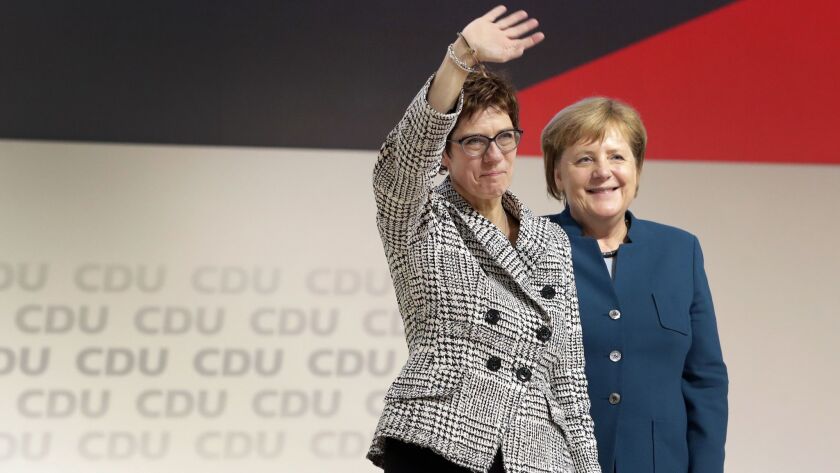 Reporting from Berlin —
Germany's ruling party Friday elected a protege of Chancellor Angela Merkel as its new leader, pushing back strong challenges from rivals who apparently were considering ousting Merkel before her term ends in 2021.
The conservative Christian Democratic Union party, which Merkel led for 18 years, elected centrist Annegret Kramp-Karrenbauer as its new chair, placing her on track to become the country's next chancellor.
Kramp-Karrenbauer, 56, defeated a strong challenge from two archconservative rivals who wanted to steer the party to the right and possibly oust Merkel well before the end of her term. Kramp-Karrenbauer received 517 votes from the 999 party delegates gathered in Hamburg, while millionaire businessman and erstwhile Merkel nemesis Friedrich Merz, 63, got 482 votes.
Another candidate, Health Minister Jens Spahn, 38, was knocked out of the running in the first of two rounds of voting.
The competition to lead the party that has been the dominant force in post-World War II German governments marked a sharp break in tradition for the conservatives, who for decades had picked their leaders in closed-door meetings and then presented a single candidate to run uncontested at party congresses.
Kramp-Karrenbauer, who is better known in Germany by her initials AKK, is a former governor of the small western state of Saarland. She is often called the "mini-Merkel" for her similar centrist outlook on many issues. "This competition was good for our party and it has given us a boost," Kramp-Karrenbauer said. "Thank you for your confidence in me."
Merkel, 64, has been chancellor of Europe's largest economy since 2005. Her decision in October not to seek another two-year term as chair of the Christian Democrats came after a string of state election defeats for her party. She had long ruled out giving up control of the party leadership because it could result in an erosion of power, dooming her chancellorship.
Merkel's popularity in her party has fallen in the last three years, after her decision to allow more than 1.5 million refugees from Syria and other troubled countries into Germany. She delivered an emotional speech at the start of the party congress and received a 10-minute standing ovation.
Merkel urged conservatives to continue fighting for multilateralism in an era of "dwindling international cooperation" that is being replaced by "the principles of deal-making."
Because the Christian Democrats have ruled the country for 49 of the last 69 years, winning leadership of the conservative party is tantamount to being anointed as its candidate for the next election.
"Her victory means short-term political stability in Germany," Julius van der Laar, an independent political analyst, said of Kramp-Karrenbauer. "It's more likely now that Merkel's grand-coalition government will stay in power until 2021. Merz would have almost certainly tried to push Merkel aside in 2019 in order to position himself as the agent of change."
Thomas Jaeger, a political scientist at Cologne University, said Merz's defeat was a setback to the powerful right wing of the conservative party that has for years been hoping to remove Merkel — mainly over anger that she pushed the party to the political center.
"In the end, the CDU delegates voted for continuity, pure and simple," Jaeger said. "It remains to be seen if Kramp-Karrenbauer can reunite the party now. It's going to be the big challenge."
Kirschbaum is a special correspondent.
---
Must-read stories from the L.A. Times
Get all the day's most vital news with our Today's Headlines newsletter, sent every weekday morning.
You may occasionally receive promotional content from the Los Angeles Times.