Syrian war memorial is dividing Dresden, itself a symbol of the ravages of war
Reporting from Berlin —
A harrowing piece of anti-war art by a Syrian that was erected in the heart of Dresden this week has sparked an emotional debate in the city that was controversially destroyed by Allied bombs near the end of World War II and then magnificently rebuilt — before having its reputation stained recently by ugly anti-foreigner protests.
Manaf Halbouni, a Syrian-born artist with German roots, got the idea to stand upright three massive buses — some 40 feet long and weighing 12 tons each — in the center of his German mother's hometown. He could not get out of his mind gripping war zone images he had seen in 2015 of three buses stood up in similar fashion in Aleppo — where they served as a makeshift barricade to protect civilians during fighting between Syrian government troops and rebel forces.
"I was fascinated by the images and the energy that went behind the efforts to stand the buses upright like that," Halbouni said in a telephone interview with The Times from his home in Dresden, where he has lived since 2008. "I was fascinated too by the ordinary street life taking place in the city behind the protection of the buses. Children playing on the streets and people riding bikes. It was surreal."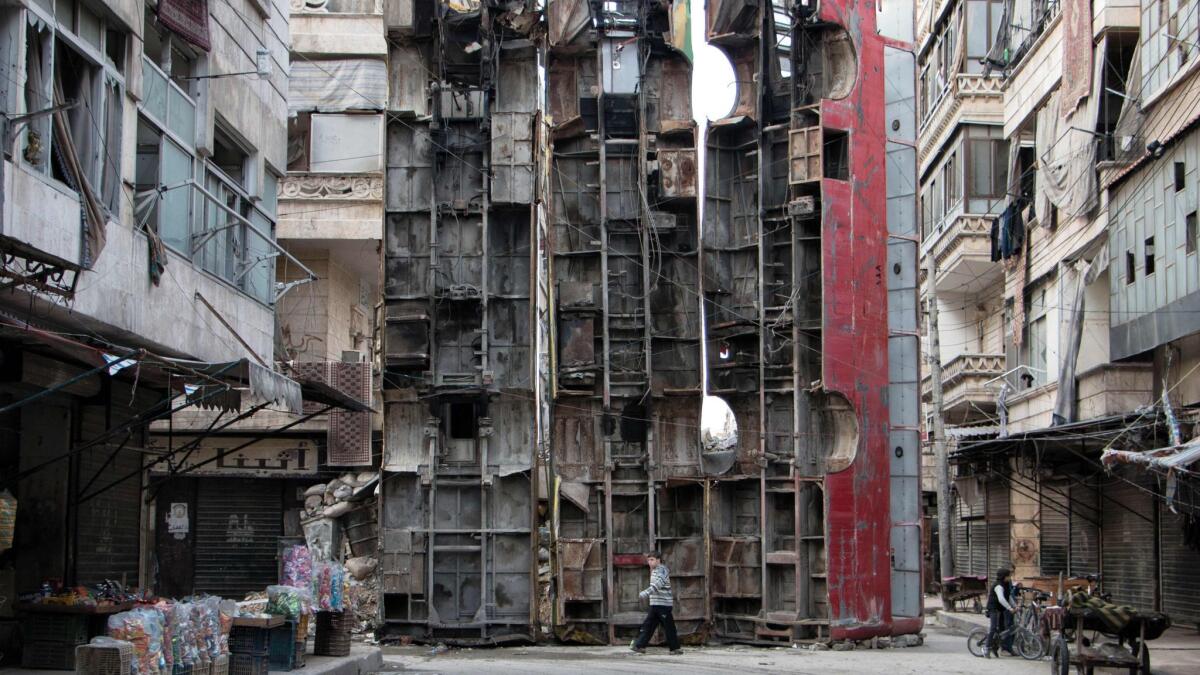 The reaction in Dresden has been surreal as well. Backers and opponents of the striking artwork called "Monument" have angrily debated the merits of Halbouni's creation erected in the central town square near the famous baroque Frauenkirche, or Church of Our Lady, that was devastated by Allied bombs in 1945 but rebuilt brick by brick after German unification and has since become a symbol of peace and reconciliation.
"We knew there would be some people unhappy about this, but we didn't anticipate the reaction being quite this intense," said Christiane Mennicke-Schwarz, the head of the Kunsthaus Dresden, a state-backed art gallery and exhibition center that sponsored the project.
Dresden Mayor Dirk Hilbert has faced death threats and is now under round-the-clock police protection after he tried to speak over jeers at the unveiling of Halbouni's exhibit on Tuesday, which uses three 1980s-era buses from a Bavarian junkyard that have been mounted and firmly anchored to the ground with steel cables.
"It's thought-provoking and that's what we wanted: to connect the terrible suffering of the war in Syria to Dresden, to connect the commemoration of the victims of the past with those of the present," Mennicke-Schwarz added. "It seemed so appropriate to give us a small insight into how civilians are trying to get by at the moment in Syrian cities."
But right-wing protesters and supporters of the anti-immigrant Alternative for Germany party have protested loudly, calling it a disgrace to the memory of the 25,000 civilians killed in a firestorm and three days of bombing Feb. 13-15, 1945 — less than three months before an already decimated Germany surrendered.
Halbouni's work was installed to coincide with the 72nd anniversary of the Allied raids that devastated the city. The bombings by British and American warplanes on a militarily insignificant city remain the source of resentment, and far-right groups try to use the annual memorial to push a revisionist view of history that Dresden was a victim of an Allied war crime.
"Traitor!" and "piece of garbage!" were some of the chants about 100 demonstrators hurled at the mayor, the artist and other dignitaries at the unveiling. Others shouted "Get lost!" and "shame on you!"
Dresden, in eastern Germany, has been the center of the anti-Muslim PEGIDA movement, or Patriotic Europeans Against the Islamization of the West, that has sullied the region's reputation, but many Dresden residents have opposed the the small but loud anti-foreigner protests. Many also have have expressed unqualified support for the artist and his artwork.
"I think Dresden has been enriched by this artwork," said Annegret Ehnert, an elementary school teacher in Dresden. "Especially at a time when we're facing the challenges of PEGIDA and xenophobia, it's great to see the way he's shaking things up here and got people to look beyond their own noses.
"He's managed to get everyone in town talking about it even though Halbouni is unfortunately getting a lot of grief from some pretty ignorant people who forget how fortunate the people in Dresden have been compared to what people in Aleppo are going through."
Kirschbaum is a special correspondent.
ALSO
Ireland has become a mecca for U.S. tech companies. Can Trump lure them home?
Kenya's high court rules against government plan to close the world's biggest refugee camp
In a shift, Trump endorses 'one China' policy in phone call with Xi Jinping
Sign up for Essential California for news, features and recommendations from the L.A. Times and beyond in your inbox six days a week.
You may occasionally receive promotional content from the Los Angeles Times.