Trump's demand that Germany increase its military defense spending enters German election campaign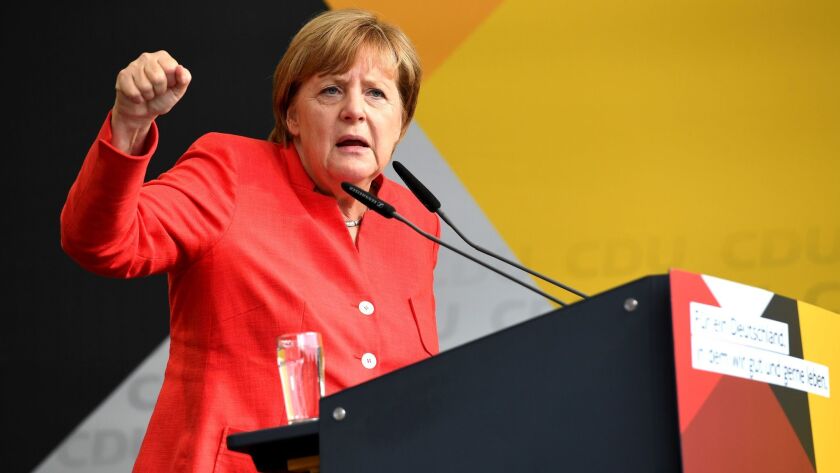 Reporting from Berlin —
President Trump's demand that Germany nearly double its defense spending has become an election issue for Chancellor Angela Merkel, who has increasingly come under attack for sticking to her 3-year-old promise to NATO to sharply increase investments in weapons.
Although Merkel's Christian Democrats — who have won the last three elections — are still far ahead of the center-left Social Democrats in opinion polls, the opposition has latched onto the military defense spending issue in hopes it will resonate with German voters. In a last-ditch attempt to tap into anti-Trump sentiment prevailing in Germany, the Social Democrats have criticized Merkel's pledges to Trump and NATO to raise that spending on military equipment.
"It would be simply insane for us to follow Trump's goal and start investing 2% of our annual economic output on defense," said Foreign Minister Sigmar Gabriel, noting that would be nearly double the 1.2% of GDP, or $45 billion a year, that Germany currently spends. "This election is among other things a decision if we're going to submit to Trump or not."
After Merkel reaffirmed her commitment on Monday to raise Germany's defense spending toward 2% of GDP by 2024 — as NATO countries agreed at a 2014 summit in Wales — Gabriel went on the attack: "For me that's an act of submission to the American president that I find hard to believe."
Another Social Democrat leader, Manuela Schwesig, added to the drumbeat of criticism on Tuesday: "We don't need rearmament, we don't need to spend an additional 20 billion euros [$23.5 billion] a year on weapons. We want to spend that money instead on education and better equipment at our schools."
The Social Democrats, or SPD, who have been junior coalition partners to Merkel's conservatives since 2013, initially supported the NATO pledge to increase defense spending. Only four of the 29 North Atlantic Treaty Organization members reach that 2% target, with the United States leading the way with 3.6% — a point of contention with successive U.S. presidents even before Trump asked Germany and other nations to do more. Even though it is one of Europe's most prosperous countries and its federal government produces annual budget surpluses, Germany ranks 17th behind countries such as Romania, Poland, Montenegro, Norway, Portugal and Croatia.
After first telling Merkel that Germany owed the United States vast sums for the U.S.-led defense, Trump launched public criticism of Germany on May 30. He tweeted: "We have a MASSIVE trade deficit with Germany, plus they pay FAR LESS than they should on NATO & military. Very bad for U.S. This will change."
Earlier, on March 18, Trump wrote: "Germany owes vast sums of money to NATO & the United States must be paid more for the powerful, and very expensive, defense it provides to Germany!"
Yet Trump's attacks have only galvanized opposition in Germany. In a country with a deep aversion to war in part due to its militaristic 20th century history and with an electorate already leery about spending money on tanks and warplanes while many school buildings are in need of repairs, the SPD has thrown off its gloves and attacked Merkel head on over the issue in what appears to be a Hail Mary attempt to shake up the dynamics of the election campaign.
"The SPD sense that this might be their only chance," said Gero Neugebauer, political scientist at Berlin's Free University. "They know that Germans are against military interventions abroad and most aren't interested in more defense spending as long as so many school buildings are in a state of disrepair."
But Neugebauer added that Merkel is trying hard to defuse the issue in her own stay-calm style. "She's trying to tone down any confrontation by pointing out that it's only a voluntary goal for a distant date seven years away."
Merkel is seeking a fourth four-year term. She and her conservatives are currently polling around 39% in opinion polls with the SPD, led by Martin Schulz, a distant second at 24%. Merkel's conservatives hope to win enough support to form a center-right coalition with the pro-business Free Democrats, polling around 8%. The election will be Sept. 24.
Thorsten Hasche, a political scientist at Goettingen University, said Merkel was doing all she could to avoid getting blindsided late in the campaign by the defense spending issue and prevent any fallout from harming her still-sterling reelection prospects.
Yet she knows well that the antiwar issue goes down exceptionally well in Germany. Another SPD candidate, Gerhard Schroeder, came from far behind the conservatives in opinion polls in 2002 to narrowly win reelection by campaigning fiercely against U.S. President George W. Bush's plans to invade Iraq.
"The SPD would certainly like to make this one of the main campaign issues while Merkel is doing everything she can to stay away from it," said Hasche. Schulz, the SPD candidate, is doing all he can to turn the contest into an anti-Trump election.
"Martin Schulz has become the strongest Trump critic in Germany in an attempt to improve his standing with voters," said Hasche. "But it hasn't really had much traction yet because the reality in Germany is: Pretty much everyone is against Trump."
Kirschbaum is a special correspondent.
---
Must-read stories from the L.A. Times
Get all the day's most vital news with our Today's Headlines newsletter, sent every weekday morning.
You may occasionally receive promotional content from the Los Angeles Times.