Germany's conservative party shifts away from Chancellor Merkel's open-borders policy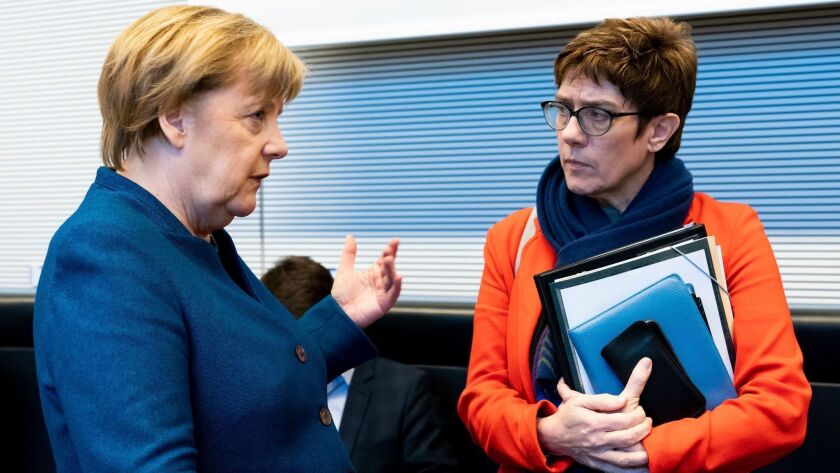 Reporting from Berlin —
German Chancellor Angela Merkel's conservative party publicly distanced itself from her landmark decision in 2015 to open the nation's borders to more than 1.5 million refugees, saying it had drafted plans to tighten immigration rules.
The influx of largely unregistered refugees in 2015 and 2016, many of whom came from Syria and elsewhere in the Middle East and arrived by foot, was at first cheered by a number of Germans as an act of humanitarianism. It later caused deep rifts in Merkel's Christian Democratic Union party and across the European Union as some people became upset by the large number of refugees who poured into the region.
In a surprising move, Christian Democratic leader and Merkel's handpicked successor Annegret Kramp-Karrenbauer said the country had learned from mistakes and would shut down its borders if faced by another wave of newcomers. The influx a few years ago was a humanitarian exception, she said.
"The year 2015 was an extraordinary situation and we'll make sure that doesn't happen again," Kramp-Karrenbauer said in an interview with ARD television late Monday. "We've learned our lessons."
Kramp-Karrenbauer said Germany would shut its borders "as a last resort" next time.
The conservatives, during a two-day party workshop in Berlin, drafted plans to tighten immigration rules, increase border security and make it easier to quickly deport asylum seekers whose applications are denied or who break the law.
Merkel, long a force for centrist stability in turbulent times, has steadfastly rebuffed calls since 2015 to reverse course on the refugees or apologize for the accompanying turmoil — tensions that also helped pave the way for Britain's vote in 2016 to leave the European Union, a move known as Brexit. She turned over the reins of her party to Kramp-Karrenbauer in December after announcing in October she would not seek a fifth term when her fourth four-year term expires in 2021.
Merkel, who did not attend the party workshop, had warned late last year that the Christian Democratic Union, also known as the CDU, could lose a lot of voters after having dominated postwar German politics if it focused on 2015 and refugees. The conservatives have ruled the country for 30 of the last 37 years.
The far-right Alternative for Germany, or AfD, has capitalized on anger over refugees, winning seats in all 16 state parliaments and siphoning support from Merkel's conservatives.
The anti-Merkel drift in the Christian Democrats is most likely related to elections later this year, according to political analysts: first the European Union parliamentary elections in May, then three regional elections in the fall in three eastern German states. In eastern Germany, opposition to Merkel's open-door policies toward refugees is especially intense, and the AfD could overtake the conservatives as the No. 1 party in at least one state, Saxony.
"It's the party's moment of reckoning against Merkel," said Thomas Jaeger, a political scientist at Cologne University. "They've got to go down this route and concede mistakes were made because otherwise they're not going to win back the right wing of the party. The conservatives are still terribly divided, and they're scared to death they're going to fall further in the elections coming up later this year."
Kirschbaum is a special correspondent.
---
Must-read stories from the L.A. Times
Get all the day's most vital news with our Today's Headlines newsletter, sent every weekday morning.
You may occasionally receive promotional content from the Los Angeles Times.