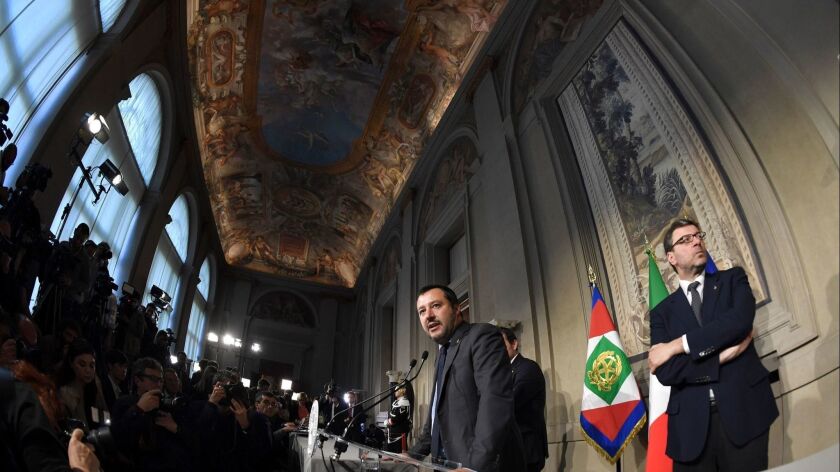 Reporting from Rome —
Italy's two leading anti-establishment parties are attempting to cobble together their far-flung agendas and form a new government, an effort that if successful would make it the first populist government in western Europe.
The anti-establishment Five Star Movement, founded by a comedian hoping to overturn Italy's ruling class, and the anti-migrant League, which rails against the European Union and immigrants, emerged from three days of talks Monday to say they still needed more time to resolve their differences.
"We are moving fast, but given that we are writing a government program for the next five years, we have asked for a few more days," said Five Star leader Luigi Di Maio, 31, after a meeting with Italy's President Sergio Mattarella, who is overseeing the negotiations.
Another stumbling block will probably be Five Star's insistence on putting the proposed new government to an online vote.
Di Maio's counterpart, League leader Matteo Salvini, 45, was less positive, warning that if the two sides failed to progress, "we will say goodbye," adding that Italy would then face new elections.
European leaders have watched with trepidation as the two parties try to pull together a government following two months of political paralysis after the March 4 elections ended with a hung parliament and stinging defeats for the country's centrist parties, which have dominated politics in Italy for years.
Promising to overturn EU rules on spending limits in order to fund huge tax cuts and increase benefits for the unemployed, Five Star and the League appealed to voters fed up with Brussels-enforced austerity rules that have coincided with a grueling economic downturn.
If they can pull it off — and Mattarella said Monday that he was willing to grant the two parties more time to agree on their program — a Five Star-League government will show that analysts were perhaps too quick to write off populism after the victory in France last year of moderate Emmanuel Macron over Marine Le Pen, a strident nationalist.
Founded by comic Beppe Grillo in 2009 to shake up Italy's political caste and promote digital democracy through online referendums, Five Star took nearly 33% of the vote in March, becoming Italy's biggest party, though falling short of a majority.
One secret of Five Star's success has been to avoid being tagged as either right or left wing. It has drawn support from both ends of the political spectrum, creating a surreal political marriage — such as seeing hunting activists and environmentalists mingle at rallies.
After the election, Five Star started talks with the hard right League, which took 17% of the vote thanks largely to vigorous campaigning by Salvini against immigrants and Brussels bureaucrats.
When negotiations between the two began, Five Star said it would not do business with Salvini unless he removed his electoral ally Silvio Berlusconi, the former center-right prime minister who was mired in both a sex and business scandal. Rather than stand in the way, Berlusconi stepped aside.
Now, the two sides need to find common ground. The League wants deep tax cuts; Five Star hopes to provide more funds for the jobless.
Economists have warned that trying to achieve such far-flung goals could paralyze Italy's efforts to reduce its already huge debt, second only to Greece in Europe.
The League's aggressive anti-immigrant stance is also proving to be a sticking point.
"The League and Five Star positions are rather distant," admitted Salvini, who has called for a large scale expulsion of immigrants in the country illegally. An estimated 600,000 immigrants have arrived in Italy in the last four years, many by boat.
Salvini said the two parties also differed on government infrastructure programs and reform of the justice system.
The two leaders have agreed that neither will be prime minister and have drafted a shortlist of possible candidates, including an economist and a law professor.
Di Maio said they were deliberately writing the government program before handing out top jobs, to prove their policies were more important than personalities. But one analyst warned that too could be a recipe for disaster.
"The prime minister they pick will be the most important figure in the government, yet he will have had nothing to do with writing its program?" said Roberto D'Alimonte, a politics professor at Rome's LUISS university.
"Their policies are one long shopping list, and once in power they will face spending constraints," he said. "I don't see them lasting more than six months."
Kington is a special correspondent.
---