Crews find living among the dead as search goes on for survivors of Italy quake that killed 250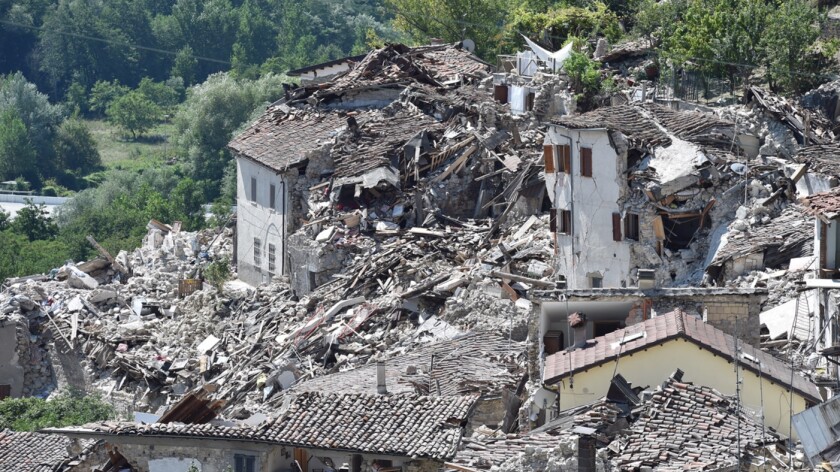 Reporting from PESCARA DEL TRONTO, ITALY —
The rescuers' hopes were dashed when they touched the small, cold leg protruding from a mountain of debris in this quake-ruined village. Clearly, the little girl was dead.
But not all hope was lost. As they dug, the rescue crew could see that entwined in the dead 8-year-old child's arms was her 4-year-old sister, Giorgia. And she was still breathing.
"They were lying embraced under the rubble," one of the rescuers recounted. "We heard a moan, and realized she was alive."
Many more were not so lucky. As of Thursday afternoon, the death toll from the earthquake that had ravaged a string of formerly postcard-perfect Italian mountain villages early Wednesday stood at 250, with hundreds more hurt.
For the 5,000-strong rescue force that converged from across Italy and Europe, the digging out had by then become a harvest of death, with corpses unearthed at every turn. Onlookers sobbed in recognition as bodies were carefully lifted from the crumbled wreckage.
As hundreds of aftershocks rumbled through the quake zone, about 85 miles northeast of Rome, rescue teams dodged falling debris and bleary-eyed survivors settled in for a second full night in the open air. More than 1,200 people were sheltering in tents, cars and camping trailers, afraid to venture indoors.
The earthquake, with a preliminary magnitude of 6.2, reduced hundreds of structures — some of them historic homes and churches that had stood for centuries — to monumental heaps of rubble and dust.
Despite the devastation, rescuers pressed ahead.
"We want to believe there are still people alive under there," said firefighter Danilo Dionisi, whose team in the village of Pescara del Tronto unearthed the entwined Rinaldi sisters Wednesday night after their frantic parents showed where to dig for them. "We are still hunting… hoping there will be more Giorgias."
In far-flung corners of Italy, people paid tribute to quake victims. Flags flew at half-staff, and the culture ministry said all proceeds from public museums on Sunday would be donated to restoration efforts.
As clouds of cloying white dust kicked up by the temblor began to settle, the first in a round of expected finger-pointing began. Prosecutors in Rieti province on Thursday launched an investigation of "culpable disaster" in earthquake preparations, Italy's Ansa news agency reported.
Aerial drone footage shows the town of Amatrice devastated after a powerful earthquake struck Italy at 3:36 a.m. Aug. 24, 2016. (Italian Fire Brigade)
The country's last major earthquake, which hit in 2009 about 50 miles south of the current quake zone, killed some 300 people and set off angry recriminations over unsafe building procedures and other safety lapses.
Pescara del Tronto, once one of the region's beauty spots, bore the full brunt of the quake's fury, with nearly four dozen inhabitants killed as fallen homes sent masonry cascading down steep, narrow streets. The village, flanked by fragrant fig trees, was transformed into little more than a dusty scar in the greenery, patrolled by soldiers and sifted through by firefighters.
The quake's capricious power could be seen everywhere — one home left standing while another fell, often depending on the building standards used.
One survivor, Bruno Filotei, rushed out of his home when the quake hit — just in time to see his mother's house just across the street collapse, killing her.
"My house was new….that's the difference," he said, distraught.
Local landmarks were rendered unrecognizable. "This was once a road, I think," a volunteer in Pescara del Tronto said, studying the rubble like an archaeologist.
In the nearby town of Accumoli, a venerable church steeple toppled onto an adjacent home, killing a family of four.
Governments of neighboring European countries, meanwhile, sought to account for missing nationals who had been working or vacationing in the idyllic Apennine mountains at the height of the summer tourist season. Romania said five of its citizens died in the quake and nearly a dozen others were unaccounted for, and Spain reported the death of at least one Spanish national.
Dionisi, the firefighter whose team rescued Giorgia, told of another heartening save, also within hours of the quake. Two brothers, 4-year-old Samuele and 7-year-old Leone, were trapped when the roof of their house partly collapsed. It was a delicate rescue; the boys were shielded by toppled beams, with enough air to breathe, but they grew frightened as efforts to extricate them dragged on.
"I freed Samuele, but it took a long time to get Leone out," Dionisi said. To comfort and distract the little boy, the rescuers promised him a ride on their fire engine when he got out. Soon after, they plucked him to safety.
Such uplifting outcomes were in painfully short supply. Italian news reports focused on one particularly wrenching case: the death of an 18-month-old girl whose mother had moved away from the area after living through the lethal 2009 quake in L'Aquila.
The infant, identified as Marisol Piermarini, was killed as she slept in the family's vacation home in Arquata del Tronto, in the heart of the quake zone. Her mother again survived.
Not only the physically injured needed comforting. Giovanni D'Ercole, the bishop of nearby Ascoli Piceno, gently approached a group of residents in Pescara del Tronte who stood gazing numbly at their village's razed remains.
"When I ask survivors how they feel, they say, 'Nothing' — they feel their world is finished," the bishop said. Instead of offering counsel, he wordlessly embraced them.
The bishop, galvanized by the sight of tons of stone and brick flung into the winding streets of towns where seismic activity posed a well-known threat, had some pointed advice for the Italian authorities.
Rebuild, he said. But this time, with wood.
Special correspondent Kington reported from Pescara del Tronto, Italy, and staff writer King from Washington.
MORE WORLD NEWS
At least one dead, 26 hurt as gunmen attack American University in Kabul
As women are fined for wearing head scarves, French activists push back on 'burkini' ban
Strong evidence suggests a Peruvian police 'death squad' set up and killed criminal suspects
---
UPDATES:
1:35 p.m.: This article has been updated with more information on rescue efforts.
11 a.m.: This article was updated throughout with additional details and quotes from earthquake survivors.
9:20 a.m.: This article was updated with a new death toll.
This article was originally published at 7:05 a.m.
---
Must-read stories from the L.A. Times
Get all the day's most vital news with our Today's Headlines newsletter, sent every weekday morning.
You may occasionally receive promotional content from the Los Angeles Times.